BWS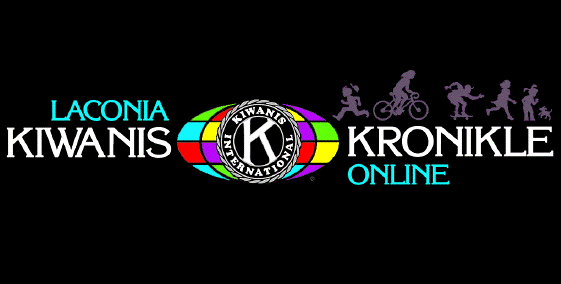 News That Concerns Kiwanians and Their Families
Date of Meeting: January 17, 2023
Venue: The Belknap Mill
Attendance: 12 in attendance: 7 members and 5 guests

MEMBERS AND GUESTS:
Laconia Kiwanis Club Members:
Betty Ballantyne
Phil Bonafide
Ray Chambers
Zach Dea
Bill Gile
Steve Loughlin
Don Nelson


Guests:
Paula Chambers - wife of Ray
Sue Nelson – Honorary Member and wife of Don
Jilli Paul, Key Club Advisor
Deann Hunter, Laconia Library Director
Jamie Dalton, Laconia Library - Children's Librarian
P

ho

tos by W. Stephen Loughlin

Invocation & Pledge:
Invocation: Ray Chambers
Pledge of allegiance: Led by Bill Gile
America (My Country 'Tis of Thee): Led by Don Nelson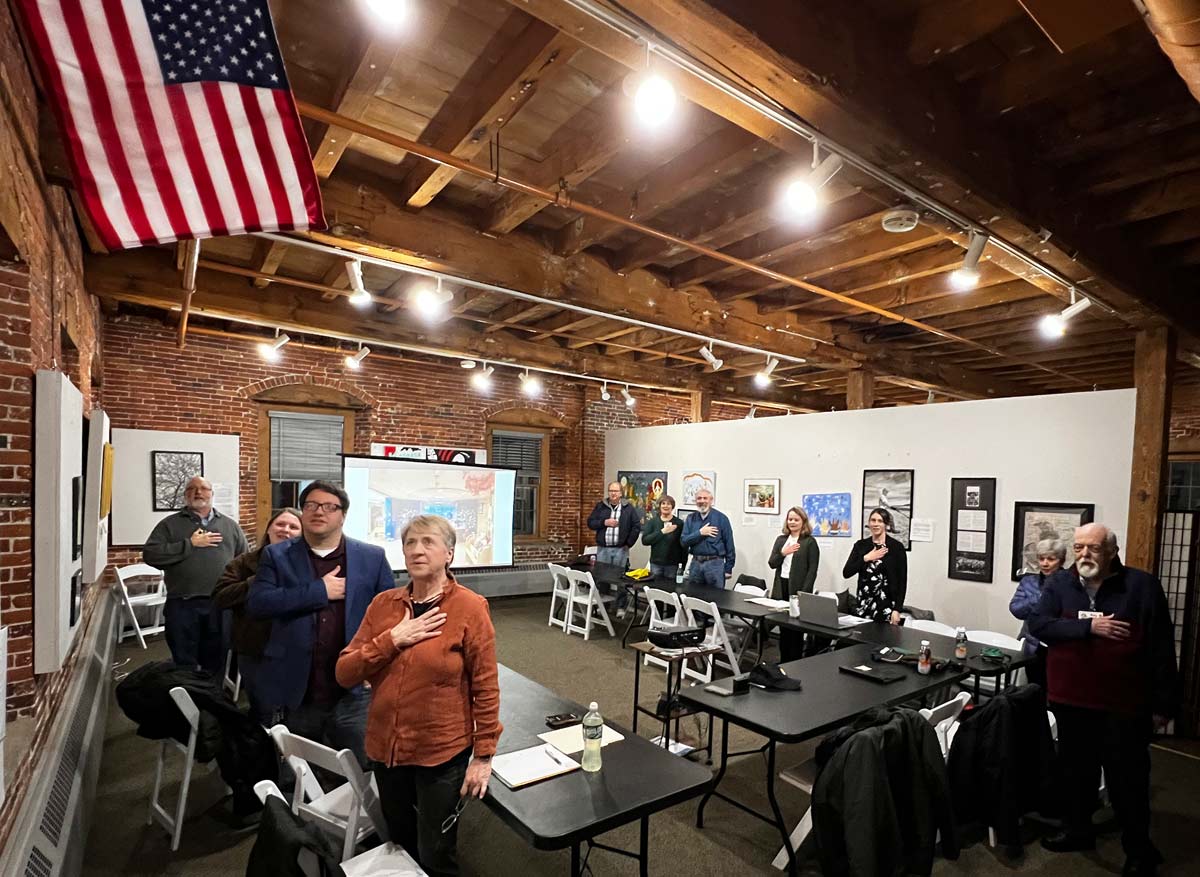 The Pledge
Photo by W. Stephen Loughlin

FROM THE PRESIDENT:
President Bill reported on the following: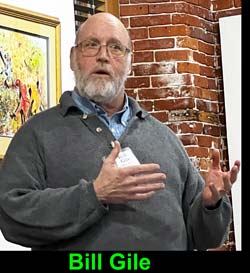 Next Meeting: Will be held at the Belknap Mill on Tuesday, February 21st at 6:00 pm. Our presenter will be Laura Brusseau, NH Catholic Charities, Regional Manager and will cover local regional news. Most recently, Laura has become a Kiwanian with the Hooksett Club.
Kiwanis Bulletin Fund Raising: Bill thanked Steve and Betty for their efforts to increase the advertising on the monthly news bulletin. Currently we have 10 newly signed sponsors each at $175. Betty stated she has more follow up calls to make to the companies who received a letter request. They also have six or more new companies to solicit sometime this month.
Invites: Kiwanis of Methuen has invited us to a Bocce Tournament to be held on March 25, 2023. We can consider sponsoring our own team. The fee is $40 per person. A team consists of four people. They have provided a schedule of events for our reference. Registration is at 8:30 a.m. with coffee and breakfast pastries. Lunch will be provided. The event will be held at the Methuen Sons of Italy Lodge 902 state-of-the-art Bocce Center located at 459 Merrimack Street, Methuen, MA 01844. A special division of all Kiwanis Clubs in Division 6 and other neighboring clubs are invited to join in the fun by gathering at least 1 team of 4 players and sponsorships. Team applications and Sponsorship applications are attached. The winning team of the competition will bring home the Methuen Kiwanis Championship Gold Cup and earn the honor of keeping it for one year. The first-place winner will be invited back to defend their title the following year. The 2022 Tournament Winners, The Salem NH Kiwanis Club has enjoyed bragging rights this past year and they look forward to some exciting competition to see who will take this trophy home in 2023. Kiwanis of Methuen invites you to join us in this friendly competition helping to raise funds for the kids as well as bring together the spirit of Kiwanis camaraderie. To read the invitation, "click" here.
Nashua Kiwanis Club: We have been invited to their grand event of the newly chartered Nashua Club to be held on Sunday, February 5, 2023, from 1:00 p.m. to 3:00 p.m. Bill intends to attend their event and has encouraged us to attend. If we have three Kiwanians attend, it would be considered an interclub visit. Reach out to Bill for additional details.
By Laws: Brian was unable to attend tonight, therefore we intend to review recommended updates at February General meeting to be held on February 21, 2023. To read the current By Laws and suggested changes, "click" here.
KIWANIS K.A.R.E.S. (Kids And Reading Equals Success)
Betty explained the program to our guests and a recap to our members. We currently have a $2,500 to $3,000 budget yearly for the event, whereas the Media Specialist along with third grade teachers choose the books and subject content each year. We order and pay for the books to be ready at the start of school. We meet three times yearly with each school being Pleasant Street School, Elm Street School and Woodland Heights School 3rd graders. On each visit the students choose two books they want to take home. We have twenty minutes each for reading, a project and snack time.
On February 7th at 10:00 a.m., we will visit Pleasant Street School presenting to their 3rd graders assisted by Kathleen Grenier, Media Specialist, along with the 3rd grade teachers. At this time Kathy Calvin, Bob Wiley and Rosemary Murphy signed on. Betty is looking for an additional helper.
On February 14th at 9:00 a.m., we will visit Elm Street School presenting to their 3rd graders led by Toni Manning, Media Specialist along with the 3rd grade teachers. Bill Gile, Keith Styles and Betty Ballantyne signed on.
50 50 RAFFLE:
Bill and Betty discussed bringing back the 50/50 raffle - 50% to the winner and 50% to the club. The group agreed it would be a good idea to bring it back. Betty has tickets remaining from Roger's Ride which she will bring to February's meeting.
We recently received thank you messages from The Society of St. Vincent de Paul and from the Belknap County Commissioners to read those thank-you messages, click on the respective names below
The Society of St. Vincent de Paul:
Office of the Belknap County Commissioners:
The
NEWS FROM THE KEY CLUB:
Jilli Paul, Key Club Advisor, reported the Key Club had a busy December. This included:
• Participation with a Christmas Tree in the city's Light Up Laconia event
• ringing the bell for the Salvation Army
• making dinner for the Belknap House
For January, the Key Club is considering various service projects which may include collecting toiletries for the Red Cross or New Beginnings.
The Kiwanis Club discussed the possibility of collaborating with the Key Club on an Earth Day event or a local park clean-up such as Bond Beach.
Food Pantry: $49 was collected
Happy Dollars: $19 was collected

$1 from Phil Bonafide because he purchased a 1970 Pontiac GTO
$1 from Ray Chambers who was happy he "made it through another year" as he is 76 years old today
$3 from Steve Loughlin; $1 in honor of Ray's Birthday and $2 in honor of Deann Hunter and Jamie Dalton for being our presenters
$1 from Don Nelson who said "I'm happy I'm here."
$1 from Paula Chambers who was happy it's Ray's birthday and noted that for four days "he's older than I am."
$4 from Bill Gile who was happy the presenters are here and in honor of Ray's birthday
$5 from Zach Dea who is happy he recently turned 40 years old
$3 from Betty Ballantyne who is glad that Don and Sue Nelson are surviving winter up north and attended tonight and for Jilli Paul attending the meeting.
GUEST SPEAKERS:
Zach Dea introduced our guest speakers from the Laconia Public Library: Deann Hunter and Jamie Dalton. Deann is the new Director and Jamie is the Children's Librarian.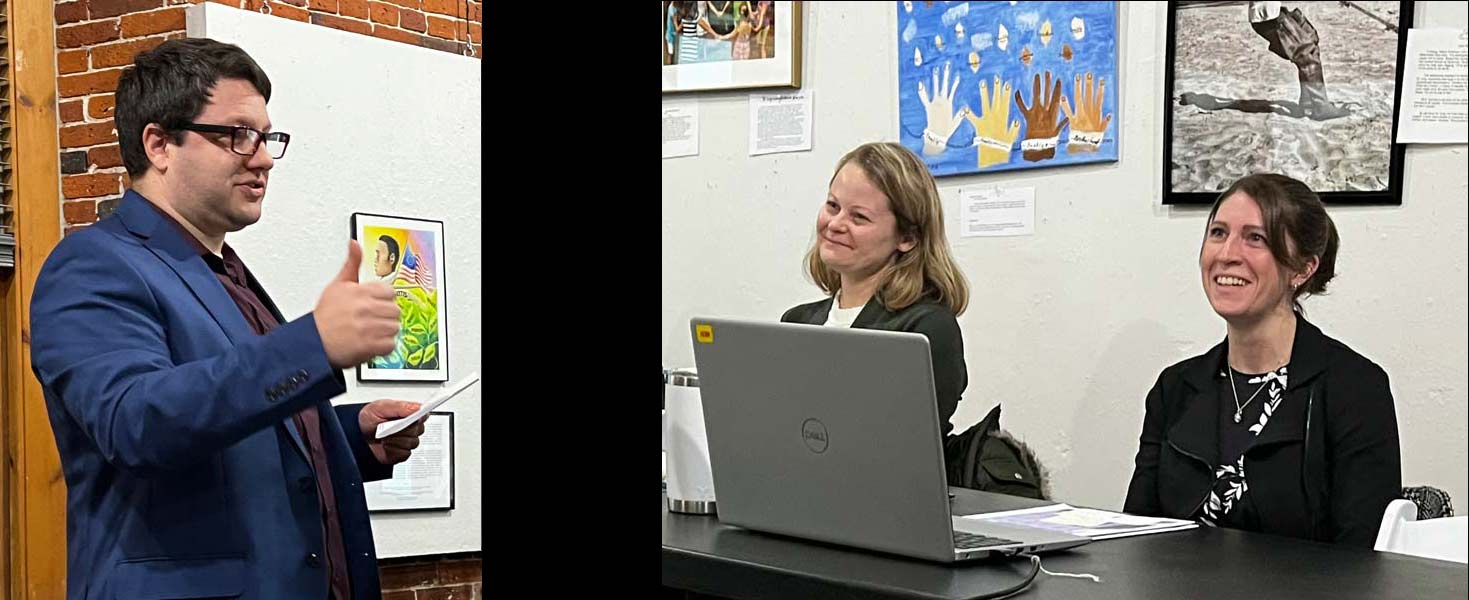 Zach Dea gives Deann Hunter and Jamie Dalton a big thumbs up.
Photos by W. Stephen Loughlin
Deann Hunter moved to NH from Pennsylvania after graduating college. She subsequently pursued a Master's degree in Library Science while working part-time at two libraries. In 2003, she landed her first full-time job at the Laconia Public Library as the Adult Services Librarian. Now, almost 19 years later, she serves as Library Director and is very excited in this new role.
Jamie Dalton is a lifelong reader and lover of libraries. She started working at the Laconia Public Library at age 15 and has held many titles from Library Page to Library Technician. She is most excited about her current position because it allows her to get to know the Library patrons on a more personal level. She notes that working with young visitors gives her "a chance to learn what they need and expect from this wonderful community resource." She enjoys helping to foster a love of reading in children by making the library a place that families want to spend time, and by curating a collection that will delight and enthrall kids from birth to 12 and beyond.
On 6/28/22, The Laconia Daily Sun ran a feature story about the changing of the guard at the Laconia Public Library. To read that story, "click" on the picture below:

L to R: Jamie Dalton and Deann Hunter
Deann Hunter spoke of the many services provided by the Laconia Library. They are the following:
• Homebound Services - available long and short term. They have a longer hold period up to 30 days.
• Book Clubs - hosted in-house and many clubs in town inclusive of providing a great number of books.
• Tech Club - twice weekly handled by Sheila, she handles both Windows and Mac.
• Downloadable Service through two apps being Hoopla and Overdrive (Libby) both operate differently and free to those who belong to the library.
• Telescope Checkout - available for two weeks and a must to seat belt when being transported. It's quite an upgraded quality telescope.
• Free Notary Services - always available when the library is open.
• Local History Room - directories, yearbooks, a vertical file with much town history, files, obituary index with a volunteer inputting online, it's still work in progress. Newspapers as far back to 1850's and digital microfilms.
• Electronic Newsletter - sign up to receive the list of the monthly programs available. Deann and Jamie brought January and February's Library Programming along with online services and parental outlines. They work closely with hearing and reading impaired residents through the State's Library Services.
Jamie Dalton presented on behalf of the Children's division. Big news! The children can get their library cards at birth. Currently they have 24 children's programs inclusive of story times, crafts with many unique craft items, many mediums such as sensory bins for the use of their hands which is very popular, dancing, songs, instruments, Lego clubs, STEM club, performers at the community center, Squam Lake Science Center once a year has a big program with wild life for the children, slide shows, a grant made available amazing toys, especially the kitchen and play market and puppet stage, therapy animals, scarves and the parachute is a big hit for the children. Books give away with the Literacy Program. A summer reading program at the Laconia Colonial was an amazing experience not had otherwise. Grandparents are 30% to 50% participation with the grands at no cost to play. Currently, they do not have a specific home school program though they have a big participation from the home-schooled students. A discussion was had regarding digital versus printed books. Deann and Jamie feel the books have grown greatly and are not alarmed that it has diminished versus digital. They believe both are used quite often and digital is not replacing the use and need of books.
For more information on the Laconia Public Library visit their website at www.laconianh.gov:

Upon the conclusion of the presentation, Zach Dea (right) enjoyed a photo op with guest speakers Deann Hunter (left) and Jamie Dalton (center)
Photos by W. Stephen Loughlin
President Bill adjourned the meeting at 7:25 pm.

REMEMBERING CARROLL W. STAFFORD, JR.

As reported in last month's bulletin, Carroll Stafford, Jr. passed away on December 29, 2022.

If you didn't know him, Carroll Stafford was the president of Laconia Savings Bank (now known as Bank of New Hampshire) for 19 years (1977-1996). Carroll joined the Laconia Kiwanis Club in 1968 and was an active member for 44 years until he retired from the club in 2012 just short of his 79th birthday.

Below are a few memories:

From 2003: Carroll congratulates Warren Mitchell

From 2003: Carroll with his cousin, Charlie Stafford

after he was installed as the new

Club president.

.

From 2003: Carroll proudly shows his Legion of Honor certificate awarded for 35 years in Kiwanis

From 2003: SENIOR KIWANIANS: Kneeling: L to R: Carroll Stafford, Jr., and H. Max Wakeman, Jr.


nnnnnnnnnnnnn

Standing: L to R: Paul Normandin, Ed Chertok, Howard Bacon, Bob Turner, Roger Ballantyne, Peter Karagianis, and Bill Paterson


From 2006: Carroll Stafford with Laconia Kiwanis Club President, Joe Collie

From 2006: Carroll Stafford makes a presentation discussing the 175 year history of Laconia Savings Bank.

From 2009: Carroll Stafford with fellow Kiwanian Howard Bacon

From 2012: Carroll wins the 50 50 drawing.

From 2014: Steve Loughlin congratulates Carroll on his 81st birthday

Above p

ho

to by Stafford family member

Unless otherwise indicated, all Carroll Stafford p

ho

tos by W. Stephen Loughlin
THANK YOU
Many thanks to Joe Adrignola, Betty Ballantyne, Phil Bonafide, Bill Gile, and Brian Winslow for their assistance with this bulletin.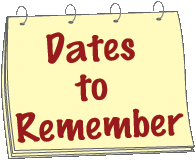 Tuesday - February 7th - Pleasant Street School
10:00 am - Kiwanis K.A.R.E.S. please arrive by 9:50 am
Tuesday - February 7th- Venue: ZOOM MEETING
6:00 pm - Board of Directors Meeting
Tuesday - February 14th - Elm Street School
9:00 am - Kiwanis K.A.R.E.S. please arrive by 8:50 am
Tuesday - February 21st : Venue: The Belknap Mill
6:00 pm - Regular Meeting - Guest Speaker: Laura Brusseau, NH Catholic Charities, Regional Manager

WANT MAIL?
If you are reading this bulletin and are not presently on the mailing list (and would like to be), please give Steve Loughlin your e-mail address by "clicking " here.


"Click" here to get back to the top of the page.
"CLICK" ON ANY GRAPHIC BELOW TO VISIT THE HOME PAGE OUR FINE PATRONS.