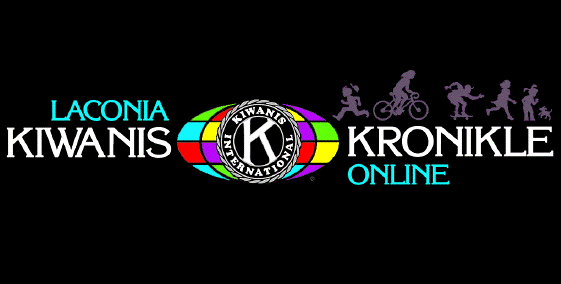 News That Concerns Kiwanians and Their Families
Attendance:
22

Invocation:
John Walker
Guests:
From The Northern Pass: Laurel Brown, Communications Manager and Francis Dubois, Project Manager
From MetroCast: Jodie Gallant, MetroCast - NE Regional Marketing Manager - Guest of Scott Laurent
From the Key Club: Beth Teichert, President and Abby Teichert, Vice President
Returning to the Club - John Markland - Guest of Roger Landry
New Kiwanians to be inducted: Mikael Morancy – Guest of Scott Laurent and Paul Singh – Guest of Dick Breton


| | | | | |
| --- | --- | --- | --- | --- |
| | | | | |
| | | | | |
| | | | | |
| | | | | |
| | | | | |
| | | | | |
| | | | | |
| | | | | Paul Singh |
News from the Prez:
President Roger reported, for our two March 12th and March 26th, the club will meet at Laconia High School. At that time, the Laconia Key Club will be waiting on us by serving dinner. This will be a fund raiser for the Key Club so they can earn money for a spring trip to Washington, D.C. We will return to Pheasant Ridge in April.
Roger then gave Larry Murphy his personal plaque for being named Kiwanian of the Year for 2009 -2010
Roger reported that Jim Contigiani is proposing a St. Patrick's Day (Saturday March 17th) dinner fund raiser to be held at the Beane Conference Center. The cost to the club by Contigiani's would be $12.00 per meal plus a cash bar. Jim Contigiani suggested a ticket price of $20 to $25 per person. The suggestion was transferred to the fund raising committee for their recommendation on whether or not the Laconia Kiwanis Club should sponsor this dinner.
Ed Merski News:
Larry Murphy reported that Ed Merski had a gall bladder attack and was at LRGH (Room 358) for at least five days and may need surgery.
Thank you Kiwanis!

Betsy Weller, our waitress from Contigiani's, sent the Club a thank you card for the Christmas gift certificate she received. She noted in her card, "thank you so much for your generous gift. We are looking forward to a date night soon. Your thoughtfulness truly means a great deal to me. May you all be richly blessed."
Sincerely,
Betsy and Dave Weller
Kiwanis KARES:
Kathy Calvin informed the group of a Kiwanis KARES next Tuesday, January 31st from 9:30 am until 10:30 am at Elm Street Elementary School. She is looking for volunteers to sign up. Those signing up included: Chet Cilley, Kathy Calvin, Larry Murphy, and Mikael Morancy.
Kathy reported that clocks at Elm Street School are five minutes fast so please arrive early.
Hoop Needs Your Help!
Betty Ballantyne reported there is an opening for a guest speaker for our Kiwanis Meeting on February 13th. Please contact Betty if you have a suggestion.
Induction of New Members:
Pres. Roger was pleased to report the addition of three members to the Laconia Kiwanis Club. This included the return of John Markland and two new members: Mikael Morancy and Paul Singh.
John Markland, sponsored by Roger Landry, is the former chief of the Gilford Police Department. John is now happily employed by the Meredith NAPA Auto Parts store.

Paul Singh, sponsored by Dick Breton, is a dentist who purchased the Gilford practice of Peter Eckel. Paul and his wife, Lisa, own and operate the Singh Family Dental practices located in Plymouth and Gilford.

Sponsor, Dick Breton, presents Dr. Paul Singh his "K" pin.
Photo by W. Stephen Loughlin
Mikael Morancy, sponsored by Scott Laurent, is the Senior Account Executive of Holbrook Insurance Center, the company that recently purchased Allen, Russell and Allen Insurance.
Induction was performed by immediate past president Mike Marsh.
It is interesting to note that Dr. Paul Singh's Gilford practice and Holbrook Insurance Center are both located in the professional office condominiums at 25 Country Club Road, Gilford (near the studios of WLNH radio).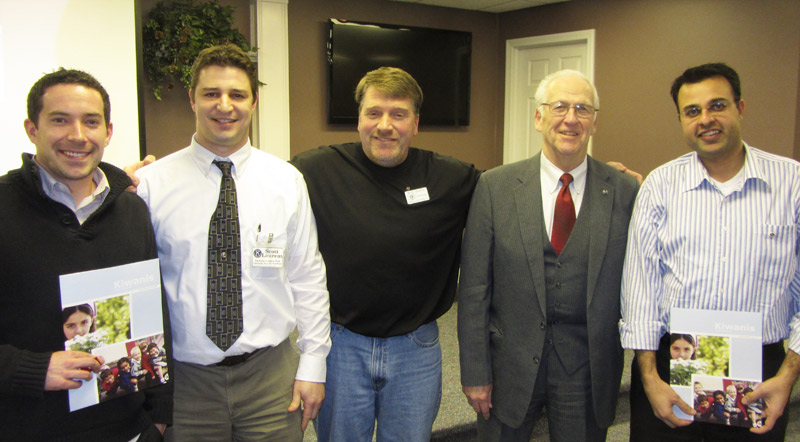 L to R: Mikael Morancy, Scott Laurent, Mike Marsh, Dick Breton, and Dr. Paul Singh
Photo by W. Stephen Loughlin
50 50:    
Guest Jodie Gallant of MetroCast won $40.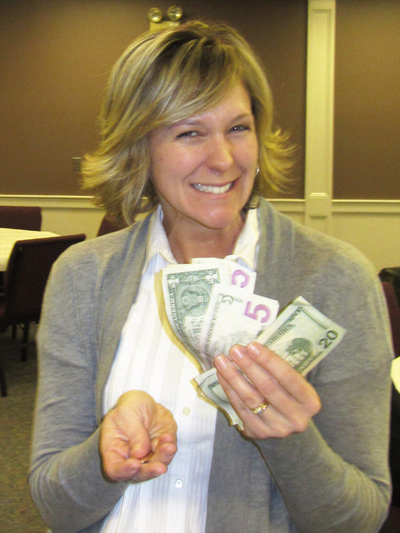 Jodie Gallant shows her MetroCash.
Photo by W. Stephen Loughlin
Happy Dollars:


A BIG happy dollar from President Roger because he was so happy to see so many new faces at tonights meeting

Fines:
None tonight
Guest Speakers:

Betty Ballantyne introduced guest speakers Laurel Brown and Frank Dubois.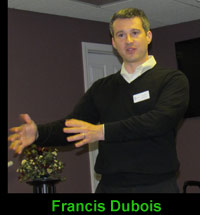 Laurel is The Northern Pass Communications Manager. She has worked for PSNH for nearly 13 years. Prior to joining The Northern Pass team, Laurel worked in PSNH's Generation Department where she was responsible for environmental permitting and compliance specializing in the Clean Air Act.
Frank Dubois, a civil engineer at Burns & MacDonnell, is a project manager with The Northern Pass project team. Prior to joining The Northern Pass project team in September 2010, Frank worked as a member of the engineering team supporting the Maine Power Reliability Project.
Tonight's presentation was titled: Bringing Clean Power to the People of New England. A Unique Economic and Environmental Opportunity for New Hampshire: The Northern Pass
Northern Pass Transmission, LLC is composed of Northeast Utilities (PSNH's parent company) and NSTAR, two New England based utility companies. The project would build, own and operate the transmission lines while leasing them to Hydro-Quebec to transmit 1,200 megawatts of electricity into the New England Power pool.
Tonight's presentation outlined the Energy Benefits of The Northern Pass which stated the project:
• Meets long-term regional energy needs for years to come
• Helps guard against fuel shortages and price volatility
• Provides a significant increase in renewable energy supply
Does not depend on subsidies like other renewable projects
It was the opinion of the presenters that Environmental Benefits of the The Northern Passproject are that it:
• Helps meet state and regional air quality goals by displacing fossil fuel generation
It is one of 67 recommended actions in New Hampshire's Climate Action Plan
• Reduces regional carbon dioxide emissions by up to 5 million tons a year
• Complements the development and operation of local renewable energy sources
Energy Benefits of the The Northern Pass project were reported to be:
• New Hampshire Jobs: Creates about 1,200 jobs per year over three-year construction phase
• New Tax Revenue: Provides an estimated $22 to $27 million annually in local, state, and county taxes
• Annual Cost Savings for NH Electricity Consumers: $20 to $35 million ($200 to $300 million for New England consumers)
• Additional savings to PSNH customers through long-term agreement
It was noted that before The Northern Pass project can begin it will require Permitting, Approvals and Public Participation which are detailed as follows:
• Proposed project requires significant federal and state permits and approvals
• Permitting process includes numerous opportunities for public participation
• Permitting processes expected to take about two to three years
For more information on The Northern Pass you can visit their website by "clicking" here.
o
L to R: Laurel Brown, Betty Ballantyne, and Francis Dubois
Photo by W. Stephen Loughlin

Tonight's meeting was adjourned at 7:58 p.m.
A Moving Experience...

Dick Breton has undergone a "moving" experience.
"Click" here for details.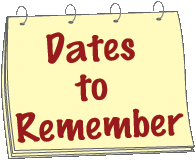 DURING THE MONTHS OF JANUARY AND FEBRUARY WE MEET AT THE BEANE CONFERENCE CENTER. FOR DIRECTIONS "CLICK" HERE.

Monday February 6th
Board of Directors Meeting 5:30 pm at One Mill Plaza - all members are invited!
This is not a regular meeting. There will be no dinner served.

Monday February 13th
Club Meeting - Guest Speaker - Bob Champlin, Laconia School District Superintendent, will speak on the new LHS Athletic Field.
Monday February 27th
Club Meeting - Guest Speaker - Gordon Dubois will speak on Hiking Across The Appalachian Trail.

WANT MAIL?
If you are not on the Kiwanis Bulletin e-mail list (and would like to be) please give Steve Loughlin your e-mail address. Also, if you are reading this bulletin and are not presently on the mailing list (and would like to be), "click" here.


"Click" here to get back to the top of the page.
Kiwanis Kronikle is publication of the Kiwanis Club of Laconia, P.O. Box 757, Laconia, NH 03247-0757.
We meet the second and fourth Monday at 6:15 p.m. at the Pheasant Ridge Country Club, Country Club Road, Gilford
Please call your President or Secretary about any member or family member in case of illness. Email: Roger Landry or Steve Loughlin

CLICK BELOW TO VISIT OUR FINE PATRONS