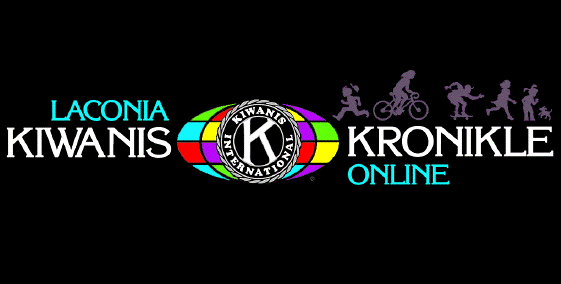 News That Concerns Kiwanians and Their Families
Venue: Huot Technical Center at Laconia High School
Attendance: 10 members, 12 guests (including our hosts)

Invocation: Kathy Calvin

Guests:
Shelly Batchelder - guest of Jack Batchelder
Jim McCollum- Principal of Laconia High School - guest speaker
| | | |
| --- | --- | --- |
| | | |
| | | |
Meet our hosts: The Laconia Key Club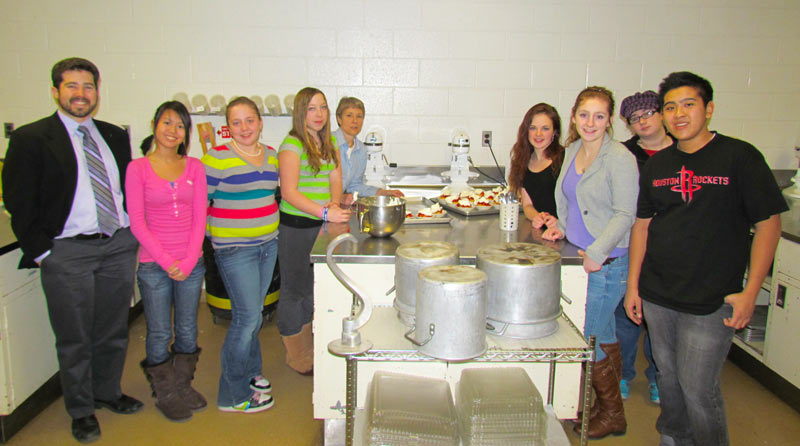 Left side: L to R:Chris Ulrich (Co-Advisor), Lily Chantaksak, Jocelyn Allain, Michelle Ward, Bonnie Ashworth (Co-Advisor)
Right side: L to R: Gwen Huot (Pres.), Emilie Maddocks, Kaity Neylon, Panthavy Pradachith
Absent from the picture was Trevor Lange, a culinary student, who helped out the Key Club in the kitchen.
Photo by W. Stephen Loughlin

Michelle Ward puts the final touches on the desert while Emilie Maddocks (left) and Lily Chantaksak look on.
Photo by W. Stephen Loughlin

News From The First Vice President:
In the absence of President Scott, First VP Jack Batchelder conducted the meeting.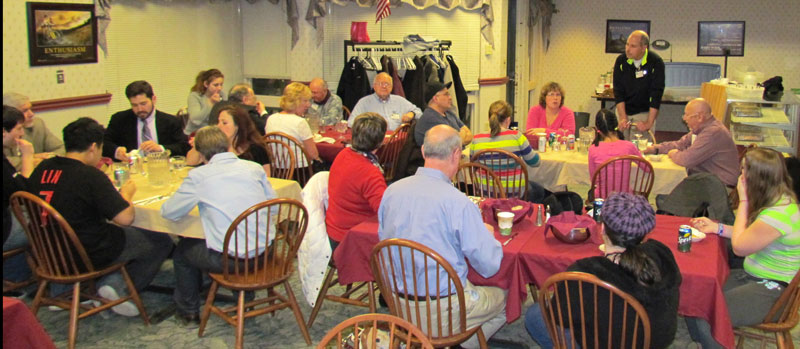 First Vice President Jack Batchelder addresses the group.
Photo by W. Stephen Loughlin
Jack reminded the membership of an Inter-club with the Meredith Kiwanis club on Thursday at 7:30 am, February 14th, at the Meredith Community Center.

The Fund-raising Committee has been meeting on a regular basis. Home Run Derby is being planned for June 2nd. Please let Jack know if you would like to assist in this project.

The next Kiwanis KARES will meet March 11th at Woodland Heights. So far three people have signed up.
Kevin Irish has been recommended by the Board as a new Director to fill in an unexpired one year term (formerlly held by Adam Cote). During tonight's meeting, a motion was made and seconded and Kevin was unanimously approved by the membership.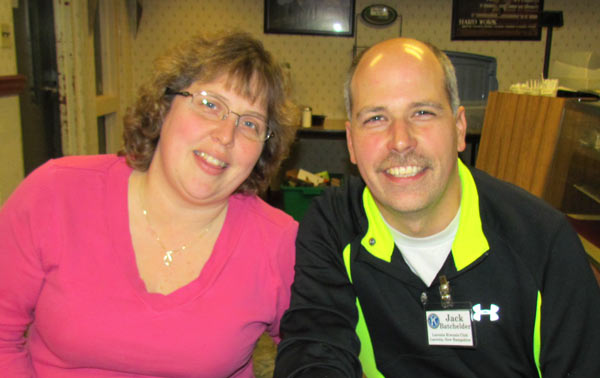 Meet the future first couple: Shelly and Jack Batchelder
Photo by W. Stephen Loughlin
50 50:
None this week
Happy Dollars:



$5 from Jack Batchelder in honor of the great season he had as coach of the Laconia High School Bowling team.
$5 from Steve Loughlin to say thank you for the great customer service he received at NAPA (located at 580 Union Ave., Laconia.) when the store employee assisted him remedy a window wiper issue.
Guest Speaker:

Jack Batchelder introduced our guest speaker, Jim McCollum, the principal of Laconia High School. Last fall, McCollum was appointed to his present position at LHS, where he had been assistant principal for three years between 2000 and 2003 before serving a two-year stint as principal of the Newfound Middle School before returning to Laconia to head the Laconia middle school.
The meeting then reconvened to the LHS library for the formal program Excellence for Education. During the presentation, Jim reported the first thing he did when coming abroad as principal in July was to poll the teacher staff in order to determine "what's good, what's bad and what's ugly." This resulted in increased supervision in the halls as well as other improvements to the culture of the school which included:
Increased expectations around attendance
Increased supervision of cafe
Increased focus on learning by removal of distractions
Increased contact with parents through the monthly PTO
Setting goals around citizenship throughout the schools sports program and
Teach Like a Champion based upon a book that includes 49 techniques of excellence in teaching
Jim reviewed several charts showing how academic standards have improved at Laconia High School in the last year. He also discussed several academic classes that are available in achieving college credits.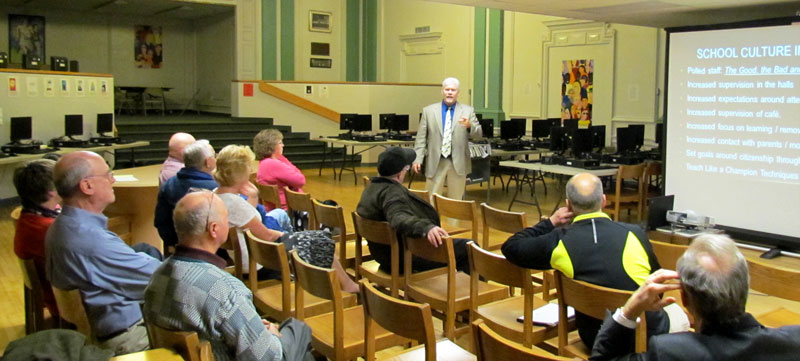 Jim McCollum discusses Excellence for Education at Laconia High School.
Photo by W. Stephen Loughlin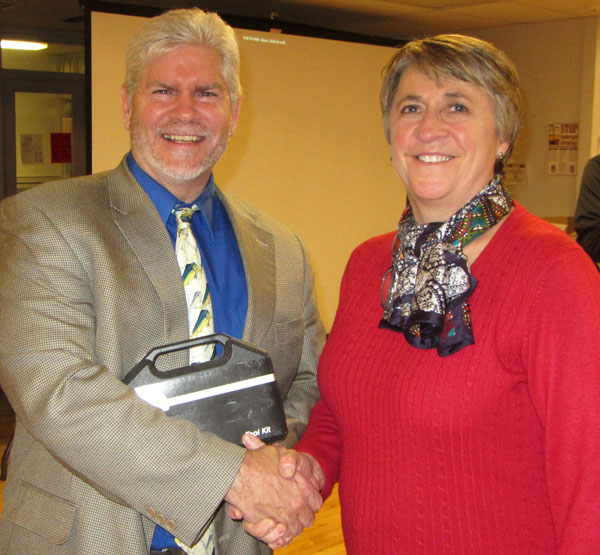 Jim McCollum receives a thank you from program coordinator, Betty Ballantyne.
Photo by W. Stephen Loughlin
Tonight's meeting was adjourned at 7:28 p.m.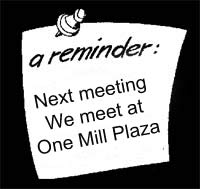 Our next meeting is Monday, February 25th at One Mill Plaza. With St. Patrick's Day just a few weeks away, Jack Batchelder will have homemade Irish beer and a bottle of Bailey's to raffle off with all monies going to the Laconia Kiwanis Charity Fund. Tickets will be $1.00 each or 8 for $5.00.
Our next meeting is at One Mill Plaza on February 25th.
Photo by W. Stephen Loughlin
IN THE NEWS:
Giuseppe Adrignola says: "Sai parlare Italiano?"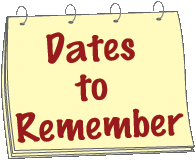 Monday - February 25th
OPEN - WE MEET AT ONE MILL PLAZA
Monday - March 11th
WE MEET AT THE GILFORD YOUTH CENTER
Scott Hodsdon, Program Director of The Gilford Youth Center, will give us a presentation and tour of the facility.
Monday - March 25th
WE MEET AT THE PHEASANT RIDGE COUNRY CLUB
OPEN
Monday - April 1st
Board of Directors Meeting 5:30 p.m. at One Mill Plaza - all members are invited!
This is not a regular meeting. There will be no dinner served

WANT MAIL?
If you are not on the Kiwanis Bulletin e-mail list (and would like to be) please give Steve Loughlin your e-mail address. Also, if you are reading this bulletin and are not presently on the mailing list (and would like to be), "click" here.


"Click" here to get back to the top of the page.
Kiwanis Kronikle is publication of the Kiwanis Club of Laconia, P.O. Box 757, Laconia, NH 03247-0757.
We meet the second and fourth Monday at 6:15 p.m. at the Pheasant Ridge Country Club, Country Club Road, Gilford
Please call your President or Secretary about any member or family member in case of illness. Email: Roger Landry or Steve Loughlin

CLICK BELOW TO VISIT OUR FINE PATRONS