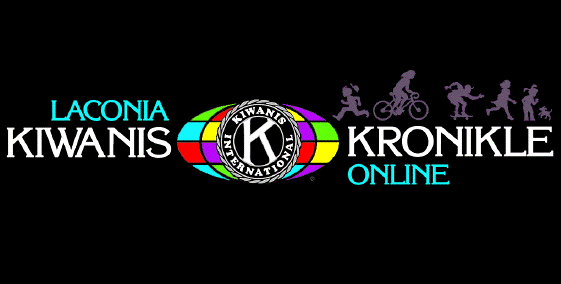 News That Concerns Kiwanians and Their Families
Attendance:
28

Invocation:
Warren Mitchell
Guests:
From the Key Club: Brandon Wunsch and Katherine Mitchell
Pat Webster- Guest of Roger
Kevin Irish - Incoming member
Guest Speakers: Steve Beals, LHS President and Joe Cormier, School Board Chairman


| | | | | |
| --- | --- | --- | --- | --- |
| | | | | |
| | | | | |
| | | | | |
| | | | | |
| | | | | |
| | | | | |
News from the Prez:
President Roger: 
• Reported on an invitation from the Lion's Club for the Laconia Kiwanis club to be involved in a St. Patrick's Day party at the Grappone Center in Concord.
• Read a Thank You for our donation to the Camp Mayhew program
• Reported there will be a retirement party for Nancy Williams-Hunt on March 2nd from 1:00 p.m. to 3:00 p.m. at Laconia Branch of Meredith Village Savings Bank. Nancy is a past president of the Laconia Kiwanis Club and now an Honorary Member of the Laconia Kiwanis Club. For details on Nancy's retirement party, "click" here.
• Reported on recent committee assignments and asked for feedback from the club. If you want to be on another committee or would like to change committee assignments please let him know.
• Reported Lori Dickson has volunteered to call club members when we haven't heard from them for a while.
From the Chairman of the Fund-raising Committee:
Brian Winslow reported on plans for a St. Patrick's Day dinner fund-raiser. For details "click" here.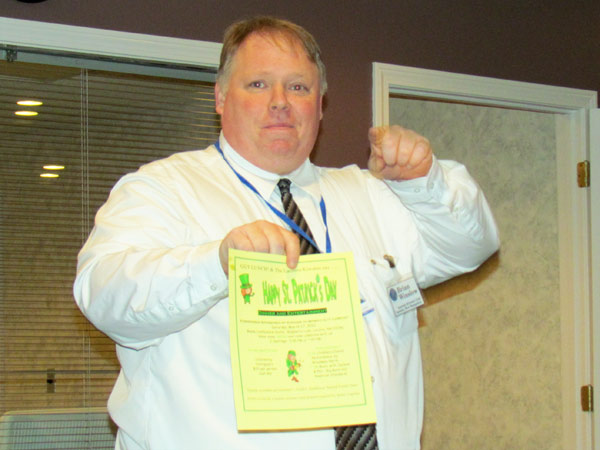 Brian Winslow wants YOU to buy a ticket.
Photo by W. Stephen Loughlin
Kiwanis KARES:
Kathy Calvin informed the group of the following scheduled Kiwanis KARES
February 23rd at Pleasant Street School
March 7th at Woodland Heights (Dr. Suess's Birthday…there will be cake!!!) 10:25 am -12:00 noon
News from our Life Member:
Dick Breton introduced Kevin Irish (incoming member) and kicked off happy dollars by announcing Dr. Singh's becoming a new daddy.
50 50:    
Adam Cote won $31.


Adam Cote proudly shows off his winnings.
Photo by W. Stephen Loughlin
Happy Dollars:


• $1 from Dick Breton to celebrate the birth of a baby girl to Paul and Linda Singh
• $3 from Adam Cote for winning the 50/50
• $1 from Pres. Roger in honor of Paul Singh's new baby
• $1 from Ed Merski for being back to Kiwanis after being away for several weeks and having several medical procedures done
• $2 from Betty Ballantyne - the first because Ed, Roger and Carroll could make the meeting. The second because she will soon be moving out of a trailer at work into a new building at the Irwin Zone dealership
• $1 from Steve Loughlin thanking Honorary Member (and past president) Nancy Williams-Hunt for her assistance with new name badges.
• $1 from Lori Dickson because the Laconia Daily Sun did a nice story on her niece who is a cheerleader for the New England Patriots. (To read that story, "click" here.)

Fines:
John Markland was fined 25 cents
Free Meal:
Kathy Calvin
Food Pantry:
$60 was collected
Guest Speakers:

Betty Ballantyne introduced our guest speakers Steven Beals and Joe Cormier with written comments prepared by Laconia School Superintendent, Bob Champlin.
"Steve Beals is in his fifth year as our Laconia High School Principal. He is fond of (Laconia) Kiwanis as yours was the first group who asked him to come when he was our first Principal. Joe Cormier has been a School Board member for 10 years and a life long Laconian. He is the Chair of the Huot-LHS Master Plan project. Both Steve and Joe represent the very best kid centered people we have in our organization. They are pleased to be at the Beane Center with you!"
Steve and Joe gave a presentation regarding the Huot Career and Technical Center-Laconia High School Master Plan Building Project. The project includes the construction of some 32,600-square-feet of new space on two floors along Dewey Street and the renovation of some 17,000-square-feet of existing space as well as relocating the football field and reconfiguring Bobotas Field.
This summer work will begin on the athletic fields, though the football field will remain playable until November 1, 2012. The plan calls for radically altering the terrain east of the football field by removing the hill and creating two terraces stretching from the rear of the school building to the far side of Bobotas Field, which is in Gilford. The first 350 feet between the school building and first terrace would be divided between a parking lot with spaces for 140 vehicles and a green space of 35,000-square feet. A berm would divide the parking area and green space from the first terrace, which would hold the football field. The work is scheduled to be completed by August 2013.
With respect to building improvements, the time line calls for the work to proceed in three stages. The new addition, along with a new boiler plant, is scheduled to be completed between June and April 2013, while the renovation of the pre-engineering, manufacturing and automotive, and build trade space at the existing Huot Center is expected to be finished by this August.
The project is expected to cost approximately $16 million. The state will fund 75% of the cost and approximately $6.5 million will be funded by Laconia Savings Bank through a QZAB (Qualified Zone Academy Bond). Created by the U.S. Congress, a QZAB is a relatively new financing instrument used to carry out public school renovations, repairs, and improvements. Bond interest is paid through tax credits, which enables schools to save up to 50-percent of the cost of construction projects.
"Click" the pictures below to make them larger.


L to R: Joe Cormier looks on as Steve Beals responds to a question.
Photo by W. Stephen Loughlin

Aerial view of Laconia High School and present and future football field
Photo by W. Stephen Loughlin from Google Earth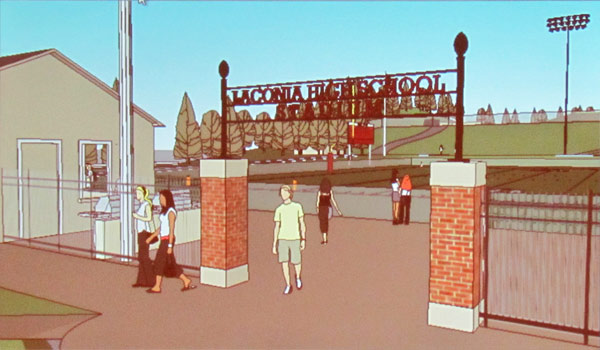 Rendering of entrance to proposed football stadium
Photo by W. Stephen Loughlin from PowerPoint Presentation
o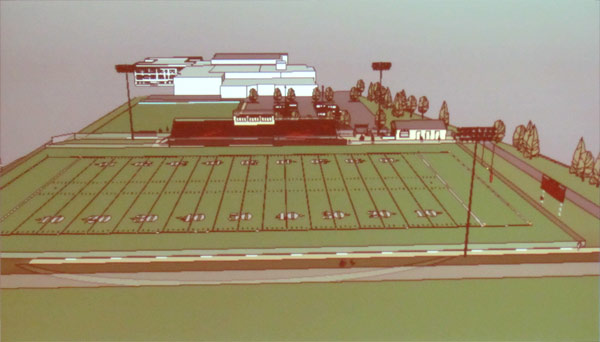 Rendering of proposed football stadium (Laconia HS in background)
Photo by W. Stephen Loughlin from PowerPoint Presentation

L to R: Roger Landry, Steve Beals, and Joe Cormier
Photo by W. Stephen Loughlin

Tonight's meeting was adjourned at 7:40 p.m.
IN THE NEWS:

A story on the
program, which includes details on the Laconia Kiwanis Club's St. Patrick's Day dinner, was featured in the Laconia Daily Sun. To read that story, "click" here.

The YANKIWANIAN, the New England District newsletter for January 2012, may be viewed by "clicking" here.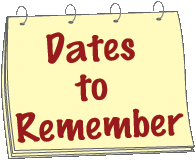 Monday February 27th
Club Meeting at the Beane Conference Center - Guest Speaker - Gordon Dubois will speak on Hiking Across The Appalachian Trail.
DURING THE MONTH OF MARCH, WE MEET AT LACONIA HIGH SCHOOL
IN THE HUOT TECHNICAL CENTER RESTAURANT
WE WILL BE THE GUESTS OF THE LACONIA KEY CLUB.
FOR DIRECTIONS "CLICK" HERE.
Monday March 12th
Club Meeting - at Laconia High School - a technology presentation will be done by the Laconia School District Techies
Saturday March 17th
St. Patrick's Day Fund-raiser - at Beane Conference Center with the
crew
Monday March 26th
Club Meeting - at Laconia High School - Those in attendance will receive a tour of the school.

WANT MAIL?
If you are not on the Kiwanis Bulletin e-mail list (and would like to be) please give Steve Loughlin your e-mail address. Also, if you are reading this bulletin and are not presently on the mailing list (and would like to be), "click" here.


"Click" here to get back to the top of the page.
Kiwanis Kronikle is publication of the Kiwanis Club of Laconia, P.O. Box 757, Laconia, NH 03247-0757.
We meet the second and fourth Monday at 6:15 p.m. at the Pheasant Ridge Country Club, Country Club Road, Gilford
Please call your President or Secretary about any member or family member in case of illness. Email: Roger Landry or Steve Loughlin

CLICK BELOW TO VISIT OUR FINE PATRONS