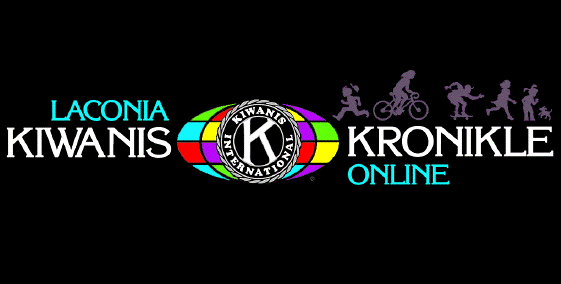 News That Concerns Kiwanians and Their Families
Th
Attendance:
25
Invocation:
Warren Mitchell
Guests:
Vi Adrignola
Becky Beane
Carole Davis
Joanne Merski
Elaine Morrison
Rosemary Murphy
Pat Webster

| | | | | | | |
| --- | --- | --- | --- | --- | --- | --- |
| | | | | | | |
| | | | | | | |
| | | | | | | |
| | | | | | | |
| | | | | | | |
Thanks Kiwanis!


President Mike read a thank you note from Jim Nute and the Mayhew Program.
To read the letter, "click" here.

Great News from Brian:
Immediate Past President Brian reported to the club that January fundraising at the Lodge was more than $10,000!

Guest Speakers Wanted:

Roger Landry reported we have several openings for guest speakers. At this time, we have just one speaker scheduled (See bottom of page). If you know someone who might give us an interesting program please let Roger know. Give him a call at or email him by "clicking" here.
Dick's Looking For A Fine:
Dick Breton alerted the club that Charlie St. Clair is featured on his Harley Davidson in a GoldWing magazine….and he is not wearing his Kiwanis Pin.  Dick will be traveling to Daytona Bike Week and hopes to get the fine from Charlie!

Dick puts the finger on Charlie.

50 50:
$25 to Betty Ballantyne


Betty is a winner.
Photo by W. Stephen Loughlin
Happy Dollars:


$1 from Pat Webster because Roger is doing well after his surgery
$5 from Betty Ballantyne for winning the 50/50
$3 from Joe Adrignola...$1 for Vi joining him this evening and $2 for our guest speakers
$1 from Betty Ballantyne again…for her new grandchild "Isabella Catherine Ballantyne"
$1 from Dick Breton because he is headed to Florida.
Fines:
Larry Murphy reports that there are no fines to collect this evening…but he is keeping his eye on things.
Food Pantry:
Collected $50.00

Guest Speakers:

Joe Adrignola introduced Ray and Lauretta Seabeck as our guest speakers this evening. 

Ray and Lauretta presented a slide show with pictures of the many years of important work that they have been doing in Haiti since there first trip in 1980. They first considered doing missionary work in 1978 after Pope John Paul I died after a short time as Pope.  As a way to remember and honor him, the Missionary Servants of Pope John Paul I was formed.  Mother Theresa advised Ray and Lauretta to do their work in Haiti.

They have been traveled to Haiti between 1980 and 2009. They helped a convent that had 9 missions in Haiti (4 were destroyed during the earthquake).   Earthquake brought on much destruction and the nuns that Ray and Lauretta had been working with are advising that nobody visit until it is safe.  As a result of the damage millions are living in tents that sometimes get up to 140 degrees inside.  There is open sewage ditches and safe water is hard to find.  There have been terrible cholera outbreaks and some people are still digging through the rubble looking for family members.  Street clinics are open all day (5am – 9pm) and thousands of people wait in line to be seen.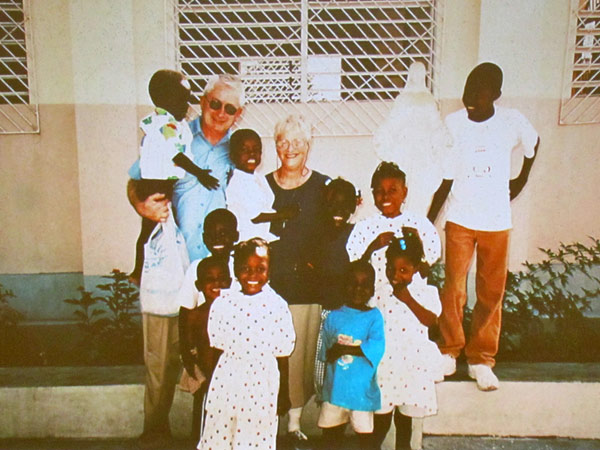 Ray and Lauretta Seabeck assisting children in Haiti

Ray and Lauretta helped with the children's homes that sometimes had 2-300 residents on any given day.  In the past Ray and Lauretta shipped cargo containers to Haiti that were full of much needed supplies (clothes, food, etc) they will resume this again as soon as the nuns say that it is safe to do so.
On January 12, 2011, The Citizen of Laconia did an article on the Seabecks and the conditions in Haiti. You can read that story by "clicking" here.
Ray Seabeck, Joe Adrignola and Lauretta Seabeck
Photo by W. Stephen Loughlin

Tonight's meeting was adjourned at 7:48 pm.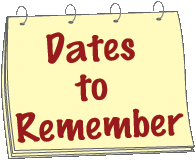 Monday February 28th
Club Meeting - Kiwanian Michelle Cardinal will discuss the D.A.R.E. Program
IN MARCH WE RETURN TO THE PHEASANT RIDGE COUNTRY CLUB!
Monday March 14th
Club Meeting - Speaker TO BE ANNOUNCED
Monday March 28th
Club Meeting - Ernie Bolduc will speak about Christmas Village

"Click" here to get back to the top of the page.
Kiwanis Kronikle is publication of the Kiwanis Club of Laconia, P.O. Box 757, Laconia, NH 03247-0757.
We meet the second and fourth Monday at 6:15 p.m. at the Pheasant Ridge Country Club, Country Club Road, Gilford
Please call your President or Secretary about any member or family member in case of illness. Email: Joe Collie or Steve Loughlin

CLICK BELOW TO VISIT OUR FINE PATRONS