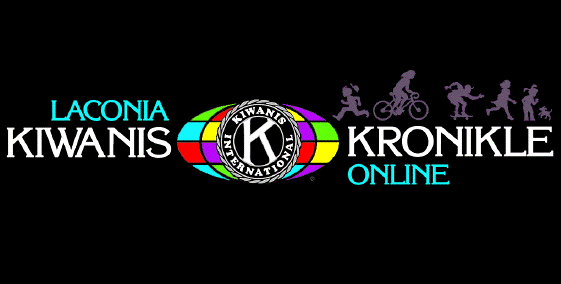 News That Concerns Kiwanians and Their Families
Attendance:
19

Invocation:
Brian Winslow
Guests:
From Portsmouth:
Frank Dennett – Governor-Elect
Molly Dennett – First Lady of the Governor Elect
Dan Witham – Lt. Governor New England District – Division 6

Guest Speaker: Gordon DuBois
News from the Prez:

President Roger reminded the club about the retirement party for Nancy Williams-Hunt on Friday, March 2nd at the Meredith Village Savings Bank office on South Main Street in Laconia. Nancy was the first female president of the Laconia Kiwanis Club (1995-1996) and is currently an Honorary Member of the club. A group from Kiwanis plans to attend at 1:30 p.m. If you can attend, please join the group in the parking lot at the rear of the bank.
Roger called on Past President Brian Winslow to update the club on the St. Patrick's day dinner fund-raiser. Brian reported that tickets are available at NAPA (in Laconia), Greenlaws Music and the Natural Food Store (on South Main Street in Laconia) For further details, "click" here.
Roger then handed out new committee lists for the members to review. Roger noted if there is a special committee that you are not on that you'd like to be on, or if you'd like to be on a different committee from what you were already assigned to let him know. The goal is that each member be on a committee that they would enjoy serving on.
Kiwanis KARES:
Kathy Calvin reported there was a Kiwanis KARES this past Thursday at Pleasant Street School. In addition to Kathy, Chet Cilley, Larry Murphy and Randy Brough were present. Next Wednesday, March 7th, there will be a Kiwanis KARES at Woodland Heights School from 10:25 am until 12 p.m.. Volunteers are needed as only three people have signed up.
From the Chairman of the Fund-raising Committee:
Brian Winslow reported the track has been busy over the last week. That is encouraging since the Laconia Kiwanis Club receives a donation based upon activity.

50 50:    
28 dollars to the winner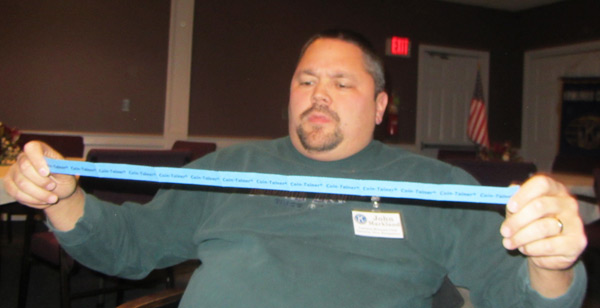 John Markland scrutinizes his many tickets BUT....
Photo by W. Stephen Loughlin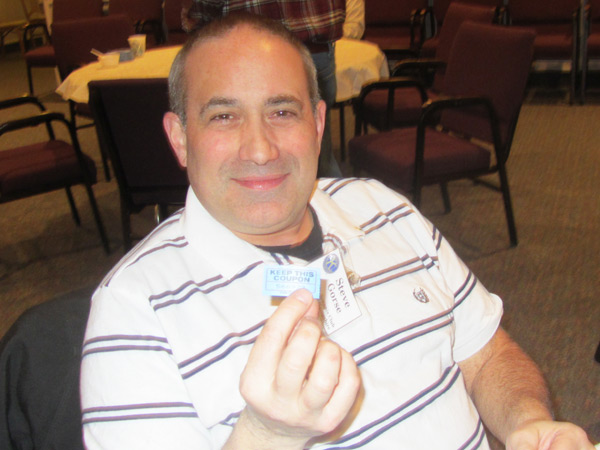 ...Steve Gorse has the one and only winning ticket.
Photo by W. Stephen Loughlin
Happy Dollars:


$1 from Steve Gorse for winning the 50 50
$1 from Brian Winslow because "the State of NH Gaming Commission has not arrested me for missing any of tonight's signing (of paperwork) down at the track yet."

Fines:
None tonight
Thanks For Coming:
President Roger acknowledged Lt. Governor Dan Witham and his group for attending our meeting. Dan noted he was happy to visit and keeps up with the status of our Club through the newsletter.
Guest Speaker:

Betty Ballantyne introduced our guest speaker Gordon DuBois, a former Laconia resident, who now resides in New Hampton with his wife, Nancy. In 2006, Gordon retired from the New Hampshire Department of Health and Human Services and devotes more time than ever to his passion, long distant hiking and winter mountaineering.
Gordon DuBois presented a slide – lecture program on hiking the Appalachian, Long (in Vermont) and International Appalachian (Quebec, Canada) Trails. Using slides and telling stories, Gordon shared his experiences on these three major hiking trails of the East Coast. He discussed the people he met, the places he visited and the many interesting animals he encountered: snakes, bears, moose, caribou, wild ponies, African steers, wild boar raccoons, cats and dogs. He also discussed equipment and clothing needed for long distant hiking.
A feature story in the Laconia Daily Sun, dated 11/3/11, covered details of Gordon's hiking the Appalachian Trail and other hiking experiences. You can read that story by "clicking" here.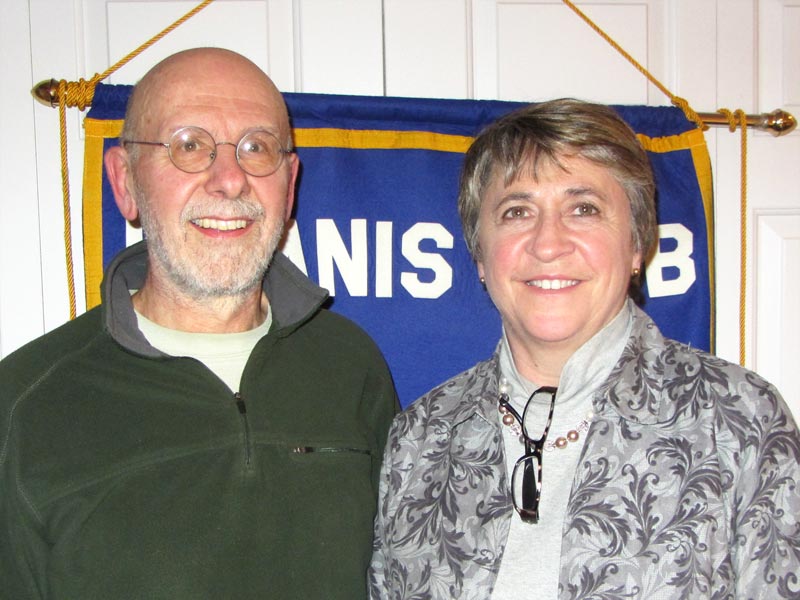 L to R: Gordon DuBois and Betty Ballantyne
Photo by W. Stephen Loughlin

Tonight's meeting was adjourned at 7:40 p.m.
IN THE NEWS:
Charlie St. Clair was in the Laconia Daily Citizen March 1, 2012. Is he wearing his "K" pin?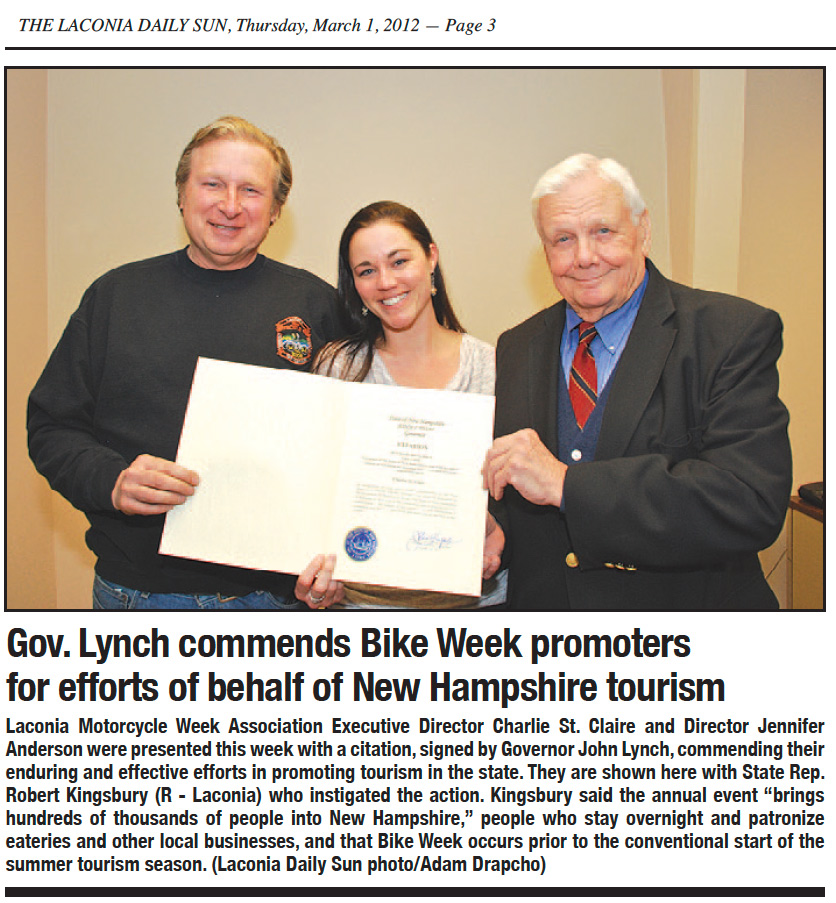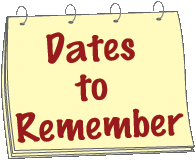 DURING THE MONTH OF MARCH, WE MEET AT LACONIA HIGH SCHOOL
IN THE HUOT TECHNICAL CENTER RESTAURANT
WE WILL BE THE GUESTS OF THE LACONIA KEY CLUB.
FOR DIRECTIONS "CLICK" HERE.
Monday March 5th
Board of Directors Meeting 5:30 p.m. at One Mill Plaza - all members are invited!
This is not a regular meeting. There will be no dinner served.
Monday March 12th
Club Meeting - at Laconia High School - a technology presentation will be done by the Laconia School District Techies
Saturday March 17th
St. Patrick's Day Fund-raiser - at Beane Conference Center with the
crew
Monday March 26th
Club Meeting - at Laconia High School - Those in attendance will receive a tour of the school.

WANT MAIL?
If you are not on the Kiwanis Bulletin e-mail list (and would like to be) please give Steve Loughlin your e-mail address. Also, if you are reading this bulletin and are not presently on the mailing list (and would like to be), "click" here.


"Click" here to get back to the top of the page.
Kiwanis Kronikle is publication of the Kiwanis Club of Laconia, P.O. Box 757, Laconia, NH 03247-0757.
We meet the second and fourth Monday at 6:15 p.m. at the Pheasant Ridge Country Club, Country Club Road, Gilford
Please call your President or Secretary about any member or family member in case of illness. Email: Roger Landry or Steve Loughlin

CLICK BELOW TO VISIT OUR FINE PATRONS