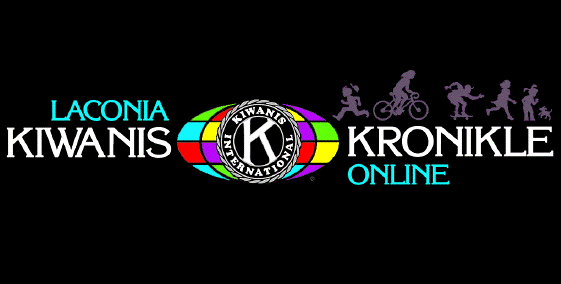 News That Concerns Kiwanians and Their Families
Venue: Gilford Youth Center
Attendance: 19

Invocation: Joe Adrignola

Guests:
Scott Hodsdon - Director Gilford Youth Center - guest speaker
David Dickson - President - Hooksett Kiwanis Club
Judy Barrett - Vice President - Hooksett Kiwanis Club
Sue Willey - Treasurer - Hooksett Kiwanis Club
Katie Orlando - President Elect - Hooksett Kiwanis Club


Meet Our Guests from the Hooksett Kiwanis Club:
News From The President:
President Scott introduced David Dickson of the Hookset Kiwanis Club. Dave shared that they have 83
members, about 70 of them active in their programs. They are a twice-monthly dinner club, meeting at Southern New Hampshire University, exit 9 off I-93. Their club is on a mission to inter club with 30 clubs by the end of June, we are #13. This club operates a food pantry and a kid's closet out of the Town Hall building in Hookset, does a fund-raising golf tournament, a road race, and one other fund-raising event each year. They are on good financial footing.
For more information on the Hooksett Kiwanis Club "click" here.
President Scott mentioned the tri-fold brochure that was mentioned last meeting has been taken on as a project by the Membership Committee, Mike Marsh chairman, and pictures from our own archive taken by Steve Loughlin over the years will be used in it. Scott also asked for an inventory check of our bicycle helmet supply. Finally, Scott reminded the club that over the next four meetings we will be passing the hat so as to raise $1,000 to purchase a paver for the Laconia HS athletic complex, currently under construction. John Walker mentioned that Dick Breton knew that the Rotary had purchased a paver, and we want one too.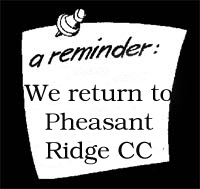 On March 25, we will resume holding our meetings at Pheasant Ridge Country Club.

We meet here for our next meeting.
Photo by W. Stephen Loughlin
News From The Members:
Dick Breton announced he would donate $250 for the purchase of the paver.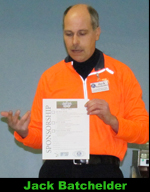 Jack Batchelder announced all 250 tickets for the raffle of the Kindle Fire are in members' hands, so if anyone has any trouble selling theirs, let him know, and he will get them to other members who need additional tickets. The Kindle is now making money, sales have already paid for it.
Jack also announced that plans for the Home Run Derby are coming along nicely, there is interest among the local high schools to compete against each other. Letters to potential sponsors have been mailed and Jack may be asking for help in making follow-up phone calls to potential sponsors.
50 50:
$36 is tonight's prize...

Hooksett Kiwanian Katie Orlando does the draw while Joe Adrignola hopes to break a three month winless streak.
Photo by W. Stephen Loughlin
.... and the winner is... Dave Dickson

Hooksett Kiwanis President Dave Dickson shows off a sample of his winnings.
Photo by W. Stephen Loughlin
Happy Dollars:


$5 from Dave Dickson in thanks to Laconia Kiwanis for its hospitality.
$1 from Larry Murphy for his son figuring out his taxes.
$3 from Joe Adrignola for his 3 week vacation.
$2 from Roger Landry saluting the Page 2 NH Magazine mention of Mass. Mutual Insurance doing a good job in their industry. One of the featured agents' pictures was our own Jeff Beane.
Food Bank: $50 was collected.
Guest Speaker:
Betty Ballantyne introduced our guest speaker, Scott Hodsdon, Program Director of The Gilford Youth Center. He is in charge of programming, scheduling, and day-to-day operations of the center. Scott is also the Youth Director at the Gilford Community Church.
Scott Hodsdon reported that, five years ago, a group of Gilford parents got together and decided to try to raise enough money to build a community center which would give their school-aged children a place to go after school. Thanks to a few initial large donations, the rest of the town got behind the concept and the campus now consists of the Youth Center, another community center which now houses the nursery school, and the new library. The Community Church is not a part of the Center but has a very effective partnership whereby both entities use each other's' spaces when needed.
The Gilford Youth Center has been open for three years now, and its mission is to provide a safe place for families to have fun. They have a large gymnasium with six basketball baskets, no bleachers, a game room and an exercise facility. They also have a catering kitchen. The Gilford High School prom will be held there this year, and it is the site of the Gilford Town elections.
Revenue is produced by such events as the 150 birthday parties that are held their each year. All programs are free, other than the summer camps, but scholarship money is available to families who cannot afford the camp.
For more information on The Gilford Youth Center visit their website by "clicking" here.

Kevin Irish and Phil Bonafide enjoyed a tour of the facility.
Photo by W. Stephen Loughlin


Betty Ballantyne thanks Scott Hodsdon for his presentation.
Photo by W. Stephen Loughlin
Tonight's meeting was adjourned at 7:30 p.m.

DOUBLE CONGRATULATIONS TO JEFF BEANE!

#1 Jeff was recently recognized by his employer, Mass Mutual Insurance Company, for making "Leaders Conference." This recognition celebrates an agents' achievement in the field. Recipients are in the top 18-22 percent of annual producers out of more than 5,000 agents.

#2 Jeff was elected to the Town of Gilford Budget Committee on March 12th. Jeff received 482 votes, the highest number of the four challengers contesting for the three openings on this prestigious committee.
Congratulations, Jeff!

IN THE NEWS:
Congratulations to Mike Marsh and his son, Riley, on the acheivement of their basketball team.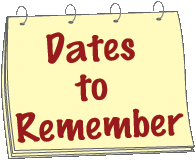 Monday - March 25th
WE MEET AT THE PHEASANT RIDGE COUNRY CLUB
OPEN
Monday - April 1st
Board of Directors Meeting 5:30 p.m. at One Mill Plaza - all members are invited!
This is not a regular meeting. There will be no dinner served


WANT MAIL?
If you are not on the Kiwanis Bulletin e-mail list (and would like to be) please give Steve Loughlin your e-mail address. Also, if you are reading this bulletin and are not presently on the mailing list (and would like to be), "click" here.


"Click" here to get back to the top of the page.
Kiwanis Kronikle is publication of the Kiwanis Club of Laconia, P.O. Box 757, Laconia, NH 03247-0757.
We meet the second and fourth Monday at 6:15 p.m. at the Pheasant Ridge Country Club, Country Club Road, Gilford
Please call your President or Secretary about any member or family member in case of illness. Email: Roger Landry or Steve Loughlin

CLICK BELOW TO VISIT OUR FINE PATRONS