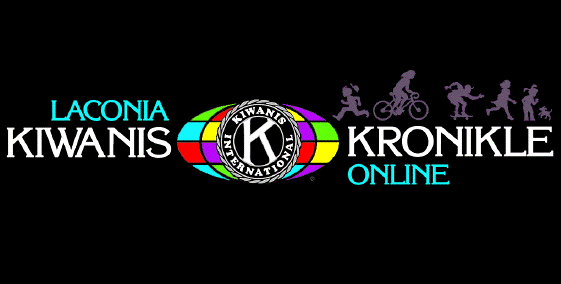 News That Concerns Kiwanians and Their Families
On the Road:
Tonight we met at Laconia High School in the Huot Technical Center Restaurant as guests of the Laconia Key Club.

A warm welcome from the Laconia High School Key Club
Photo by W. Stephen Loughlin
Attendance:
19 Kiwanis Club members
12 Key Club members
02 Key Club advisors: Steve Tucker and Bonnie Ashworth
02 Guests: Jeff Twombly and Beth Strauss

Meet our Hosts:

FRONT ROW: Chelsea Drouin, Michaela Sorrell, Olivia Fitzpatrick (Public Relations Officer), Emilie Maddocks,
Beth Teichert (President), Rebecca Mitchell (Co-Vice President), Abby Teichert (Co-Vice President)
SECOND ROW: Katherine Mitchell, Brandon Wunsch (Secretary), Danielle Cote, Andrew Kerns (Treasurer)
MISSING FROM THE PICTURE: Isabel Gorse
Photo by W. Stephen Loughlin

Key Club Advisors: Steve Tucker and Bonnie Ashworth
Photo by W. Stephen Loughlin
Invocation:
Adam Cote
Guest Speakers:

News from the Prez:
President Roger called on Beth Teigert who introduced our key Club hosts.

Roger then called on Jack Batchelder who commented on upcoming events for the Rich Velasquez Youth Sports Equipment Foundation. This included a golf tournament at Pheasant Ridge Country Club on June 9th and a raffle on various sports items which will be drawn on Sunday, March 25th . For details on that raffle, "click" here. For more details on the Rich Velasquez Youth Sports Foundation, "click" here.

Need Help:
Roger is looking for a volunteer(s) who wouldn't mind taking notes at our meetings that would be used for the bi-weekly bulletin. Please let Roger know if you can help.


for Dinner:
John Walker reminded that club of the
St. Patricks Day dinner, sponsored by the Laconia Kiwanis Club at the Beane Conference Center. (See news story at the bottom of this page.)
News from our Secretary:
Kathy Calvin reported on the Kiwanis K.A.R.E.S held at Woodland Heights School on March 7th. Those participating with Kathy were: Jack Batchelder, Larry Murphy, Chet Cilley and Randy Brough.

The Dover Kiwanis Club will be holding a fundraiser to benefit their children's charity fund. It will be held on Tuesday March 20th from 5 until 9. It's an all you can eat fish and chips dinner for $10.00.

We received two thank you notes. The first was from Past President Nancy Williams thanking the club for participating at her retirement reception at Meredith Village Savings Bank. The other thank you was from the Trustees of the Belknap Mill Society for our sponsorship of their Made in the USA event.
You can read both thank you letters below.

50 50:    
21 dollars to the winner
Joe Adrignola, who just retuned from vacation, did NOT win!
Tonight's winners were the table that included: Carroll Stafford, Ed Merski, Larry Murphy, Roger Webster, Russ Beane, and Kathy Calvin.


Happy old farts!
Photo by W. Stephen Loughlin
Free Meal:    
Kathy Calvin
Food Pantry:    
38 dollars was collected

Happy Dollars:


$3 from Carroll Stafford on behalf of the 50 50 winners at his table.
$1 from Ed Merski for being back from the hospital two more times since the last meeting.
$2 from Jack Batchelder for the Club's support of the Rich Velasquez Youth Sports Foundation.

Fines:
None tonight


Guest Speakers:

Betty Ballantyne introduced our guest speakers, Jeff Twombly and Beth Strauss.
Jeff Twombly has worked as the Network Manager for the Laconia School District for 10 years.  As noted by LHS principal, Steven Beals, Jeff's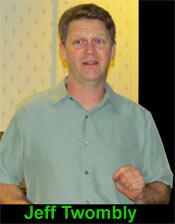 work ethic and creativity benefit 21st Century Teaching and Learning in the Laconia Schools.  He resides in Meredith.
Beth Strauss has worked as the Media Specialist at Laconia High School for the past two years.  She came to Laconia from the Pelham School District.  She resides in Gilmanton.
Jeff noted, when he started in Laconia, there were only about 100 computers.  Now there is at least one in every classroom.  Additionally, there are 13 computers labs, more than 150 netbooks in eight portable computer labs.  Technology inventory has topped out at over 11 hundred computers and over 140 iPads. 
In 1998, the 20 or so people that had e-mail may not have known that it was being hosted on an ancient Apple Macintosh that looked like a pizza box.  This was one of the three servers that they had in the school district at that time.
Today the school system has four "monster servers running many virtual servers." One of these boxes hosts an e-mail system, which has 475 individual e-mail accounts.  The staff e-mail is available with all sorts of fancy Blackberry, iPhone, and Android synchronization features.
Internet was done using modems before 2000.  Every school was networked together to one dial-up modem, which provided internet access.  That was it.  One modem for an entire school….and they liked it!
Now, the Laconia schools (except for LHS) have structured wiring systems in the buildings.  Buildings are connected together with fiber optic cables and have a fiber optic cable running from LHS to the Belmont Metrocast facilities, which gives the school the Internet.  The schools are running about 550 times faster than back in the day. 
There were no projectors in classrooms in 1998.  They were expensive and they stunk!  Now we have one in every single classroom in the district.  Several classrooms now have interactive projectors.  Current projectors have become just another part of the classroom.
The projectors being sold today come with Interactive Technology built right in.  Today there is no need to tear down existing marker boards to have an interactive whiteboard. Soon they will be in every classroom.
Jeff is hopeful that eventually staff members will be able to walk throughout their room with a tablet device and be able to project wirelessly.  He feels a teacher should never forced to be sitting at a computer for the technology pieces involved with their lessons.  He noted the school is presently in the infancy of that sort of technology.
In the past, wireless networking didn't exist.  Today there are 85 wireless access points installed throughout the Laconia School District.  Today there are 771 wireless devices (teachers laptops, iPads, etc) hooked into this network.  Last month it was around 702.  The month before there were 650. Jeff reported, "this technology is exploding."
Jeff concluded his presentation by noting a lot of people ask him what the future of technology is going to be.  He noted, "I am positive that tablet computers are going to replace all other forms of personal computing. I believe that the computers in all but the most complex computer labs are going to disappear and be replaced with portable interactive devices.  We are seeing and starting that trend now with our iPad Carts."
Jeff's presentation was a great segue into the Beth Strauss's presentation.
Beth handed out iPads to each member and gave a "hands on" presentation on the iPads use in facilitating a teaching lesson.

Beth Strauss gives the Kiwanians a hands-on demonstration of the iPad.
Photo by W. Stephen Loughlin

Not all the eyes are on the iPads.
Photo by W. Stephen Loughlin

This button will transfer money from your account to mine.
Photo by W. Stephen Loughlin
Old guy on his old iPad.




Photo by W. Stephen Loughlin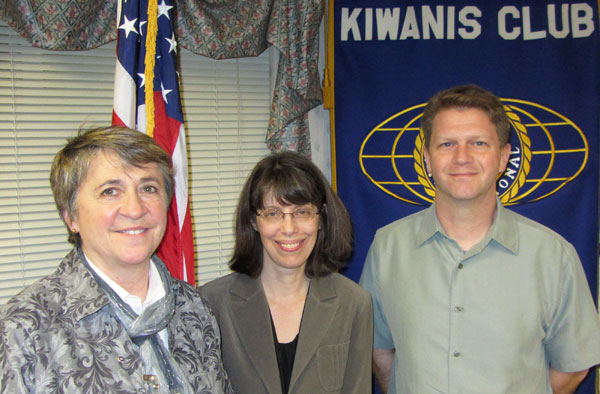 L to R: Betty Ballantyne, Beth Strauss and Jeff Twombly
Photo by W. Stephen Loughlin

Tonight's meeting was adjourned at 7:50 p.m.
IN THE NEWS:

Nancy Williams (Past President 1995-1996) was recently in the news as she celebrated her retirement from banking. Several Kiwanians stopped by Meredith Village Savings Bank on South Main Street in Laconia to offer Nancy best wishes.
Phil Bonafide (PP 2001-2002) with Nancy Williams

Photo by W. Stephen Loughlin

Nancy Williams with Warren Mitchell

(PP 2003-2004)


Photo by W. Stephen Loughlin

L to R: Carroll Stafford, Steve Loughlin, Kathy Calvin, Mark Liebl (PP 1998-1999),
Nancy Williams, Brian Winslow (PP 2008-2009) and Scott Laurent
Photo by Marcia Cotter

To read the story on Nancy Williams' retirement that appeared
in the Weekend Citizen of Laconia, "click" here.

The Saint Patrick's Day fund raiser with the team
was featured in The Laconia Daily Sun.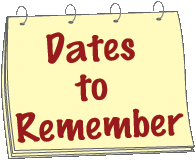 DURING THE MONTH OF MARCH, WE MEET AT LACONIA HIGH SCHOOL
IN THE HUOT TECHNICAL CENTER RESTAURANT
WE WILL BE THE GUESTS OF THE LACONIA KEY CLUB.
FOR DIRECTIONS "CLICK" HERE.

Monday March 26th
Club Meeting - at Laconia High School - Those in attendance will receive a tour of the school - Steve Beals and Scott Davis will make the presentation
STARTING IN THE MONTH OF APRIL, WE MEET AGAIN AT
THE PHEASANT RIDGE COUNTRY CLUB
Monday April 9th
Club Meeting - Speaker to be announced

WANT MAIL?
If you are not on the Kiwanis Bulletin e-mail list (and would like to be) please give Steve Loughlin your e-mail address. Also, if you are reading this bulletin and are not presently on the mailing list (and would like to be), "click" here.


"Click" here to get back to the top of the page.
Kiwanis Kronikle is publication of the Kiwanis Club of Laconia, P.O. Box 757, Laconia, NH 03247-0757.
We meet the second and fourth Monday at 6:15 p.m. at the Pheasant Ridge Country Club, Country Club Road, Gilford
Please call your President or Secretary about any member or family member in case of illness. Email: Roger Landry or Steve Loughlin

CLICK BELOW TO VISIT OUR FINE PATRONS