BWS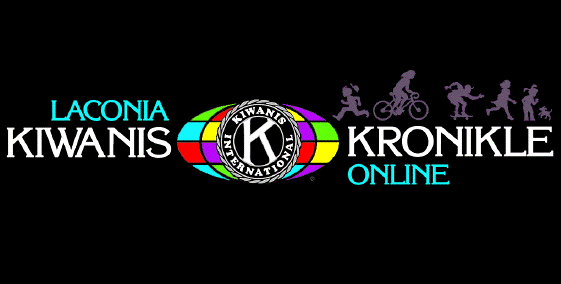 News That Concerns Kiwanians and Their Families
Date of Meeting: March 21, 2023
Venue: The Belknap Mill
Attendance: 14 in attendance: 8 members and 6 guests

MEMBERS AND GUESTS:
Laconia Kiwanis Club Members:
Betty Ballantyne
Phil Bonafide
Ray Chambers
Bill Gile
Steve Loughlin
Don Nelson
Tara Shore
Bob Willey

Guests:
Roger Dargy - Guest of Betty Ballantyne
Sue Nelson – Honorary Member and wife of Don
Keith Styles – Guest of Betty Ballantyne and potential Kiwanis member

Kathryn Beane – LHS Key Club Co-President
Shelby Luther – LHS Key Club Co-President
Jilli Paul – LHS Key Club Advisor
P

ho

tos by W. Stephen Loughlin
First Vice President Betty Ballantyne hosted the meeting.
Invocation & Pledge:
Invocation: Ray Chambers
Pledge of allegiance: The group
America (My Country, 'Tis of Thee): Led by Don Nelson

The Pledge of Allegiance
Photo by W. Stephen Loughlin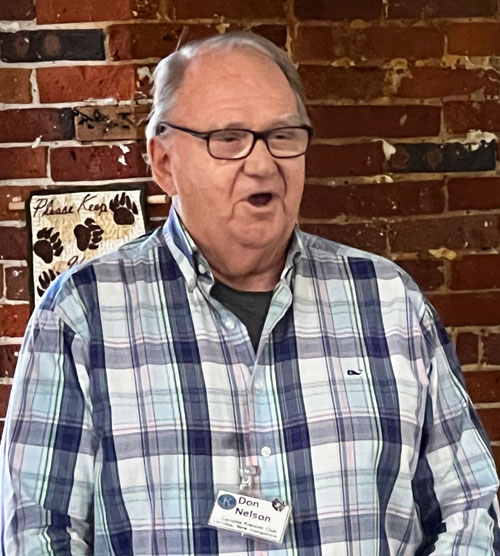 Don Nelson: The Voice
Photo by W. Stephen Loughlin

M E E T I N G vS U M M A R Y

KEY CLUB UPDATE:
Key Club Co-Presidents, Kathryn Beane and Shelby Luther, reported on the Club's Necessities Drive. It was a competition amongst the Freshmen, Sophomores, Juniors and Seniors. They collected more than expected. They are now arranging a High School Yard clean-up for this spring. They also expect to have a Sneaker Drive to collect monies toward Camp Sunshine, located in Maine.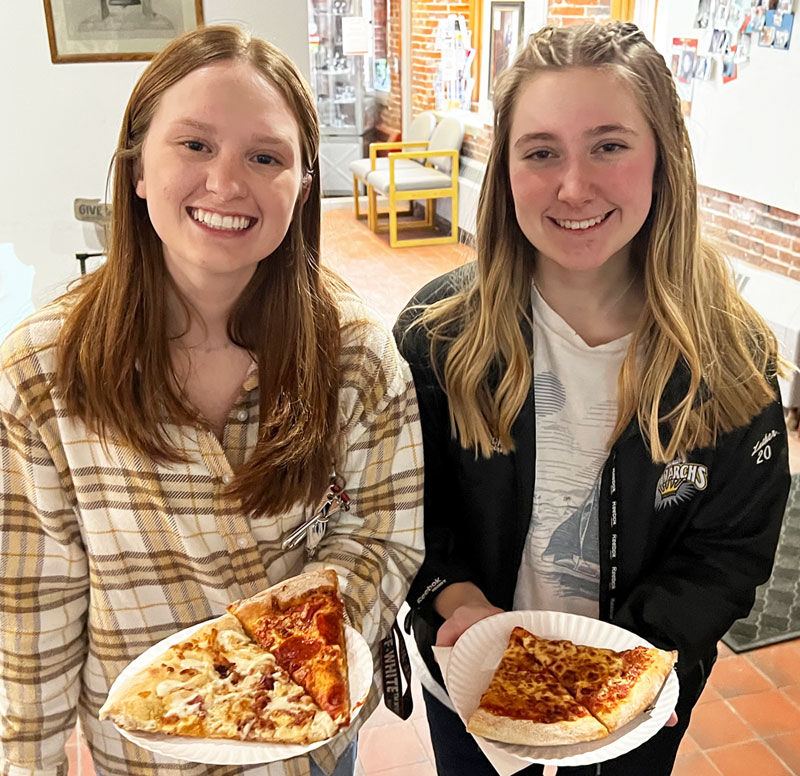 After making their presentation, Kathryn and Shelby, with food in hand, moved on to their next commitment.
Photo by W. Stephen Loughlin
NEXT CLUB MEETING: Our next regular meeting will be held on Tuesday, April 18th, at The Belknap Mill at 6:00 p.m. Our guest speaker will be the Laconia City Manager, Kirk Beattie.
KIWANIS K.A.R.E.S. (Kids And Reading Equals Success):
The Laconia Kiwanis Club recently completed K.A.R.E.S. sessions with Elm Street School and Woodland Heights Elementary School. Thanks to the following who volunteered their time: Keith Styles, Bill Gile and Betty Ballantyne. Below are pictures.
ELM STREET SCHOOL (2/14/23)

Keith Styles reads to the kids

Elm Street School third graders

Standing in the back row are L to R: Mrs. Ember Stokes, Ms. Emily Giambastini and Mrs. Toni Manning

WOODLAND HEIGHTS SCHOOL (3/8/23)

Woodland Heights School third grade class

Standing in the back row are L to R: Kiwanis Club President Bill Giles and Media Specialist Robbie Prescott-Neylon

K.A.R.E.S p

ho

t

o

s by Betty Ballantyne
1ST ANNUAL KIWANIS FREE THROW COMPETITION:
Betty Ballantyne noted she had an excellent collaboration with representatives from: Lou Athanas Youth Basketball League, Gilford Parks & Rec., Laconia Parks & Rec., Franklin Parks & Rec., Meredith Parks & Rec., the SAU's from Laconia, Meredith, Gilford, Franklin, and Winnisquam as well as the Boys & Girls Club. She also had positive support from the following businesses: Bank of NH, Irwin Automotive Group, Belknap Tire, Funspot, Vista Foods, and T-Bones. Press releases were arranged through the The Laconia Daily Sun and The Weirs Times. As of March 21, there were 21 youngsters pre-registered with hopes of many walk-in sign ups. The event will be held on Saturday, March 25, 2023.
Betty shows hats that will be worn by the event workers.

Betty shows the poster used to promote the event.
EARTH DAY: Clean-up is tentatively set for Saturday, April 15th and will be held at Tardif Park. This will be a joint effort of the Laconia High School Key Club and the Laconia Kiwanis Club. The clean-up will be in the morning. Amy Lovisek, the Director of Recreation & Facilities at Parks & Recreation will supply equipment and bags for this event.
BIKE/SKATEBOARD RODEO: The rodeo, which is scheduled for Saturday, May 13th, will be held at Opechee Park. Tara Shore has secured the park through the Parks & Rec. Tara has made contact with many organizations with whom we hope to partner for this annual event. More details will be forthcoming.
PICKLEBALL FUNDRAISER:
This new fund-raiser is tentatively scheduled for the end of July or sometime in August. Bill and Betty have rallied parties who are willing to help. Memorial Park is a consideration because it has five courts. Although the courts are in poor condition, Amy Lovisek, the Director of Recreation & Facilities at Parks & Recreation, has reported the courts are to be refurbished. She does not yet have a contractor. Leavitt Park is a second court option.
On a separate but related matter: Betty reported that all three elementary schools will have two sets of pickleball gear donated by the Laconia Kiwanis Club. Jilli Paul noted that Laconia High School has formed a pickleball club.
DIVISION CAUCUS:
Bob Willey reported a Division Caucus will be held at the Division's Annual meeting on Wednesday, April 5, 2023 beginning at 6:30 pm. at Strafford Farms in Dover, NH. At that time, a new Lt. Governor will be elected. If any member wants to attend the meeting virtually, please contact Bob Willey and he will send you the link. Bill and Betty plan to attend the event.

HAPPY DOLLARS: $17 was collected as follows:
$1 from Tara Shore for the good weather
$1 from Don Nelson "just because"
$1 from Sue Nelson because the snow is melting
$3 from Betty Ballantyne: $2 because the LHS Key Club advisor and the two club Co-Presidents were our guests this evening; and $1 to thank her guest, Roger Dargy, for attending the meeting
$2 from Bob Willey for the longer daylight for his drive to and from his home in Hooksett
$5 from Bill Gile: $2 for Jilli Paul and the Key Club Co-Presidents attending our meeting, $1 for Tara Shore being our presenter, $1 for Keith Styles being our guest, and $1 because he and his team won their golf tournament in Oregon
$2 from Roger Dargy because he painted two rooms
$2 from Steve Loughlin: $1 in honor of Tara Shore being the presenter for the evening and $1 to thank Keith Styles for the work he has done for the hoop shoot competition.

FOOD PANTRY: $85.00 was collected.
MISCELLANEOUS: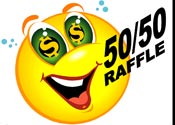 Next month we intend to bring back 50/50 for the club meetings. Ray Chambers quipped that we should be happy because, for 10 years at his past club, he never won! So, everybody else has a better chance!
We recently received a thank-you note from Catholic Charities of New Hampshire. To read that thank-you note, click here.
GUEST SPEAKER:
Betty Ballantyne introduced our guest speaker, fellow Kiwanian and President of the Laconia Historical & Museum Society, Tara Shore. Tara has admitted she has an addiction to history. Everywhere she visits is an opportunity to gain experience about what happened there before.
Tara settle in Laconia 26 years ago and her work with non-profit organizations began almost immediately with the LRGH Nursery Guild and Laconia's Pack & Scout Troop 68. In 2019, with the announcement of the demolition of St. Joseph's Church, Tara assisted with the establishment of the Historic Overlay District and is the chair of the Historic District Commission.
Tara joined the Laconia Historical & Museum Society Board in January 2020 and is excited with the progress and successes LH&MS has recently achieved. She invites the Laconia community to join the Society in 2023 while they bring their mission to life – preserving, protecting, and sharing the stories of Laconia's history.

Tara Shore addresses the group.
Photo by W. Stephen Loughlin
The Laconia Historical & Museum Society's Notable Series is a 3-part history of Laconia. Tara Shore presented the third installment, The Incorporators (1855 – 1893). She focused on the Major Events in Laconia portion of the series, showing documentation of the important people, places and events that occurred during this period, beginning with The Great Catastrophe which happened on March 21, 1855. On that day, the floor of the unfinished Meredith town hall collapsed during a Town Meeting, and over 300 people fell onto the stone and debris below. Dozens of people were seriously injured, and four men died.
There had been discussion of de-annexation for years, and this event was the final impetus for the formation of the Town of Laconia. Meredith ceded land known as Meredith Bridge (the downtown area), Lake Village (now known as Lakeport) and The Weirs to Laconia on July 14, 1855. The subsequent expansion of the community included the formation of private fire protection along with the purchase of fire equipment and uniforms for the firefighters. There were no police; instead, constables managed the laws on special occasions such as fairs, the circus, and the 4th of July, and were also hired to undertake the expansion of buildings and businesses in the community. The Great Fire of 1860 destroyed thirty-five buildings downtown. Only two businesses survived, the Belknap Mill and Laconia Car Works. In 1891, Laconia's wastewater collection system was initiated to replace the use of outhouses. It was several years before the city was forced by the state to manage the wastewater without polluting the surrounding lakes. In 1893, the town of Laconia was incorporated as a city and became known as the City on the Lakes. This research was documented and digitalized by Lynn Brody Keltz and Warren Huse.


Tara's presentation included a powerpoint of the third installment of the Laconia Historical & Museum Society's Notable Series on the history of Laconia.
Photo by W. Stephen Loughlin
Tara concluded her presentation by reporting on the importance of the LH&MS finding a new home as well as finding a location for a museum within the next 12-to-24-months. The LH&MS also has a Collection Committee. In the next five years they will delve into their multiple collections and sort what is to be kept and then digitized the collection.
To view History-To-Go Major Events in Laconia, presentation, shown by Tara Shore in a PDF format, "click" here.
Betty Ballantyne (left) shares a moment with Tara Shore after her presentation.
Photos by W. Stephen Loughlin
Betty Ballantyne adjourned the meeting at 7:50 pm.
FACT OR FICTION?
Tara Shore is the twin sister of HGTV's Home Town star, Erin Napier.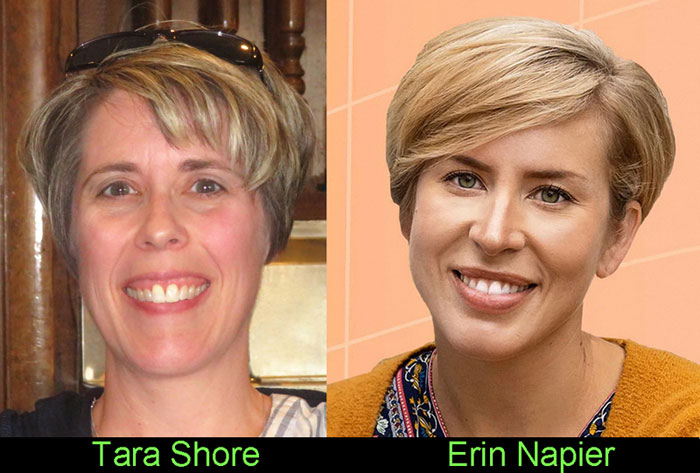 Sorry, it's an urban myth. Despite some speculation to the contrary, Tara Shore, and TV star, Erin Napier, are not twin sisters who were separated at birth. The fact is, Erin Napier celebrates her birthday August 30th and Tara celebrates her birthday two weeks later. However, while Erin has a passion for preserving and renovating historic homes, Tara has a passion for preserving historic buildings.
CONGRATULATIONS, KAREN!
Karen Abraham, Laconia High School Library Media Specialist and former Laconia High School Key Club Advisor, has been named the New Hampshire School Library and Media Association's "Librarian of the Year" for 2022-23. To read the story that appeared in the March 23, 2023 edition of The Laconia Daily Sun, "click" on Karen's picture below.
1ST ANNUAL KIWANIS FREE THROW COMPETITION:
Results of the Hoop Shoot, which was held Saturday, March 25th at the Laconia Middle School, will be featured, in detail, in the April Kiwanis Bulletin. In the meantime, we are pleased to note that 52 boys and girls participated in the event.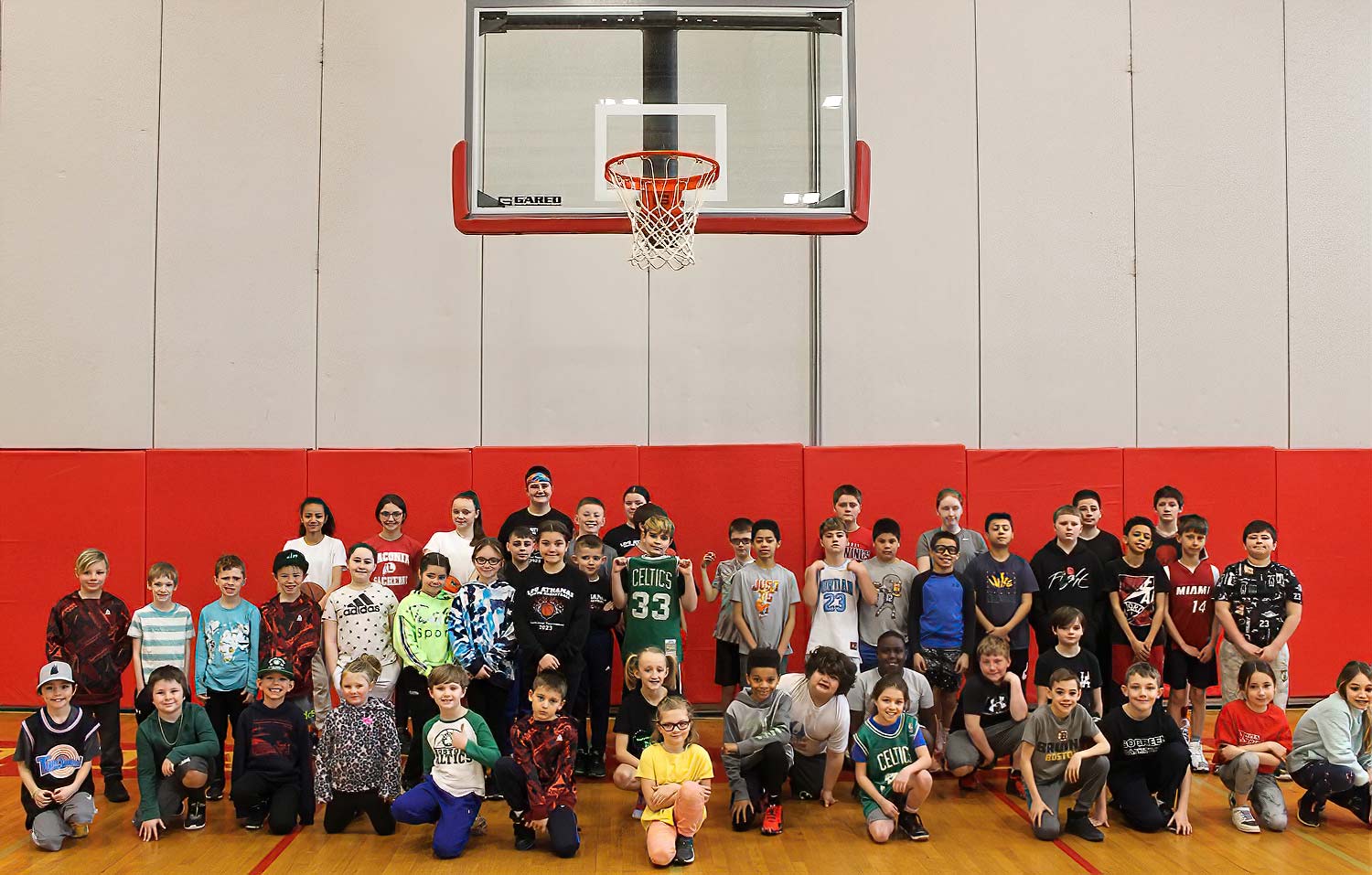 Happy kids moments before they participated in the 1st Annual Kiwanis Free Throw Competition
G O L D
M
M E D A L
W
W I N N E R S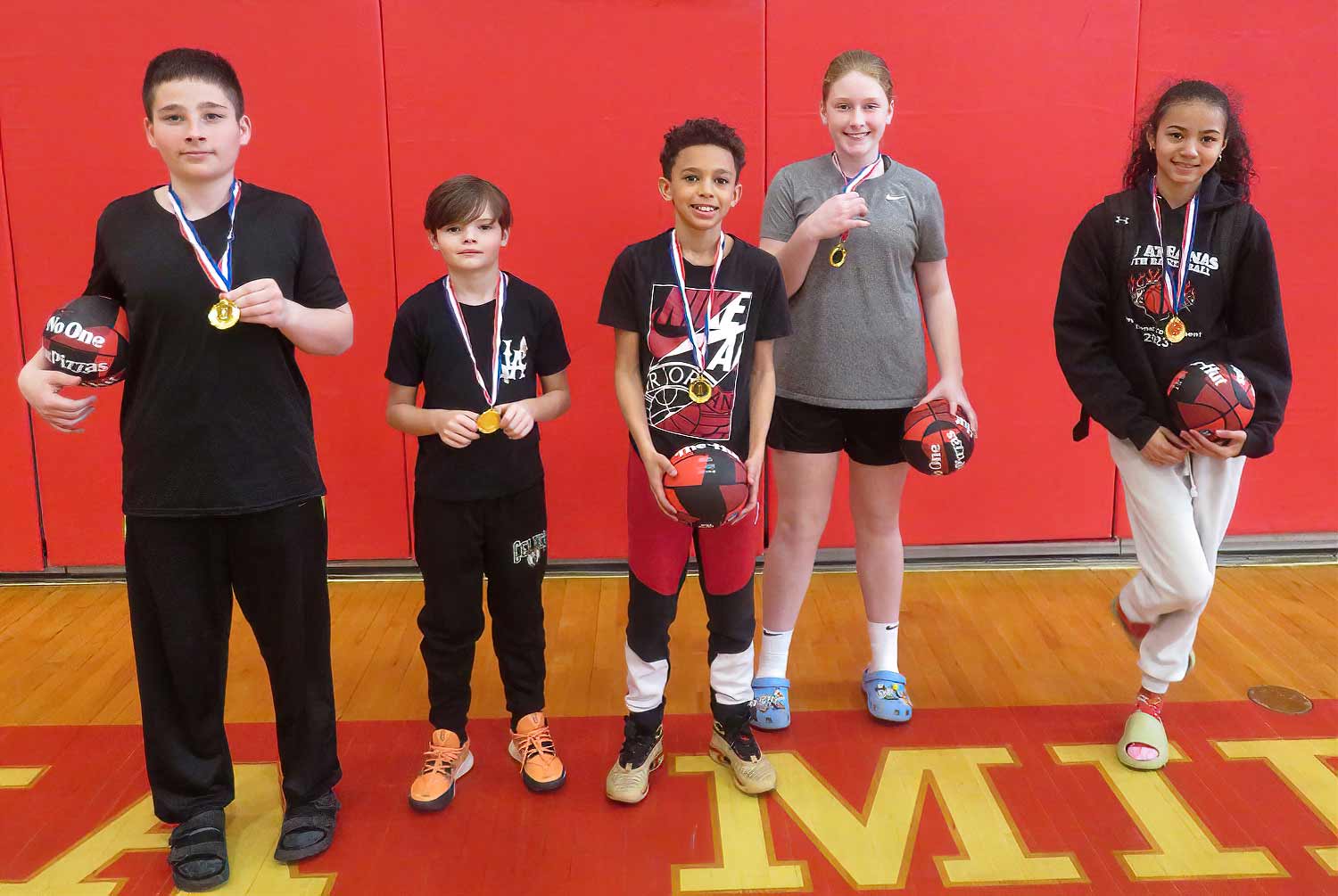 L to R: Lukas Dugan (Boys 12 -13), Leo Surowiec (Boys 8 - 9), Ayer Soto (Boys 10 - 11), Taylor Marsh (Girls 12 - 13), Saniya Matthews (Girls 10 – 11).
Missing from picture: Wyatt March (Boys/Girls 6 - 7) and Abigal Rushton (Girls 8 – 9).
P
ho
tos by W. Stephen Loughlin
THANK YOU
Many thanks to Joe Adrignola, Betty Ballantyne, Phil Bonafide, Zach Dea, Lynn Brody Keltz, Jilli Paul, and Tara Shore for their assistance with this bulletin.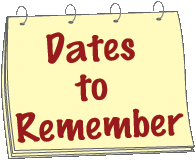 Tuesday - April 4th- Venue: ZOOM MEETING
6:00 pm - Board of Directors Meeting
Saturday - April 15th- Venue: Tardif Park
Time: TBA - Earth Day Cleanup with the LHS Key Club
Tuesday - April 18th : Venue: The Belknap Mill
6:00 pm - Regular Meeting - Guest Speaker: Kirk Beattie, Laconia City Manager
Saturday - May 13th- Venue: Opechee Park
Time: TBA - Bike/Skateboard Rodeo

WANT MAIL?
If you are reading this bulletin and are not presently on the mailing list (and would like to be), please give Steve Loughlin your e-mail address by "clicking " here.


"Click" here to get back to the top of the page.
"CLICK" ON ANY GRAPHIC BELOW TO VISIT THE HOME PAGE OUR FINE PATRONS.