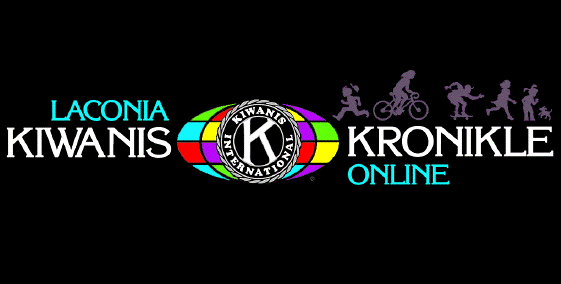 News That Concerns Kiwanians and Their Families
Attendance: 13

Invocation: Roger Landry

Guests:
Shelly Batchelder - guest of Jack Batchelder
Jack & Charlotte Landow - guest of Dick Breton
Kelly Oliver - guest of Scott Laurent (Scott's sister)
Bonnie Ashworth - Key Club Co-Advisor
Chris Ulrich - Key Club Co-Advisor

| | | |
| --- | --- | --- |
| | | |
| | | |
| | | |
| --- | --- | --- |
| | | |
| | | |
News From The President:
President Scott showed a framed certificate held by Laconia Kiwanis Club presidents that Dick Metz forwarded to him. It skipped both Mike Marsh and Roger Landry as Dick had it at his house. Scott now has it and will get it appropriately engraved on the back. Scott made a pitch to support the purchase of a granite paver to support the LHS athletic field Capital Campaign. The hat was passed and the money was counted to the tune of $266. Once the amount was determined and officially recorded, Roger gave the money to Treasurer, Joe.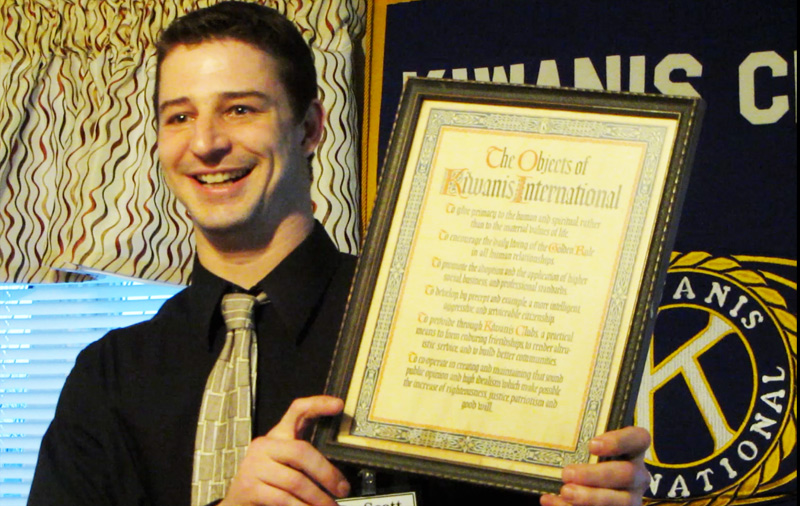 President Scott proudly shows the Objects of Kiwanis
Photo by W. Stephen Loughlin
News From The Members:
Sec. Kathy reported that last week we finished the 2nd round of visiting all three elementary schools for the Kiwanis KARES program. Starting in April we will be doing a 3rd and final round for the school year.
Vice President Jack reported two items; Kindle Fire raffle going very well, only a few tickets left. The drawing will be held April 8th at the first meeting of the month. Also, the Home Run Derby planning is going well. 50 letters soliciting major donors went out, follow-up phone calls will be next. Scott reported that Meredith Village Savings Bank donated $250.
Betty Ballantyne made an appeal to the membership for help in programming guest speakers. The entire month of April is open, the second meeting in July is open. Please help.
Our Key Club advisors reported a successful fund-raising Talent Show, to the tune of $400, and announced the Habitat for Humanity trip to NJ will occur for 10 Key Clubbers during the April school vacation.
50 50:
Not held so as to fatten the pot for the LHS paver fund-raising.
Happy Dollars:


$1 from John Walker due to the sap running again (good for Brian Winslow).
$5 from Mike Marsh due to his son's basketball team winning the tournament is Plymouth, for his son's basketball season being over, and for his son's little league baseball about to begin.
$2 from Joe Adrignola for not having a 50-50 tonight so he did not lose again.
$1 from Roger Landry because Joe did not win the 50-50
$1 from Scott Laurent for his sister being his guest $1 from Bonnie Ashworth in celebration for making her final mortgage payment on her house and $1 for the habitat trip being on for April.
$1 from Jack Batchelder for his son making the varsity baseball team at LHS, and $1 for the Kiwanis Facebook page being up and running.
$1 from Betty Ballantyne for the success of the Putnam Series event held last Friday
$1 from Larry Murphy for taking his grandson to the Boston flower show and not losing him.
Guest Speaker: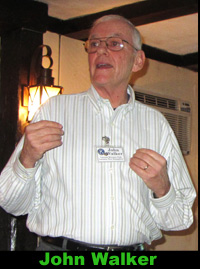 Kiwanian John Walker was our guest speaker of the evening. John reviewed year #2 of the
Laconia program.
Highlights included the number 22,331 lunches delivered in 2012 for a two-year total of 35,632. John saluted the personal involvement of the Laconia Kiwanis Club. He singled out members present who were vital to the success of the delivery program, and mentioned if members had not been willing to show up on short notice several times, he was unsure of what they would have done. John singled out Jim Fortier, Larry Murphy, Roger and Pam Landry, Scott Laurent, Kathy Calvin, Joe and Vi Adrignola, Brian Winslow, Betty Ballantyne and guests Jack and Charlotte Landow. John also reported that Key Club involvement was huge for the packing of the bags. There were six
programs in 2012, there will be nine in 2013, and 12 in 2014, possibly 13.
For more information on the
Laconia program visit their website by "clicking" here.

President Scott congratulaes John Walker on a job well done.
Photo by W. Stephen Loughlin

Tonight's meeting was adjourned at 7:36 p.m.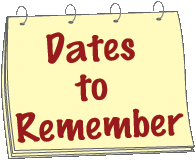 Monday - April 1st
Board of Directors Meeting 5:30 p.m. at One Mill Plaza - all members are invited!
This is not a regular meeting. There will be no dinner served
Monday - April 8th
OPEN - WE MEET AT PHEASANT RIDGE COUNTRY CLUB
Monday - April 22nd
OPEN - WE MEET AT PHEASANT RIDGE COUNTRY CLUB


WANT MAIL?
If you are not on the Kiwanis Bulletin e-mail list (and would like to be) please give Steve Loughlin your e-mail address. Also, if you are reading this bulletin and are not presently on the mailing list (and would like to be), "click" here.


"Click" here to get back to the top of the page.
Kiwanis Kronikle is publication of the Kiwanis Club of Laconia, P.O. Box 757, Laconia, NH 03247-0757.
We meet the second and fourth Monday at 6:15 p.m. at the Pheasant Ridge Country Club, Country Club Road, Gilford
Please call your President or Secretary about any member or family member in case of illness. Email: Roger Landry or Steve Loughlin

CLICK BELOW TO VISIT OUR FINE PATRONS