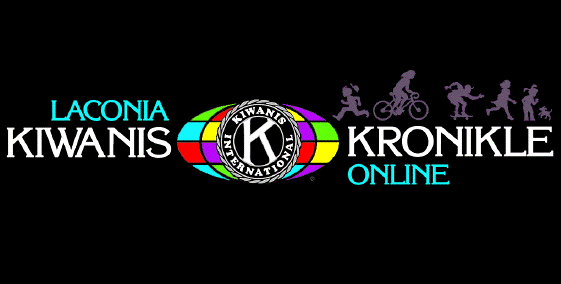 News That Concerns Kiwanians and Their Families
Attendance:
23

Invocation:
Chet Cilley


Guests:
Andrea Huertas - guest speaker and guest of Brian Winslow
Fran Orenstein - from Unfed Design and guest of Brian Winslow

| | | |
| --- | --- | --- |
| | | |
| Andrea Huertas | | Fran Orenstein |
Photos by W. Stephen Loughlin
Welcome, Fran!
Brian Winslow introduced Fran Orenstein who has been kind enough to assist us in doing pro bono web design for the club website. Thanks, Fran!
Welcome Back, Paul and Ed!
The Club sang a How Do you Do to Paul Cotton who is back from FLA and welcomed Ed Merski back from Dartmouth Hitchcock!
Thank You, Kiwanis


Pres. Roger read a letter from the Belknap Mill Society thanking the club for purchasing tickets to the seventh annual Private Collections' Event to be held on Friday, May 11 at the Lake Opechee Inn and Conference Center. The letter, which was written by a close friend of the Laconia Kiwanis Club, can be read by "clicking" here.

Any Kiwanis member (and spouse) who would like some of the tickets purchased by the Club should see Pres. Roger.
Annual Meeting:
Past President Brian reported that the Annual Meeting will be May 14th at which time the membership will be voting on the following officers and directors:

PRESIDENT: Scott Laurent
VICE PRESIDENT: Jack Batchelder
SECOND VICE PRESIDENT: Adam Cote
TREASURER: Joe Adrignola
DIRECTORS: John Walker, Steve Loughlin, Mikael Morancy, and Betty Ballantyne
Bike Rodeo:


Due to a conflict of schedules at Opechee Park, our bike rodeo has been rescheduled to May 19th.
Please meet at the parking lot next to the Opechee Park Clubhouse.
It's Official!
Kevin Irish was formally inducted into the club by his sponsor, Dick Breton. Kevin is the Chief Information Officer at LRGHeathcare and lives in Laconia. Welcome aboard, Kevin!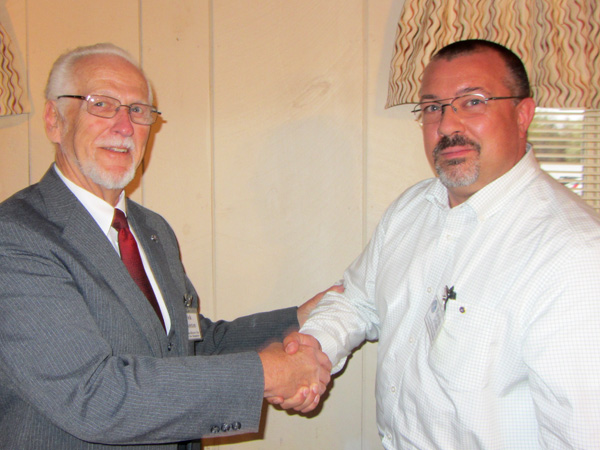 L to R: Dick Breton welcomes Kevin Irish as a member of the Kiwanis Club.
Photo by W. Stephen Loughlin
GOT LUNCH?
John Walker reported May 14th is the kick off day of the Got Lunch Restaurant Week. For four days in a row, there will be three restaurants each day that will give a percentage of their proceeds for that day to the Got Lunch program. The program begins on May 14th at T-Bones Cactus Jacks (on Union Ave., Laconia). John noted that an ad will soon be coming out in the newspaper and requested that members of the Club patronize the 13 participating restaurants.
GOT HELP?
John Walker was kind enough to volunteer to take notes for the Kiwanis Bulletin. Thanks, John!

50 50:    
$44 went to Scott Laurent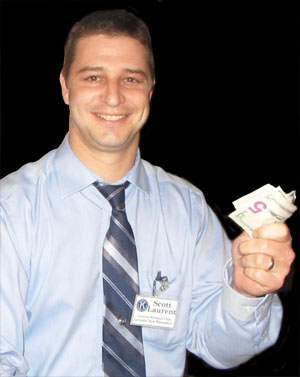 xxxxxxxxxxxI win!
Photo by W. Stephen Loughlin



Happy Dollars:


• $2.00 from Scott Laurent for winning the 50 50
• $2.00 from Mike Marsh, who explained why he was donating the money: "because I'm not wearing my pin" and "the second dollar for the president (Roger) who's not wearing one either."
• $2.00 from Brian Winslow – the first because his colleague, Andréa Huertas was present to make a presentation and – the second because "our other guest, Fran Orenstein, has agreed to help us with the Kiwanis website."
• $1.00 from Ed Merski who noted, "no more comments about Russ Beane."
• $1.00 from Warren Mitchell because "my partner in crime (Paul Cotton) is back and now I can dust off my motorcycle and get it out."
• $10.00 from Paul Cotton who gave a two and a half minute dissertation on his travels around the US over the last four months.
• $ 2.00 from Steve Loughlin in appreciation for John Walker offering to help take minutes for the bulletin.
• $2.00 from Kevin Irish, our newest member, who wanted to say "thank you." Kevin noted "it's a privilege and a pleasure to be here with everybody…in a group that is so focused on certain aspects of the community…and for allowing me to be part of that group."
• $5.00 from President Roger "because of all the other happy stuff going on tonight."
$27.00 was collected

Fines:
None collected tonight


Guest Speaker:

Betty Ballantyne introduced Andréa R. Huertas, who since 2003, has worked as Hospice Director at what is now called Central New Hampshire VNA & Hospice.

Her experience includes working as an Executive Director for a small Visiting Nurse Association, Hospice Director for a VNA & Hospice, the Nurse Manager in an oncology office; five years as Clinical Supervisor, Home Health Supervisor, and Hospice Staff Nurse at a VNA (Visiting Nurse Association) Hospice; and ten years as a Staff Nurse.  Andrea is Past President and currently serves on the Board of Directors for the New Hampshire Palliative Care Organization.  One of her favorite things about her job is being able to work with John Walker and Brian Winslow on almost a daily basis.
Andrea spoke about the importance of Healthcare Decisions.
For more information on Central New Hampshire VNA & Hospice "click" here.
ccbbbbbbbbb
L to R: Roger Landry and Andrea Huertas
Photo by W. Stephen Loughlin
Tonight's meeting was adjourned at 7:34 p.m.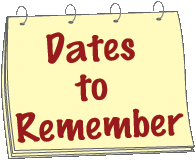 Monday May 7th
Board of Directors Meeting 5:30 p.m. at One Mill Plaza - all members are invited!
This is not a regular meeting. There will be no dinner served.
Monday May 14th
Club Meeting - Got Lunch? Program Update - John Walker and Associates
Annual Meeting - Election of Officers and Directors
Saturday May 19th
Bike Rodeo - Opechee Park, Laconia - 9:00 - 1:30 p.m.
Monday May 28th
NO Club Meeting (Memorial Day) - Next regular meeting will be June 11th

WANT MAIL?
If you are not on the Kiwanis Bulletin e-mail list (and would like to be) please give Steve Loughlin your e-mail address. Also, if you are reading this bulletin and are not presently on the mailing list (and would like to be), "click" here.


"Click" here to get back to the top of the page.
Kiwanis Kronikle is publication of the Kiwanis Club of Laconia, P.O. Box 757, Laconia, NH 03247-0757.
We meet the second and fourth Monday at 6:15 p.m. at the Pheasant Ridge Country Club, Country Club Road, Gilford
Please call your President or Secretary about any member or family member in case of illness. Email: Roger Landry or Steve Loughlin

CLICK BELOW TO VISIT OUR FINE PATRONS