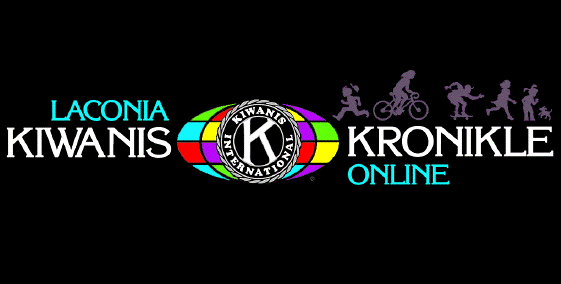 News That Concerns Kiwanians and Their Families
Attendance:
19

Invocation:
Adam Cote
Welcome Back Paul Cotton:

Paul Cotton sings himself a big "howda-ya-do?".
Photo by W. Stephen Loughlin

Bike Rodeo:

President Mike reminded the club that May 7th is the Bike Rodeo.  Bike Rodeo Committee Chair Steve Gorse let the club know that the parking lot at Opechee Park has been secured.  Those who have signed up please show up at 8 am.  If you would like to help move and coordinate tables, chairs, traffic cones etc. please contact Steve Gorse (Work: 524-2308 or Home: 527-0672)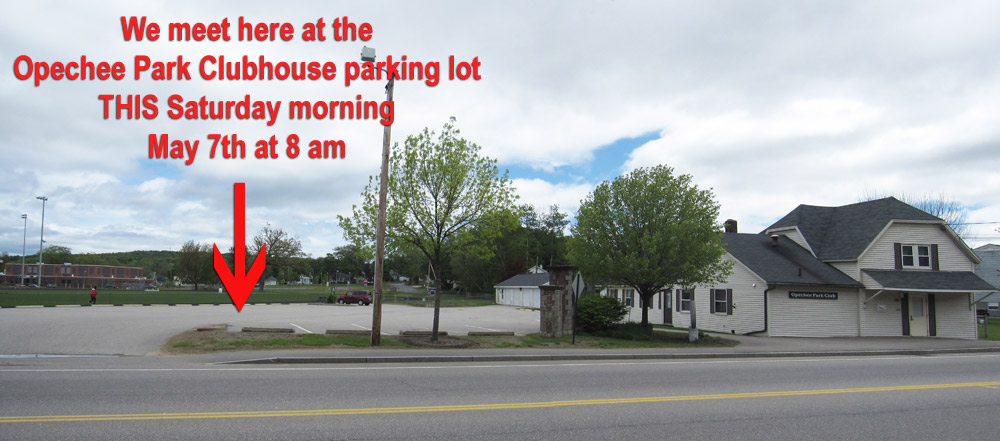 The Opechee Park Clubhouse parking lot is the place to be THIS Saturday morning.
Photo by W. Stephen Loughlin
More News about Kiwanis Alumni and News on Future Prospects:
Dick Breton reported on the status of Past President (1979-1980) Leo Sasseville, who is currently in a Physical Therapy center recovering from an incident. Dick passed out a get-well card that the club signed.  Contact Dick if you would like to contact Leo.
Dick also advised the club that he plans to invite Dave Varney and Scott Laurent to a future meeting with the possibility of recruiting them as members.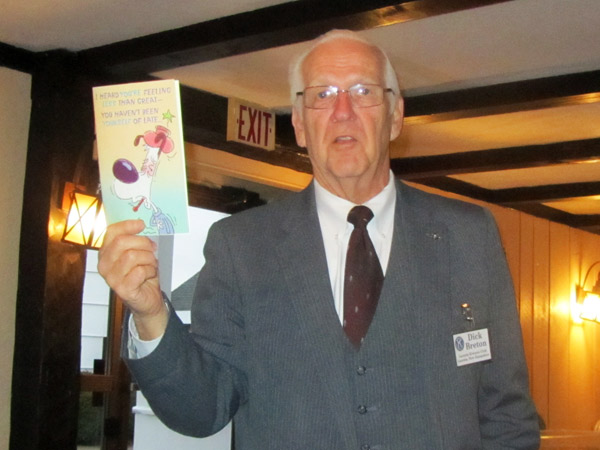 Dick Breton extends his best wishes to Leo Sasseville with a get well card signed by the Kiwanis Club.
Photo by W. Stephen Loughlin

Dick Breton welcomes Leo Sasseville when he visited the Kiwanis Club in 2002.
File photo by W. Stephen Loughlin

How's Jim Fortier doing?:
Joe Adrignola reported he received an email from Arlene Fortier who noted Jim is continuing to "feel great." In four days they start their drive back to New Hampshire.
Fourth of July Update:
Chet Cilley updated the club on the Laconia 4th of July celebration.  Laconia Rotary is interested in taking over as fiscal agent and Chet is happy to report that all else is falling into place nicely.

From the Nominating Committee:
Brian Winslow announced that the Clubs annual meeting will be held May 9th and the following individuals will be voted on for the following positions:
For Directors: Adam Cody and Lori Dickson
For President: Roger Landry
For First Vice President: OPEN
For Second Vice President: Jack Batchelder
For Treasurer: Joe Adrignola
Help Jack help kids:
Jack Batchelder took a moment to announce that the Rich Velasquez Youth Sports Equipment Foundation (RVYSEF), which he serves as President, will be having a Golf Tourney/Scramble/BBQ on June 20th at Pheasant Ridge, all interested individuals should contact Jack.
For details on RVYSEF and the Golf Tournament "click" here.
To sponsor a hole or a team at the Golf Tournament"click" here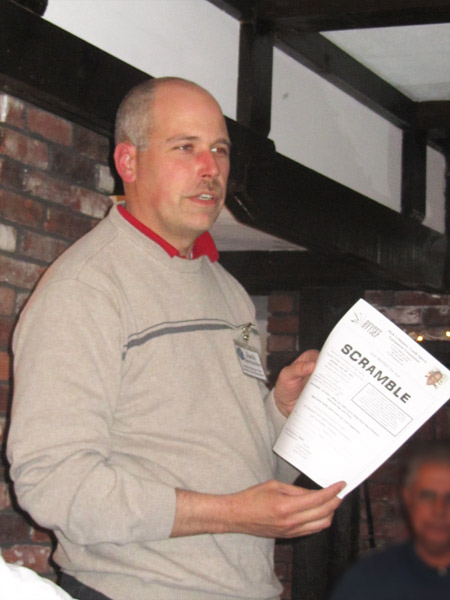 Jack Batchelder SCRAMBLES for support.
Photo by W. Stephen Loughlin

50 50:
$21 to Joe Adrignola


Three weeks in a row.
Photo by W. Stephen Loughlin

Happy Dollars:


$1 from Joe for winning and to thank those who participated.
$1 from Paul Cotton for having a great winter.
$1 from Roger Landry who is glad that Debbie Cotton is back from vacation
$5 from Chet Cilley because of his 42nd Wedding Anniversary and his son, John, will be back from Kuwait in September.
$1 from Larry Murphy who "is just happy to be here."

Fines:
None tonight.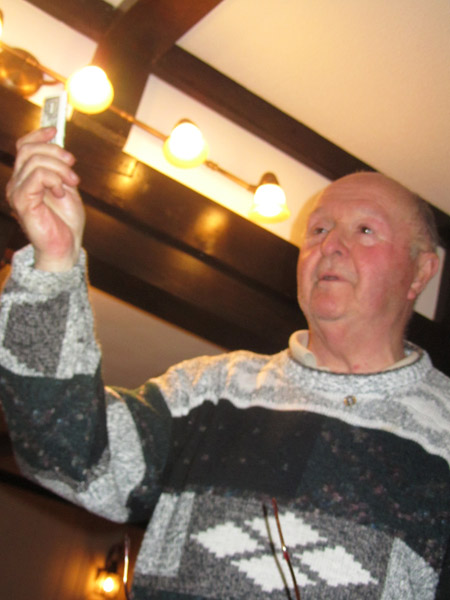 Larry Murphy hypnotizes himself with his one dollar bill.
Photo by W. Stephen Loughlin

Tonight's meeting was adjourned at 7:17 pm.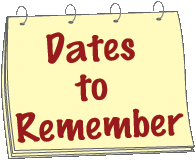 Saturday May 7th
Annual Kiwanis Bike Rodeo - Opechee Park Clubhouse Parking Lot
Monday May 9th
Club Meeting- John Walker - Got Lunch?
Annual Meeting to vote on new slate of officers for fiscal year 2011-2012
Monthly Board of Directors meeting will follow regular meeting.
Monday May 23rd
Club Meeting - Sarah Dunham, Co-Program Director/Environmental Educator of Prescott Farm
Monday June 13th
Club Meeting - Stephanie Davis - Belknap County Fair


"Click" here to get back to the top of the page.
Kiwanis Kronikle is publication of the Kiwanis Club of Laconia, P.O. Box 757, Laconia, NH 03247-0757.
We meet the second and fourth Monday at 6:15 p.m. at the Pheasant Ridge Country Club, Country Club Road, Gilford
Please call your President or Secretary about any member or family member in case of illness. Email: Joe Collie or Steve Loughlin

CLICK BELOW TO VISIT OUR FINE PATRONS