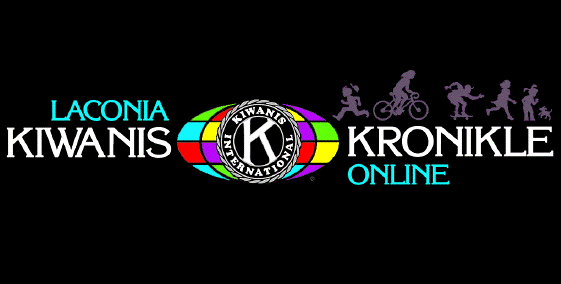 News That Concerns Kiwanians and Their Families
Attendance:
40

Invocation:
Phil Bonafide
Guests:
Guests of Dick Breton:
Dave Varney (former Laconia Kiwanis Club President)
Scott Laurent
Trish Laurent
| | | | | |
| --- | --- | --- | --- | --- |
| | | | | |
| Dave Varney | | | | |

Kiwanis K.A.R.E.S Reader:
Sue Nelson - wife of Don Nelson
Laconia HS Key Club:
Ivy Leavett-Carlson - Advisor
Amanda Bridge- President

| | | | | |
| --- | --- | --- | --- | --- |
| | | | | |
| | | | | |
Elm Street Elementary School Staff:
Eric Johnson - Principal
Kelly Bliss - 3rd Grade Teacher
Kimber Dolloff - Parent
Carol Decormier - Paraprofessional
Colleen Poire - Media Specialist
Pleasant Street School :
Liz Rosenfeld - Library
| | | | | |
| --- | --- | --- | --- | --- |
| | | | | |
| Eric Johnson | | Kelly Bliss | | Colleen Poire |
| | | | | |
| | | | | |
| | | | | |

Woodland Heights Elementary School Staff:
Robbie Prescott-Neylon - Library Specialist
Marty Neylon
Marilyn Johnson - 3rd Grade Teacher
Theresa McDonnell - 3rd Grade Teacher

| | | | | | | |
| --- | --- | --- | --- | --- | --- | --- |
| | | | | | | |
| Robbie Prescott-Neylon | | Marty Neylon | | Marilyn Johnson | | Theresa McDonnell |

Seacoast (Portsmouth) Kiwanis Club:
Dan Witham- New England District - Division 6 - Lt. Governor
Frank Dennett - New England District - Secretary
Molly Dennett - Director

| | | | | |
| --- | --- | --- | --- | --- |
| | | | | |
| Dan Witham | | Frank Dennett | | Molly Dennett |
News from the Lt. Governor:
Dan Witham introduced himself to the club and thanked everyone for inviting him.
Dan gave an update on the district. The Franklin Club has struggled for many years and has finally disbanded.  Dan also mentioned that the York and Exeter Clubs are ailing.  Dan wanted the club to know about training opportunities coming up that included leadership training on June 17th and 18th in Scarborough, Maine and a District meeting on August 18th through the 21st. Dan asks the club to keep up the good work.


Kiwanis encourages family membership:
Brian Winslow took a moment to talk about membership in the club; including an exciting new district initiative that allows multiple members of the same household to qualify for membership discounts.
Fundraising Update:
President Elect Roger Landry updated the club regarding the Bike Week raffle. Heritage Harley Davidson has been responsive and we will be raffling off a first prize $1,000 gift certificate and a second prize of a $500 Harley Davidson merchandise gift basket.  A sign-up sheet for manning the booth during bike week was passed around. Those signed up are listed below.
If you would like to add your name to the list, please indicate the day and time preference and "click" here to send an email to our bulletin editor. Your preference will then be updated into the schedule listed below.
Saturday, June 11th
10 am - 2:00 pm: Carroll Stafford and Sandra Stafford
02 pm - 6:00 pm: Paul Cotton and Warren Mitchell

Sunday, June 12th
10 am - 2:00 pm: Adam Cote and Steve Loughlin
02 pm - 6:00 pm: Brian Winslow and Kathy Calvin
Monday, June 13th
10 am - 2:00 pm: Larry Murphy and Jim Fortier
02 pm - 6:00 pm: Russ Beane and Dennis Denoncourt
Tuesday, June 14th
10 am - 2:00 pm: Larry Murphy and Jim Fortier
02 pm - 6:00 pm: Paul Cotton and Warren Mitchell
Wednesday, June 15th
10 am - 2:00 pm: Larry Murphy and Jim Fortier
02 pm - 6:00 pm: Jack Batchelder and Shelly Batchelder
Thursday, June 16th
10 am - 2:00 pm: Phil Bonafide and Joe Adrignola
02 pm - 6:00 pm: Larry Murphy and Jack Batchelder
Friday, June 17th
10 am - 2:00 pm: Betty Ballantyne and Steve Loughlin
02 pm - 6:00 pm: Jim Fortier and Brian Winslow
Saturday, June 18th
10 am - 2:00 pm: Don Nelson and Sue Nelson
02 pm - 6:00 pm: Jim Fortier and D. Scott Beane
Sunday, June 19th
10 am - 2:00 pm: Jack Batchelder, Shelly Batchelder, Joe Adrignola and Steve Loughlin
0Drawing 2:15 pm Sunday June 19th
If you would like to add your name to the list, please indicate the day and time preference and "click" here to send an email to our bulletin editor. Your preference will then be updated into the schedule listed above.
News from our Secretary:
Kathy Calvin gave a brief Kiwanis KARES presentation where she pointed out that Key Club President, Amanda Bridge, was in the first class of third graders who participated in the reading program.  Kathy also thanked all those involved in the effort.  Representatives from the schools took a moment to thank Kathy and the club for all their help and even read a few letters from students. They also presented a binder of thank-you notes to the club.  Kathy let the club know that the last book distribution of the year was to take place on June 1st at Woodland Heights.

50 50:
$50 to Russ Beane and associates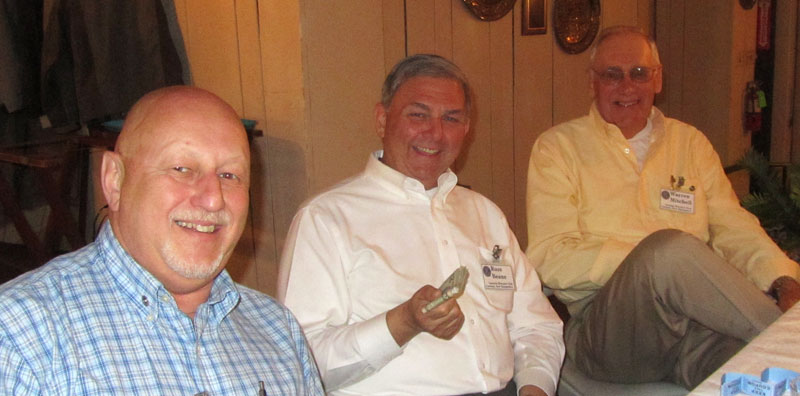 Russ Beane buries Joe Adrignola's four week winning streak.
Photo by W. Stephen Loughlin

Happy Dollars:


$1 from Joe Adrignola because he didn't win (for the fifth week in a row). Joe noted "now I'll get out of here safely tonight."
$1 from Dennis Denoncourt because his daughter, Nicole, has completed her masters in education from Lesley University (Cambridge, MA).
$3 from the winners of the 50 50. They also gave 50 cents because Joe didn't win.
$1 from Roger Webster because he found his wife's glasses.
$2 from Kathy Calvin. The first because she was nominated by the United Way as volunteer of the year award. Kathy gave her second happy dollar because "I didn't win."
$1 from Key Club President, Amanda Bridge, because she is with the Kiwanis Club and because she will be graduating on June 10th.
$5 from Dan Witham in honor of the teachers present at the meeting. He noted that, while he doesn't have any children, he was happy because of all the work the teachers do to help kids.
$5 from Roger Landry because his son just got engaged and an additional dollar on behalf of "all our guests here tonight."
$50 from Dick Breton to the club's general fund in appreciation for "three lovely pictures that were taken" for him by an unnamed photographer. Question from someone in the crowd: "What kind of pictures were taken?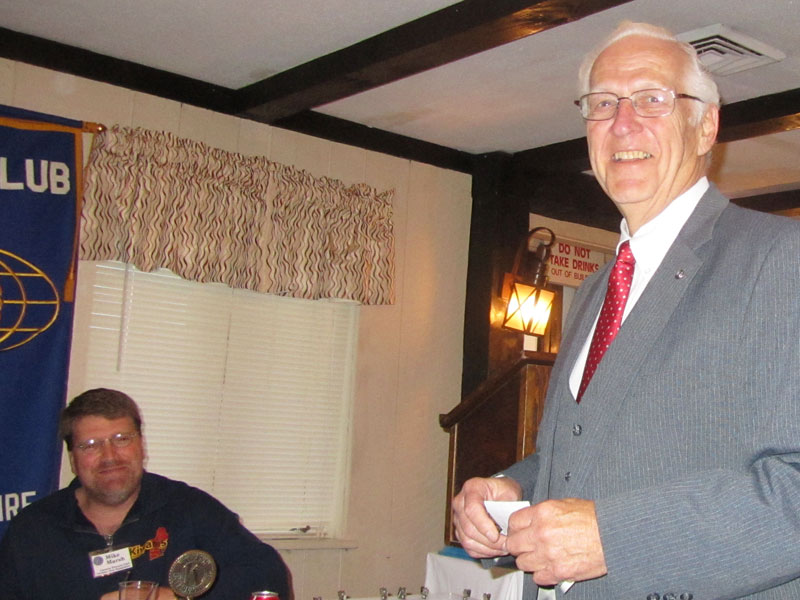 Dick was SO happy, he contributed 50 big ones.
Photo by Unnamed photographer
Guest Speaker: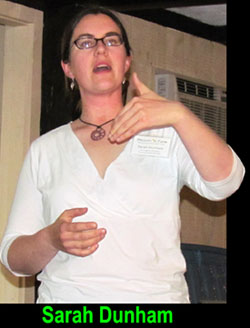 Joe Adrignola introduced our guest speaker Sarah Dunham Co-Program Director/Environmental Educator from Prescott Farm - Environment Education Center.

Sarah began working at Prescott Farm in December 2008.  She works as the "Naturalist in the Classroom" for Gilmanton and Alton Elementary Schools, co-directs the WildQuest camps, and teaches public programs.  Sarah is a graduate of Dickinson College in Carlisle, PA where she majored in anthropology & archaeology and also holds an MS in Environmental Education from Antioch New England Graduate School. Previous to working at Prescott Farm she completed internships with Silk Farm Audubon Center in Concord and Massachusetts Audubon's Ipswich River Wildlife Sanctuary in Topsfield, MA, and worked as the Education Coordinator at Canterbury Shaker Village. Her interests include vernal pool habitats, animal tracking, lichens, using wild plants for food, medicine & dye, fiber arts, cooking, and archaeology and she also manages the Canterbury Farmers' Market.
Prescott Farm has been owned by the Prescott family for over 200 years.  The farm was established by Colonel Dudley Prescott of the 10th Regiment New Hampshire Militia.  Colonel Prescott served in the Revolutionary War at the age of 19 and due to his war service was able to acquire land grants in 1796 and 1797.  Prescott Farm, originally comprised of 700 acres, was bounded on one side by Paugus Bay and included three small islands, one of which is known today as Christmas Island.
In 1804, Colonel Prescott gave the farm to his son Horatio Gates Prescott, who in turn sold it to his first cousin, Samuel Washington Prescott of Gilford, NH.  Samuel Prescott's son and namesake built the current farmhouse and barn in the 1880′s.  Samuel Washington Prescott, Jr. was not only a farmer, but was known locally as a master builder and engineer.  He helped design many farmhouses and barns in the surrounding villages and was the engineer in charge of building the first iron bridge across the Weirs Channel in Laconia.
Eventually Samuel Washington Prescott, Jr.'s four sons split the property among themselves and ran the working part of the farm as Prescott Farm Company which they incorporated in 1916.  The youngest son, Samuel Jenness Prescott, a successful building contractor in Washington, D.C., was elected president of the Company and in 1925 he bought the homestead and surrounding 160 acres from the Company.  He gave this property to his daughter, Helen Prescott Pardoe and it is her son and grandchildren that are the current owners.   Prescott Farm ceased to be an active farm in the 1950's.
In 1997, the Pardoe family established a private operating foundation/not-for-profit organization, Prescott Conservancy, Inc. (PCI) and gifted 160 acres of farmland to it.  The following year, PCI entered into a management partnership with the NH Audubon Society to offer environmental education programs on the property and in 2005, built the energy-efficient Samuel P. Pardoe Building for classroom and office space.  On April 1, 2009 PCI, began operating the Center independently as Prescott Farm Environmental Education Center (PFEEC).
Camp programs/Services include:
Wildquest Vacation Camp
Naturalists in Residence
On site school and Youth programs
Maple Sugaring
Trails
Research
Partnership with NH Colleges/Universities
Snowshoeing
Crafts
For more information on Prescott Farm "click" here.
SLIDES FROM SARAH'S PRESENTATION...
Who will blink first?
Photo of slide by W. Stephen Loughlin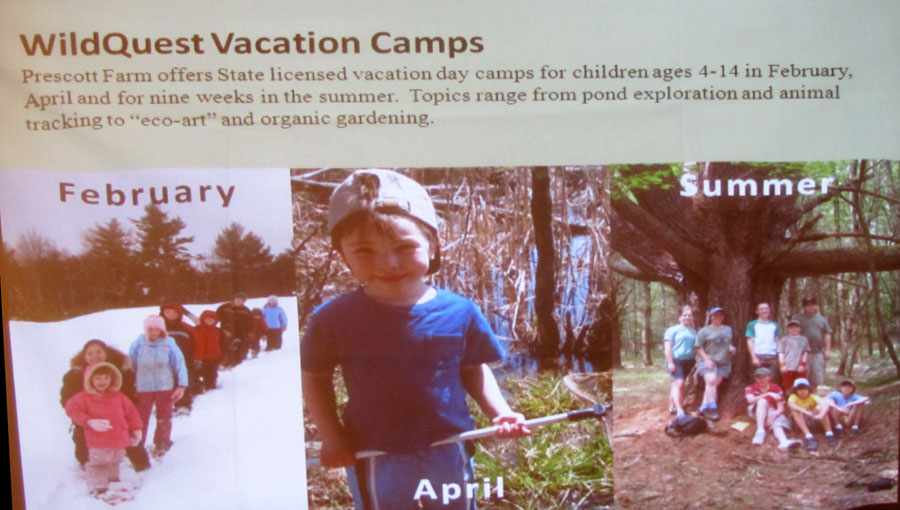 The middle picture is Brian Winslow.
Photo of slide by W. Stephen Loughlin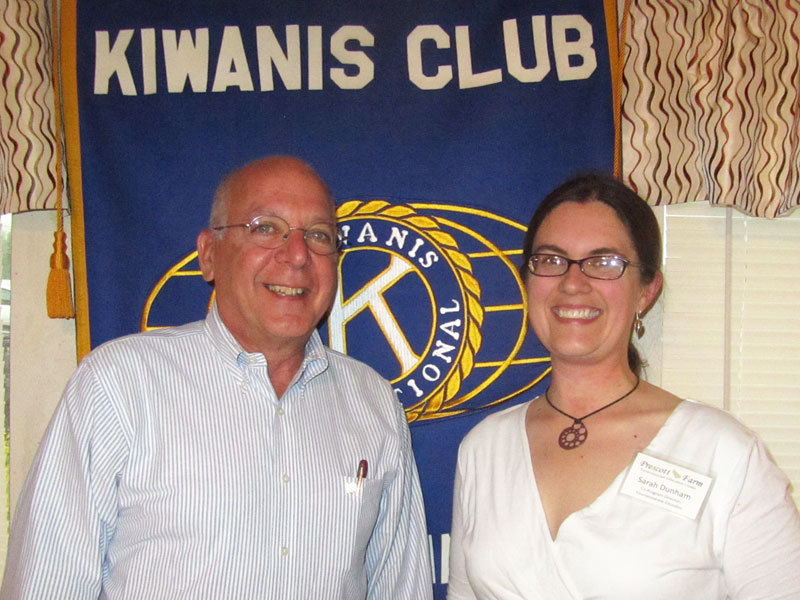 Joe Adrignola and Sarah Dunham
Photo by W. Stephen Loughlin
To the Membership:
A letter from Treasurer Joe:
Tonight's meeting was adjourned at 7:45 pm.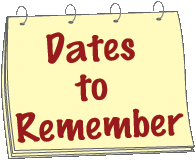 Monday June 13th
Club Meeting - Stephanie Davis - Belknap County Fair
Monday June 27th
Club Meeting - Tim Goosens- Laconia School Lunch Program
Monday July 11th
Club Meeting - Michele Andrews- Gilford High School Robotics Team


"Click" here to get back to the top of the page.
Kiwanis Kronikle is publication of the Kiwanis Club of Laconia, P.O. Box 757, Laconia, NH 03247-0757.
We meet the second and fourth Monday at 6:15 p.m. at the Pheasant Ridge Country Club, Country Club Road, Gilford
Please call your President or Secretary about any member or family member in case of illness. Email: Joe Collie or Steve Loughlin

CLICK BELOW TO VISIT OUR FINE PATRONS