BWS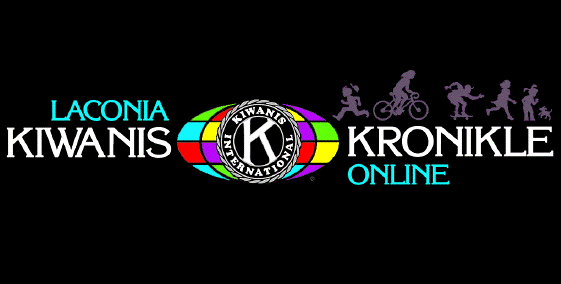 News That Concerns Kiwanians and Their Families
SPECIAL BIKE RODEO EDITION

Date of Meeting: May 24, 2022
Venue: The Belknap Mill
Attendance: 14 in attendance: 10 members and 4 guests

MEMBERS AND GUESTS:
Kiwanis Members:
Betty Ballantyne
Phil Bonafide
Ray Chambers
Zach Dea
Steve Loughlin
Meredith Michaud
Don Nelson
Kara Stanley
Bob Willey
Brian Winslow

Guests:
Aidan Coulette – son of Kara Stanley
Roger Dargy – guest of Betty Ballantyne
Larry Frates – Guest speaker
Sue Nelson – Honorary Member and wife of Don
Aidan Coulette

Roger Dargy

Larry Frates

Sue Nelson

Above p

ho

tos by W. Stephen Loughlin
In the absence of President Bill Gile, Past President Brian Winslow hosted the meeting.

Invocation & Pledge:
Invocation: performed by Bob Willey
Pledge of allegiance: led by Brian Winslow
Song - America (My Country 'Tis of Thee): led by Don Nelson
BUSINESS MATTERS:
Bike Rodeo:

Meredith gave an update of the Bike Rodeo which was held on Saturday, May 14th, at the Laconia Middle School parking lot. Sixty-three attended the event which was less than last year.
• The Laconia Police Department participated by donating and fitting 58 children with safety helmets.
• The Belknap County Sheriff attended and were prepared to inspect child seats and educate the public of how to safely secure the seats. Additionally, the Sheriff and his staff gave away trinkets and popcorn to the public. They were also kind enough to secure a generator to assist the Club with inflating the Kiwanis blowup logo.
• The Laconia Fire Department also participated in the event by demonstrating some of their special equipment.
• Myles Chase, the owner of MC Cycle & Sport, was present and provided the bikers with free tune-ups and bike inspections. His company also provided the new bike (at wholesale cost) that was raffled at the conclusion of the event.
• The Laconia High School Key Club assisted in registering kids for and providing the free tickets on the bike raffle.
In her concluding remarks, Meredith noted that she has orchestrated this event since 2014 and will now step down from overseeing this annual event. She suggested, if the Club decides to hold Bike Rodeo in the future, a committee be formed to lighten the responsibility from one person to several members of the Club.

For a pictorial summary of Bike Rodeo, scroll down the page.
Bike Week June 11th – June 19th:

Volunteers are needed to participate at the Kiwanis Club Hydration Station. Kiwanis members are encouraged to sign up to participate by using the Sign-Up Genius site by clicking here.

Betty Ballantyne will continue to collect any soda at her house (that we will sell on the Boardwalk). REMINDER: Parking for our volunteers is no longer available at Thurston Marina (as the business has been sold). This year parking for our volunteers will be at Akwa Marina Yacht Club at 95 Centenary Avenue, Weirs Beach.
From the Lieutenant Governor:
Bob Willey reported the following:
• A Kiwanis Virtual Workshop Series on Succession Planning will be held on June 1
• A Governor Gayla was held at Hampton Beach on April 24th for the purpose of cleaning up the beach so visitors can enjoy a safe beach day this summer. Lt. Gov. Laura Nesmith (Division #6), Lt. Gov. Dennis McCarthy (Division #9) and Lt. Gov. Bob Willey (Division #5) helped to put this event together. Over 40 members from 15 different Kiwanis Clubs participated.
• Hooksett Bicentennial Children's Safety Day will be held on June 4th at Cawley Middle School in Hooksett. The event will include free car seat safety check up as well as bicycle safety inspection, free helmets and bicycle registration with the Hooksett Police.
Kiwanis K.A.R.E.S.
Betty Ballantyne reported, on May 25th, the Pleasant Street School will be holding their final Kiwanis K.A.R.E.S. Program for this school term.
Below are some of the pictures that were taken at the May 25th event:

Bob Willey enjoys reading to the group.

Betty Ballantyne attracts the undivided attention of the students.
Above p

ho

tos by Betty Ballantyne and Chelsea Tyler
Food Pantry: $41 was collected
Happy Dollars: $29 was collected
GUEST SPEAKER:
Steve Loughlin introduced our guest speaker, Larry Frates.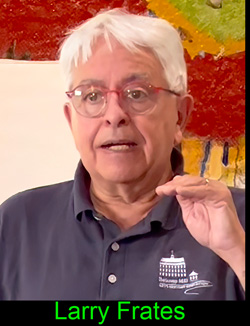 Steve noted that Larry Frates is known throughout the Lakes Region of New Hampshire as an artist, educator and magician. His caricatures, magic shows and creative ideas have brought smiles to many New Hampshire families over the past 50 years.
He also noted that Larry Frates became the first Artist-In-Residence at the Belknap Mill five years ago. Before that, he operated the Frates Creative Arts Center for 30 years on Canal Street and served as an art teacher/director in the New Hampshire Public School System for 40 years. He also enjoyed 15 years as a Fine Art and Humanities adjunct professor at Southern NH University and Art Education Adjunct at Plymouth State University.
Larry's talents as a Magical Artist and educator have taken him around the world in various capacities as a Fulbright Scholar to Scotland's Orkney Islands, exhibiting his paintings in England, Norway, Canada, and in the USA. He has created his caricatures and magic in Brazil, Lithuania, Russia for Children's Hospitals and Schools.
During his presentation, Larry displayed some of his paintings, introduced his book, performed a magic trick, and concluded with a caricature of one of the Kiwanis members.

Larry Frates addresses the group.

Larry holds one of his watercolor paintings.

Larry discusses his new book, Art To You With Larry.

Don Nelson expresses interest in purchasing Larry's book.

ART TO YOU WITH LARRY

brings together some ideas and techniques to help you begin your watercolor journey with confidence. It is filled with practical information that will inspire you to start seeing your world in watercolor. For information on the book or to purchase a copy, see Larry Frates at The Belknap Mill or "click"

here

.

Larry enjoys a lighter moment with Don Nelson.

Larry exaggerates.

Time for a magic trick

To view a video of Larry's magic trick, "click"

here

.
Larry begins his caricature of Bob Willey.

THE STEP BY STEP CREATION OF THE CARICATURE

Larry finishes his creation while Brian Winslow and Bob Willey watch with amusement.

Meet Lt. Governor Bob Willey

Larry Frates and Bob Willey proudly display the finished picture.

Larry Frates is congratualted by Steve Loughlin for his entertaining presentation.

Above p

ho

to by Meredith Michaud

Unless otherwise indicated Frates photos

by W. Stephen Loughlin
Past President Brian adjourned the meeting at 7:28 pm.
Meeting over....now ready to ride.

G O O D - N I G H T !

Above p

ho

tos by W. Stephen Loughlin
CORRESPONANCE:


The club recently received three letters. To read each letter, click below on the name of the respective sender.

• Boys & Girls Clubs of Central New Hampshire, letter dated March 28, 2022
• Belknap House, letter dated April 26, 2022
• Kiwanis International, letter dated May 2022
Front Row: Norah Dunleavy (LHS Key Club), Ella Muller (LHS Key Club President), Katie Westcott (LHS Key Club Treasurer), Betty Ballantyne (Kiwanis Club Sec.)


Standing: Tara Shore (Kiwanis Club), Bonnie Ashworth (LHS Key Club Co-Advisor), Meredith Michaud (Kiwanis Club), Kara Stanley (Kiwanis Club),
Sheriff Bill Wright, LPD Officer Megan DeNutte, Chief Deputy Rob Nedeau (Sheriff's Dept.), Civil Clerk Sara Boulanger (Sheriff's Dept.),
Deputy Stephen Colcord (Sheriff's Dept.), Admin. Assistant Cheryl Keenan (Sheriff's Dept.), Myles Chase (MC Cycle & Sport), and Theresa Wright

BELKNAP COUNTY SHERIFF'S DEPARTMENT

L to R: Civil Clerk Sara Boulanger, Admin. Assistant Cheryl Keenan, Chief Deputy Rob Nedeau, and Sheriff Bill Wright

Sheriff Bill Wright and Teresa Wright

Teresa Wright serves another patron

BIKERS ENJOYING THE OBSTACLE COURSE

LACONIA FIRE DEPARTMENT

Tara Shore (Kiwanis Club), Katie Westcott (LHS Key Club Treasurer), Norah Dunlevy (LHS Key Club), Ella Muller (LHS Key Club President),
Bonnie Ashworth (LHS Key Club Co-Advisor), and Betty Ballantyne (Kiwanis Club Secretary).

LHS Key Club members were pleased to register kids for the free Bike Raffle.

All eyes on LHS Key Club Co-Advisor Bonnie Ashworth

Myles Chase at your service

L to R: Chris Noyes, Myles Chase and Landon Noyes

Alex Dea is ready for a bike tune-up.

Happy Tekla and Happy Hunter

LACONIA POLICE DEPARTMENT

Bikers line up for free helmets courtesy of the Laconia Police Department.

LPD Patrol Officer Megan DeNutte with a helmet of choice.

LPD Patrol Officer Megan DeNutte carefully fits a helmet.

LPD Patrol Officer Tyler Rouse makes adjustments.

LPD Patrol Officer Austin Schilling with two admirers.

CONGRATULATIONS TO ALEX MATTEAU, THE WINNER OF THE BIKE RAFFLE!

L to R: Alex Matteau, Myles Chase, and Meredith Michaud

Above p

ho

to by Betty Ballantyne

DAY IS DONE

See You Next Year!

Unless otherwise noted, Bike Rodeo p

ho

tos by W. Stephen Loughlin

REMEMBER WHEN...

Below is memory from Bike Rodeo 2015.

Fifth Grader - Ella Muller (now the 2021- 2022 LHS Key Club President), waits patiently for a hot dog from Kiwanian Jim Fortier.

P

ho

to by W. Stephen Loughlin
THANK YOU
Many thanks to Joe Adrignola, Betty Ballantyne, Meredith Michaud, Brian Winslow and Bill Wright for their assistance with this bulletin.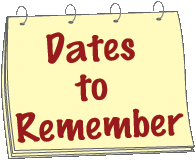 Tuesday - June 7th- Venue: ZOOM MEETING
6:00 pm - Board of Directors Meeting
Tuesday - June 28th- Venue: ZOOM MEETING
6:00 pm - Another June Board of Directors Meeting
There will be NO July General Meeting.
Tuesday - August 16th - Venue: - Downtown Laconia - TBA
6:00 pm - General Meeting

WANT MAIL?
If you are not on the Kiwanis Bulletin e-mail list (and would like to be) please give Steve Loughlin your e-mail address. Also, if you are reading this bulletin and are not presently on the mailing list (and would like to be), "click" here.


"Click" here to get back to the top of the page.
"CLICK" ON ANY GRAPHIC BELOW TO VISIT THE HOME PAGE OUR FINE PATRONS.