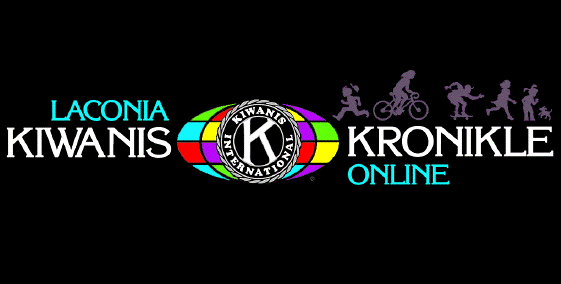 News That Concerns Kiwanians and Their Families
SPECIAL BIKE WEEK EDITION
Venue:
405 Pub & Grill
Invocation/Pledge:
Joe Adrignola
Attendance: 16
11 members, 5 guests

Guests:
Lt. Governor Dan Andrews – Guest Speaker
Jan Andrews - wife of Dan
Rosemary Murphy - wife of Larry
Arlene Fortier - wife of Jim
Vi Adrignola - wife of Joe

| | | |
| --- | --- | --- |
| | | |
| Dan Andrews | | Janice Andrews |
| | | |
Larry and Rosemary Murphy

Arlene and Jim Fortier

Vi and Joe Adrignola

"Click"on any of the above three pictures to open a larger picture.
SIGN IN: What is your name, please?
| | | | | | | |
| --- | --- | --- | --- | --- | --- | --- |
| My Name is JIM FORTIER | | My Name is JIM FORTIER | | My Name is JIM FORTIER | | My Name is JIM FORTIER |
| | | | | | | |
| | | | | | | |
It's been a while since we've seen Jim Fortier. We're happy to see him back and in good health. Thank you Joe, Arlene and Kathy for wearing the badge of honor.
From The President:
President John reported Board vote resulted in donating $500 to each of the following: Got Lunch Laconia, Camp Mayhew, the Circle Program. John also read a letter from Camp Spaulding thanking us for our $125 donation to support four Lakes Region campers there this summer. To view a copy of the thank you letter, click here.
John also mentioned the cost to the Club of buying the plaque for the Belknap Mill recognizing it as a structure belonging to the National Registry of Historic Places. Our Club was very well represented at the festivities honoring Peter Karagianis. (For details, see the section below on Kiwanians Seen Around Town).
John also explained that our raffle tickets for the Wentworth-By-The-Sea stay is from 1 November to 31 March, is a Friday/Saturday night stay, the winner must book on their own, rooms subject to availability. For details on this raffle prize, "click" here.
From The Members:
Scott Laurent did a recap of Bike Week. Kathy reported a net gain of $3,200+ for the week.
John Walker then made a pitch for more Club member involvement and the mind-set of it being a TEAM activity. What you cannot do, someone else has to. John asked for a commitment of three shifts per member.
Food Pantry: $89.00 was collected
Lakes Region Scholarship:

Steve Loughlin gave a report on the recipients of scholarships funded by the Laconia Kiwanis Club. He noted that applicants given priority are students that actively participated in the Laconia Key Club. The following received scholarships:
| | | | | |
| --- | --- | --- | --- | --- |
| | | | | |
| Student | | | | |
| Graduated HS | 2016 | 2015 | 2015 | 2015 |
| College | | Mass. College of Pharmacy | University of Rhode Island | University of New Hampshire |
| Status | | | | |
| Major | | | | |
| | $1,000 | $500 | $250 | $750 |
Steve also reported that the Laconia Kiwanis Club handles the administration of the Smith Memorial Scholarship, which was established in honor of Charlie Smith. Charlie Smith was a Laconia Kiwanis Club member during the 1970's into the early 1990's.
Because of his active participation and hard work, Charlie Smith was recognized as Kiwanian of the Year in 1982 and again in 1988. Charlie was renowned and respected as an agriculturist and specialist in soils, grasses and hays. While still a student at UNH, he opened Smith's Apple Orchard in Belmont, which later became one of the areas first "pick your own" orchards. (The orchard was sold to present owners Rob and Wende Richter in 1985.)
As a Laconia City Councilman during the 1980's, Charlie was a major proponent for upgrading the outdated cinder track at Opechee Park. The new track was named Smith Track for Charlie Smith and Erwin Smith (former Laconia track coach) "in honor of their years of service and dedication to youth."
| | |
| --- | --- |
| | |
| Student | |
| Graduated HS | 2014 |
| College | University of New Hampshire |
| Status | |
| Major | Environmental Conservation |
| | |
THANK YOU, Kiwanis:
We recently received thank you letters from two of the students who received scholarships from the Laconia Kiwanis Club. "Click" on the cards below to read each letter.
| | | |
| --- | --- | --- |
| | | |
| | | |
Happy Dollars:


$2 from Dan Andrews for being with the Laconia Club, a Club he cherishes and would belong to if living in our are.
$2 from Joe Adrignola for getting his cooler back and for being at tonight's meeting
$1 from Steve Loughlin noting he is "happy because Jim Fortier is with us"
$2 from Betty Ballantyne for both Jim & Arlene and Joe & Vi Adrignola being with us tonight
$1 from Larry Murphy just for being here
$4 from Bill Gile: $2 for Dan and Jan Andrews being with us, $1 for school being over for the summer, and $1 for a good day on the boat hiking Rattlesnake Island
$1 from Muff Kruse for her grandson, Rowen's, first birthday
$5 from President John in appreciation for Dan and Jan Andrews being with us, great Bike Week results, for Got Lunch week #2, and for Jim Fortier being with us again
Guest Speaker:

President John introduced our guest speaker Lt. Governor Dan Andrews.

Dan shared an exercise that asked six members to share different thoughts such as "I joined Kiwanis because", "I love Kiwanis because", "My proudest moment as a Kiwanian is" etc, and went on to share some of his experiences as a Lt. Governor.
Note from President John: "Dan has been a wonderful and supportive Lt. Governor, one he has come to rely upon. He definitely walks the Kiwanis walk".
John Walker congratulates Janice Andrews as incoming President of the Kiwanis Club
of Mount Washington Valley and
Dan Andrews as outgoing Lt. Governor Division 6
P
ho
to by W. Stephen Loughlin

Meeting adjourned at 7:45 p.m.
GOODBYE TO FELLOW KIWANIAN ED MERSKI
It is with sadness that we report the passing of Kiwanian Ed Merski. Ed joined the Laconia Kiwanis Club in 1977 and was a member and Honorary Member of the Club for nearly 40 years. During that term, he actively participated in our various fund-raising events.
"Click"on the pictures below to open a larger picture.

To make the larger picture even larger, put your curser over the picture and "click" again.

2006: Ed ringing the Salvation Army bell with
Larry Murphy and Charlie St. Clair

2009: Ed with Warren Mitchell and Paul Cotton

2008: Ed greets Senator John E. Sununu

2008: 50 50 winner with Peter Karagianis

2012: Legion of Honor - 35 years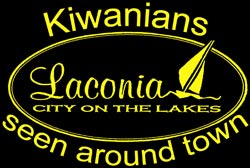 LACONIA KEY CLUB PRESIDENT RECEIVES SCHOLARSHIP
Steve Loughlin attended the Senior Awards and Scholarships event held Thursday evening, June 9th, at Laconia High School. Steve presented Laconia Key Club President Dominic Cutter-Canulli a Laconia Kiwanis Club scholarship, which is given through the Lakes Region Scholarship Foundation. Dominic is headed to Suffolk University in Boston in the fall and will major in finance.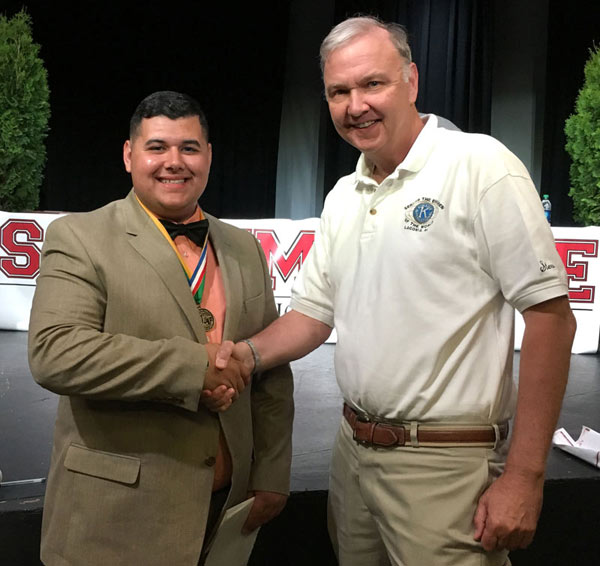 Dominic Cutter-Canulli is congratulated by Steve Loughlin on receipt of a scholarship from the Laconia Kiwanis Club.
Photo by Paulette Loughlin
JOHN WALKER HONORS PETER KARAGIANIS
Laconia Kiwanis Club President, John Walker, delivered a speech honoring long time Kiwanian Peter Karagianis at a public ceremony held at the Belknap Mill in Laconia on June 23rd . John was one of several notable speakers who recognized the contributions and sacrifices made by the late Peter Karagianis in preserving the Belknap Mill for future generations.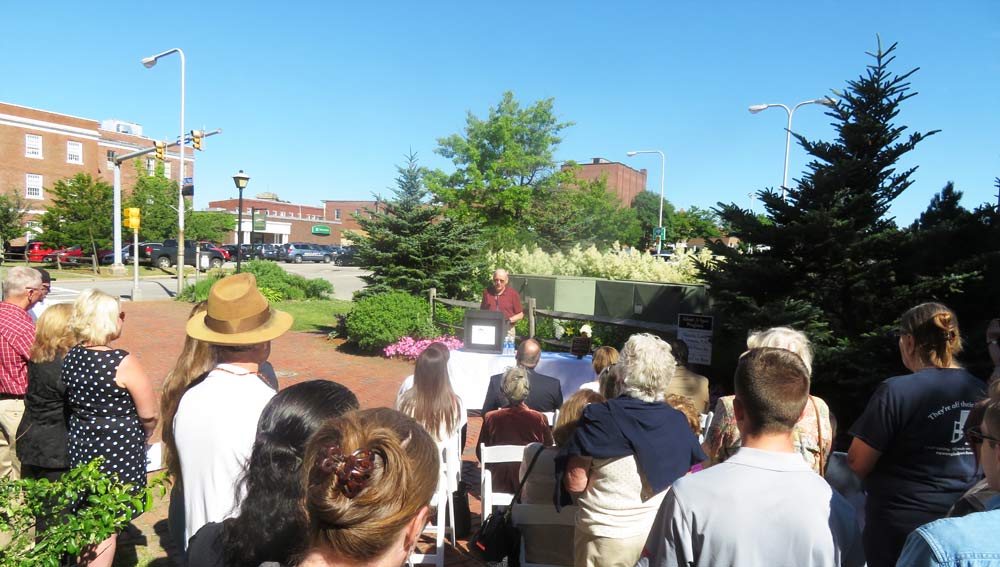 Laconia Kiwanis Club President John Walker addresses the crowd.
Photo by W. Stephen Loughlin
To view a video of John's speech and introduction by Belknap Mill President, Allison Ambrose,
"click" below on the picture of President John. (Video courtesy of Ed Pierce, Editor of The Citizen)
DON NELSON PRODLY SHOW'S HIS "K"
Laconia Kiwanis Club member, Don Nelson, was spotted at T Bones restaurant, on June 26th, proudly wearing his Kiwanis Shirt. The 35 year veteran Kiwanian was accompanied by his lovely bride, Honorary Kiwanian, Sue Nelson.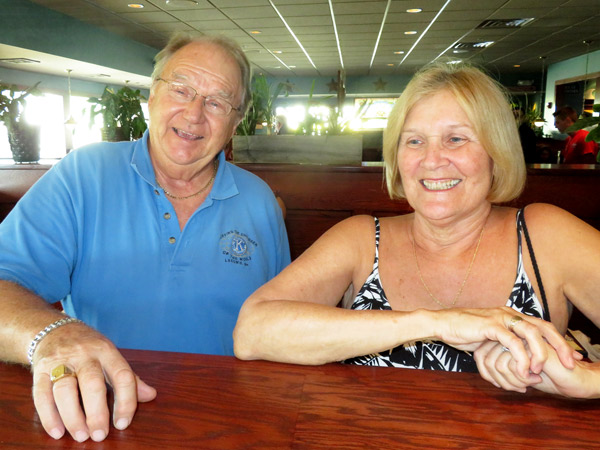 Don and Sue Nelson
Photo by W. Stephen Loughlin
"Click"on the pictures below to open a larger picture.

To make the larger picture even larger, put your curser over the picture and "click" again.

Zack and Grace Laurent HEAD the Sunday Morning Shift

Manchester Kiwanis Club member, Rick Petersen, says "hi."

Mountain DEW break

Zack, Scott, and Grace Laurent

Water Wimp
Steve Loughlin enjoys the view from the tower on Lakeside Ave.

P

ho

to by Motorcycle Week Visitor
Can you find Muff Kruse in this picture?

Sue & Don Nelson with Bill Gile

Tough Guy/Nice Guy

Bill Growls and John Grins

BILL GILE INFILTRATES THE LACONIA ROTARY

Ed Engler, Bill Gile, Dave Clark

Inter-Club Marriage: Rotarian Paula Gile and Kiwanian Bill Gile

John Walker's Shuttle Service TO and FROM the Boardwalk

Unless otherwise noted, all Bike Week p

ho

tos by W. Stephen Loughlin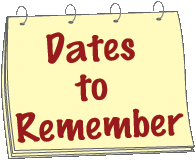 Monday - July 11th - Venue: 405 Pub & Grill - 405 Union Ave., Laconia
Club Meeting - Guest Speaker - Colleen Garrity - Subject: The Belknap House
Monday - July 25th - Venue: 405 Pub & Grill - 405 Union Ave., Laconia
Club Meeting - Guest Speaker - Justin Slattery, Executive Director Belknap EDC- Subject: Colonial Theatre Project
Monday - August 1st -Venue: Irwin Motors Conference Room - 59 Bisson Ave., Laconia- 5:30 pm
Board of Directors Meeting

Monday - August 8th - Venue: 405 Pub & Grill - 405 Union Ave., Laconia
Club Meeting -
Monday - August 22nd - Venue: 405 Pub & Grill - 405 Union Ave., Laconia
Club Meeting -
Sunday - August 28th - Venue: Rotary Park - Beacon Street East, Laconia
ANNUAL ROGER'S RIDE FUNDRAISER

WANT MAIL?
If you are not on the Kiwanis Bulletin e-mail list (and would like to be) please give Steve Loughlin your e-mail address. Also, if you are reading this bulletin and are not presently on the mailing list (and would like to be), "click" here.


"Click" here to get back to the top of the page.
Kiwanis Chronicle is publication of the Kiwanis Club of Laconia, P.O. Box 757, Laconia, NH 03247-0757.
We meet the second and fourth Monday at 6:15 p.m
Please call your President or Secretary about any member or family member in case of illness. Email: John Walker or Steve Loughlin

CLICK BELOW TO VISIT OUR FINE PATRONS