S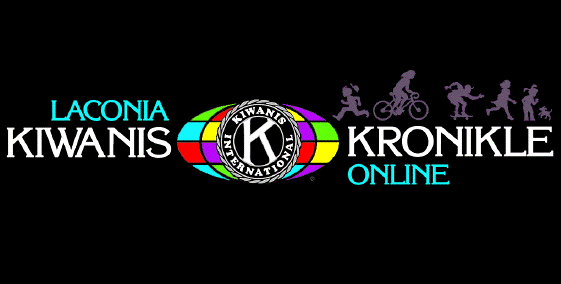 News That Concerns Kiwanians and Their Families
Venue: Laconia Fire Department Community Room

Attendance: 8 members and 1 guest
Invocation: Kathy Calvin

Guest:
Jim Holmes – Boy's & Girls Club Laconia Manager


Jim Homes
Photo by W. Stephen Loughlin
From the President:
President Bill introduced our guest speaker Jim Holmes, branch manager of the Lakes Region Boys & Girls Club, and then paused for dinner.
From the Members:
Betty Ballantyne did another review of progress in planning for this year's 10th and final Roger's Ride to be held August 26th. She thanked Steve for his excellent website work, requested Muff contact her for a lengthier press release than normal, and needs all of us to make our final fund-raiser this year a big success.
Food Pantry: $37 was collected
HAPPY DOLLARS:


$1 from Kathy Calvin due to her husband still being in Montana and informing her he will not be back until September
$3 from Bill Gile: $1 for all the family visits so far this summer, $1 for our guest speaker Jim Holmes, and $1 for finally finishing the updates on QuickBooks, thanks to the help from Dana S. Bean and Company, P.C., CPA's.
$1 from Steve Loughlin $1 for Jim Holmes attending this evening and for all that the Boys & Girls Club does in our community
$1 from Betty Ballantyne because Kathy is happy
$3 from John Walker: $1 for successfully finishing week #5 of this summer's Got Lunch! Program, $1 for Jim Holmes being here to present the Boys and Girls Club, and $1 for finishing up this summer's family visits
$1 from Kara Stanley for the successful fund-raising effort, online, of $1,500 to fund a scholarship she established in memory of Eva Rose Doris.
Guest Speaker:
Meredith Michaud introduced our guest speaker Jim Holmes. Jim has been the Boys and Girls Club's branch manager in Laconia for two years. Jim brought seven years of experience with him, mostly in Lawrence, MA.
During Jim's presentation he reported:
• He is the only full-time staff member but reported good, quality part-timers on board, mostly HS and College students.
• What they do as being in the "Youth Development" field.
• All children who apply are accepted, whether the student can afford it or not.
• This summer, some children are wait-listed, as they have some limitations with transportation, even though the building could fit an additional number with no problem.
• The primary issue he deals with is children with behavior complications, although most kids have no issues.
• During the summer, dinner is served nightly, and 50-60 children are participating this year.
• All three daily meals are provided all summer. The NH Food Bank provides dinner and CAP provides breakfast and lunch.
• Preschool will be offered this fall for 20 children.
• They expect a census of more than 100 kids this school year as the word is getting out.
• Kids want to stay late, even if they do not have to
• The adjacent home is owned by the Club and will be converted into a Teen Center.
• Tuition is $50/week for K-4th grade. $30/week for 5th through 8th grade
• There are 12 Boys & Girls Clubs in NH, only three own buildings independently.

Jim invited Laconia Kiwanis Club members to drop in any time, or contact him at James@lakeskids.org.
Scott and Nora are both ordained ministers • To date in 2018, 55 people have moved from the Carey House shelter into their own non-subsidized homes. • The Carey House is a dry shelter; residents are drug-tested and must remain clean to stay. • Laconia Salvation Army is self-sustained; no money comes from the "parent company". • The McNeil's 401K is Jesus Christ.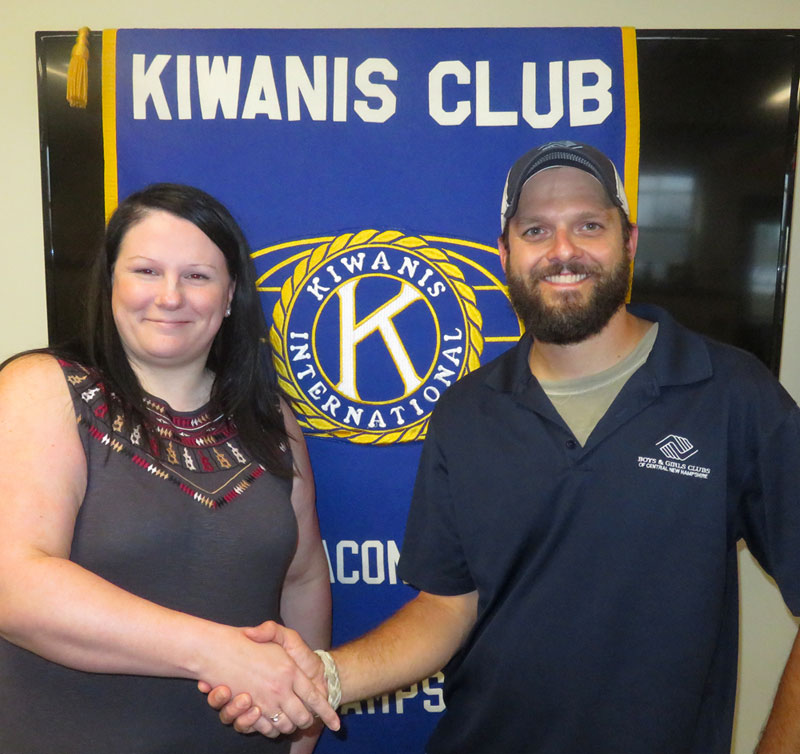 Meredith Michaud with Jim Holmes
Photo by W. Stephen Loughlin

Meeting adjourned at 7:23 p.m.
Phil Bonafide, was proud to display his 1970 Dodge Challenger at the Lakes Region Rotary Club of Laconia, NH 6th Annual Lakes Region Rotary Car Show. The annual fund-raiser was held July 28th at Faro Italian Grill in Weirs Beach.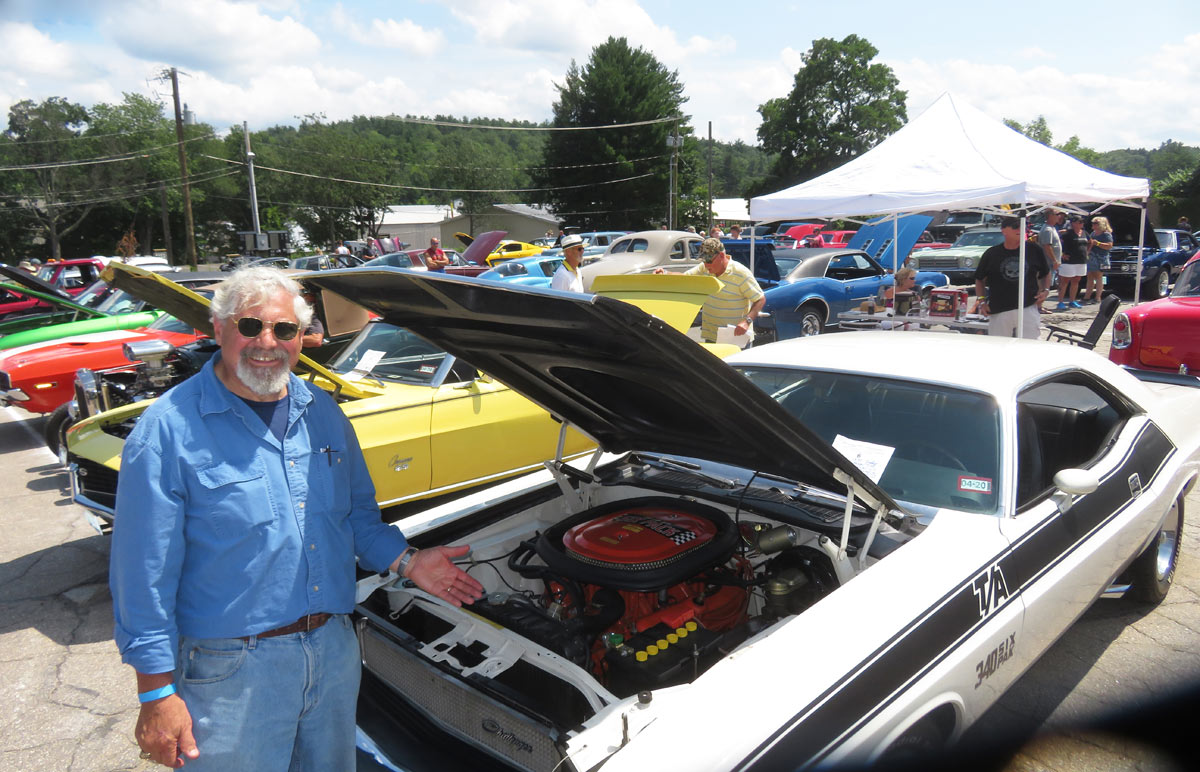 Phil Bonafide with his 1970 Dodge Challenger muscle car
Photo by W. Stephen Loughlin
Steve Loughlin was pleasantly surprised to see former LHS Key Club member, Emily Perry at the Daytona Fun Park in the Weirs on August 6th. Emily is currently the manger of this amusement business having worked there for four years. Emily recently graduated from Laconia High School and now looks forward to continuing her education at Plymouth State University in the fall where she will be majoring in Early Childhood Education.
Emily Perry and Steve Loughlin at the Daytona Fun Park
Photo by Paulette Loughlin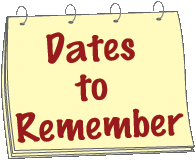 Sunday - August 26th - 10:00 am - Venue: Rotary Park - Beacon Street East, Laconia
ANNUAL ROGER'S RIDE FUNDRAISER
Monday - August 27th - 6:00 pm Venue: Belkanp Mill - First Floor - 825 Beacon Street East, Laconia
Club Meeting - Topic: Belknap Mill Children's Education program

WANT MAIL?
If you are not on the Kiwanis Bulletin e-mail list (and would like to be) please give Steve Loughlin your e-mail address. Also, if you are reading this bulletin and are not presently on the mailing list (and would like to be), "click" here.


"Click" here to get back to the top of the page.
CLICK BELOW TO VISIT OUR FINE PATRONS