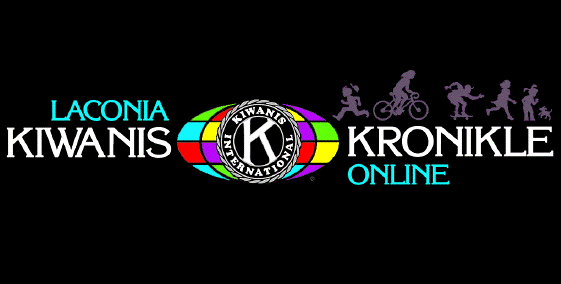 News That Concerns Kiwanians and Their Families
Attendance:
24

Invocation:
John Walker
Guests:
Annie Forts, guest speaker, and her dad, Bernie Forts

| | | |
| --- | --- | --- |
| | | |
| | | |
Thank You, Kiwanis:
President Mike read two thank you notes.
The first was from the Gilford Youth Center who thanked the Club for our $400 donation to their youth summer camp.
The second thank you was from the Fourth of July Committee who thanked us for our "generous donation."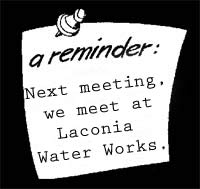 On the road for our next meeting:
The next meeting, which will be on August 8th, will be held at the Laconia Water Works Treatment Facility building located on 117 Stark Street, off Union Avenue. For directions scroll to the bottom of this page or simply, "click" here.
F
50 50:    
Annie Forts won $23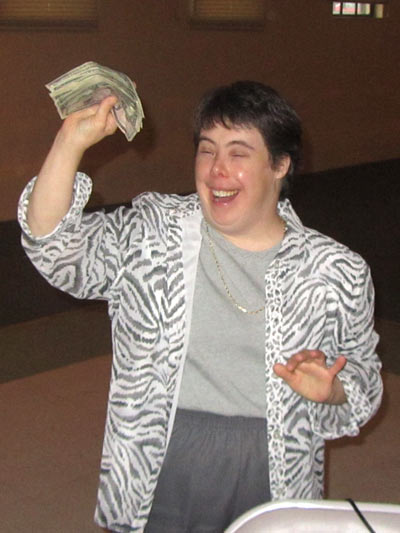 Life is Good!
Photo by W. Stephen Loughlin

Happy Dollars:


$2 from Mike Marsh because he was "so happy to be back."
$2 from Phil Bonafide "because when Laconia Savings Bank caught fire, Steve was there to save the assets."
$23 from Annie Forts (she gave all her 50 50 winnings) because she was "happy to be here."
$2 from Roger Landry. The first dollar is because Mike was back and the second one was because Annie (Forts) was here.
$2 from Jack Batchelder. The first dollar is because his sister, Brandi, is coming to visit him (from Florida) and the second because in 10 days he'll be in Bristol, CT as an umpire at the East Region 11 and 12-year-old Little League baseball tournament.
$1 from Betty Ballantyne because her daughter is expecting twins
$1 from Paul Cotton who was happy his voice "didn't crack" when he was singing tonight.
$1 from Howard Bacon because he's "just happy."
Follow Jack Batchelder Online:
Jack Batchelder will be in Bristol, Connecticut umpiring the Little League Baseball Eastern Regional Tournament that will take place August 5 - 14. Jack plans to post his schedule and other news about the games that he will umpire. You can follow Jack at the Little League website by "clicking" here. Jack will also be posting information on his Facebook site, which is accessible by "clicking" here.
Guest Speaker:
Scott Laurent introduced our guest speaker, Annie Forts.
Annie Forts is a vibrant, passionate and gregarious woman who just happens to have Down's Syndrome. She has dedicated her life to ensuring that those with Down's Syndrome are included in and respected without reservations by their communities. She wants the world to know that everyone can make a contribution to society, no matter what his or her challenge may be.
Annie has given many speeches all over the US helping and motivating people to realize there is an "UP" side to life with Down's Syndrome. She speaks with first-hand knowledge of Down's Syndrome, which she prefers to call "UP" Syndrome. She created the concept of "UP" Syndrome to redefine, in a positive way, the image of disabilities and to focus on "ability" in the word "disability."
During her presentation, Annie told the group what it is like to have a disability and how it is to adjust in the community. While she is different in some ways, she noted we are all different in many ways, which makes our lives interesting.
Quotable quotes from Annie:
Don't be afraid to try something new. Get involved and don't ever give up! If you don't try your very best, then you will never know the real joy of success.
I hope to have as many friends as all the stars in the sky. I think that I am getting very close to my wish.
The doctor who discovered Down Syndrome many years ago was Dr. John Langdon Down. I really wish that his name was Dr. Up so that today, Down Syndrome could be called UP Syndrome instead. Then maybe people would begin with a better attitude towards us as they start to understand what we are all about and what we are really capable of doing.
You must make things happen. Don't wait around for someone else to make things happen for you. While you are waiting, you will be missing out on some great things that you could have made happen for yourself.
Please don't ignore us, or look the other way when we approach you. Doing that to us will not make us or our disability go away. We didn't have a choice about our disability, but you definitely have a choice in how you accept us!
I love my life!
WELL PUT, ANNIE!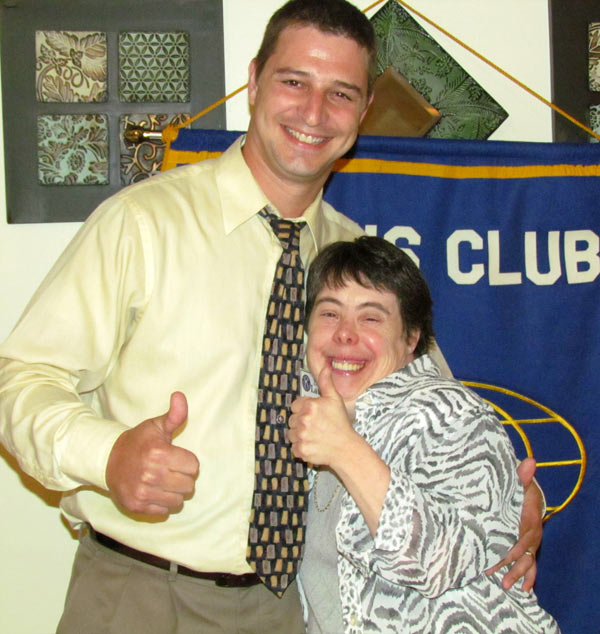 Scott Laurent and Annie Forts are UP.
Photo by W. Stephen Loughlin
Tonight's meeting was adjourned at 7:27 pm.
Directions to the Laconia Water Department Treatment Facility
located at 117 Stark Street, Laconia
From Union Avenue turn up Stark Street

Drive 2 tenths of a mile up the hill.
After driving 2 tenths of a mile, you will see the following sign
on the right side of the street: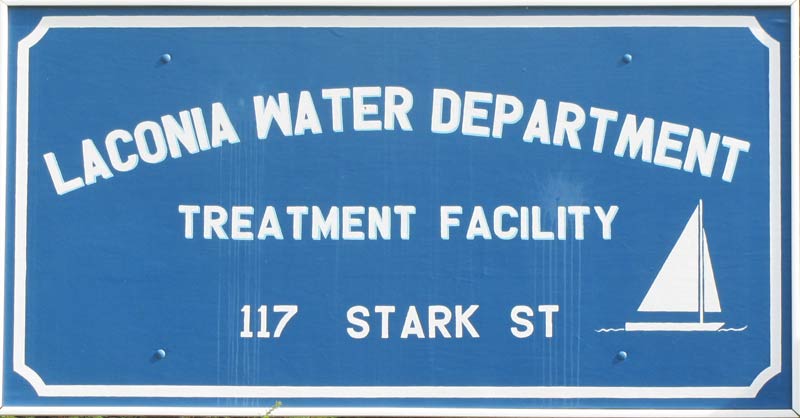 This is the entrance to the Laconia Water Department Treatment Facility.

Proceed forward to the parking lot.
To return to the rest of the newsletter "click" here.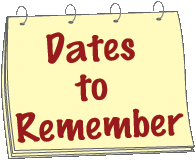 Monday August 1st
Board of Directors Meeting - 5:30 pm at Joe's Place (One Mill Plaza)
All members are welcome to attend. NO DINNER WILL BE SERVED!

Monday August 8th
Club Meeting - We meet at the Laconia Water Works on Stark Street (off Union Ave.)
Monday August 22nd
Club Meeting - guest speaker - TBA
Monday September 12th
Club Meeting - guest speaker - Randy Eifert - "Save Grass and Playgrounds"


"Click" here to get back to the top of the page.
Kiwanis Kronikle is publication of the Kiwanis Club of Laconia, P.O. Box 757, Laconia, NH 03247-0757.
We meet the second and fourth Monday at 6:15 p.m. at the Pheasant Ridge Country Club, Country Club Road, Gilford
Please call your President or Secretary about any member or family member in case of illness. Email: Joe Collie or Steve Loughlin

CLICK BELOW TO VISIT OUR FINE PATRONS