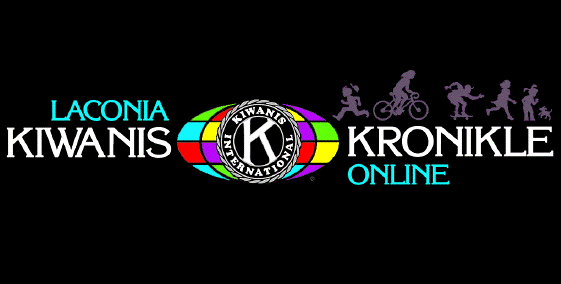 News That Concerns Kiwanians and Their Families
Attendance: 13
12 members, 1 guest

Invocation:
Jim Fortier
Guests:
Ed Pierce- guest speaker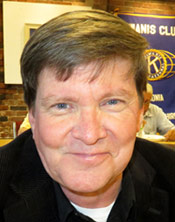 Ed Pierce
From the President:
President John thanked Steve Loughlin and Brian Winslow for making and laminating new name tags for newer members and their spouses. John then presented Rob Reid with his new name tag and noted that wearing it will help him avoid a fine from the roving eagle-eyed our sergeant-at-arms.

John Walker congratulates Rob Reid on having a name.
Photo by W. Stephen Loughlin

John repeated the announced slate for FY-2016 of Club Officers and Directors. A Club vote was taken and the new slate was approved unanimously. That slate includes: President John Walker, 1st VP Meredith Horton, 2nd VP Bill Gile, Immediate Past President Scott Laurent, and Treasurer Kathy Calvin. Board Members include Steve Loughlin, Betty Ballantyne, Rob Reid and Joe Adrignola. All will serve a term of one year.
John then announced, thanks to the tireless efforts of Steve Loughlin, we are close to finalizing a deal with the Taylor Community to make the Woodside Building our permanent site for future meetings and will include an option of a $14 dinner. The minimum number of meals we will be charged for will be 10, which will ensure a substantial savings to the Club when compared to our Contigiani contract which required minimum payment for 20 meals. It is anticipated that the new venue will begin with our October meetings.
John Walker also thanked Bill Gile for his work in providing tonight's dinner.
From the Members:
Muff Walker announced that all the members in attendance this evening have committed to attending the August 24th Pot Luck Beach Party, which will be held at the South Down Shores Beach House from 6-9 PM. Spouses are encouraged and all members are strongly encouraged to bring a potential new member as a guest of the Club.
Betty Ballantyne briefed the Club on the progress being made in the planning of Roger's Ride which is scheduled for August 30th. Scott Laurent and Rob Reid are finalizing a new route around Lake Sunapee. The most significant money maker of this event is the membership selling the two-night stay at Mills Falls in Meredith throughout the community. Please keep Betty Ballantyne apprised of your progress.
50/50: None this evening

Happy Dollars:



$2 from Bill Gile: one dollar each for two successful days selling

Waverunner raffle tickets
$1 from Phil Bonafide in a salute to Korean War veteran Roger Webster as it is the 62nd anniversary of the armistice ending that war
$1 from Steve Loughin for Ed Pierce joining us tonight as our guest speaker
$5 from John Walker: one each for the completion of week six of

, one for his family of seven Virginians visiting for the past week, one for them having gone home today, one for the presence of Ed Pierce presence tonight, and one as a thanks to Muff for her help with tonight's dinner.

Guest Speakers:
Steve Loughin introduced guest speaker, Ed Pierce, a 40 year veteran news reporter who came to the Lakes Region in March of 2014 from Melbourne Florida where he had been in the newspaper business for 23 years.
Ed is currently, a general assignment reporter and feature writer for the Citizen newspaper covering Laconia and the Lakes Region. Ed is originally from Rochester, New York and obtained a bachelor's degree in journalism from the University of New Mexico at Albuquerque in 1988. His career has included serving as an Air Force journalist for eight years. He has worked as a news reporter, sportswriter, feature writer, columnist, news desk editor, sports section editor, managing editor and editor for a number of daily and weekly newspapers in New Mexico and Florida.
As a reporter for the Citizen, Ed's feature stories include coverage of many events close to our heart including last year's Roger's Ride and this year's Kiwanis 100th birthday.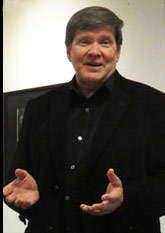 Ed's presentation included some personal background stories, stories of famous people he has interviewed, and future plans for the Citizen newspaper. As a young student in the suburbs of Rochester, NY, Ed won an essay contest of 3,500 students nationally. His topic was essentially the Greatest Generation. Winning the contest got him a trip to Washington, DC, where he read his essay to the Senator from his state, Robert F. Kennedy. That visit inspired Ed to pursue a career in journalism. He had several very interesting experiences in college at the University of New Mexico and interviewed Muhammad Ali while in school, as a reported for UPI. Ed's career included interviews of three Presidents, many athletes and actors and even four astronauts during his 21-year career in Florida.
Below are just a few of the interesting people that Ed Pierce has had the opportunity to interview during his 40 year career as a journalist: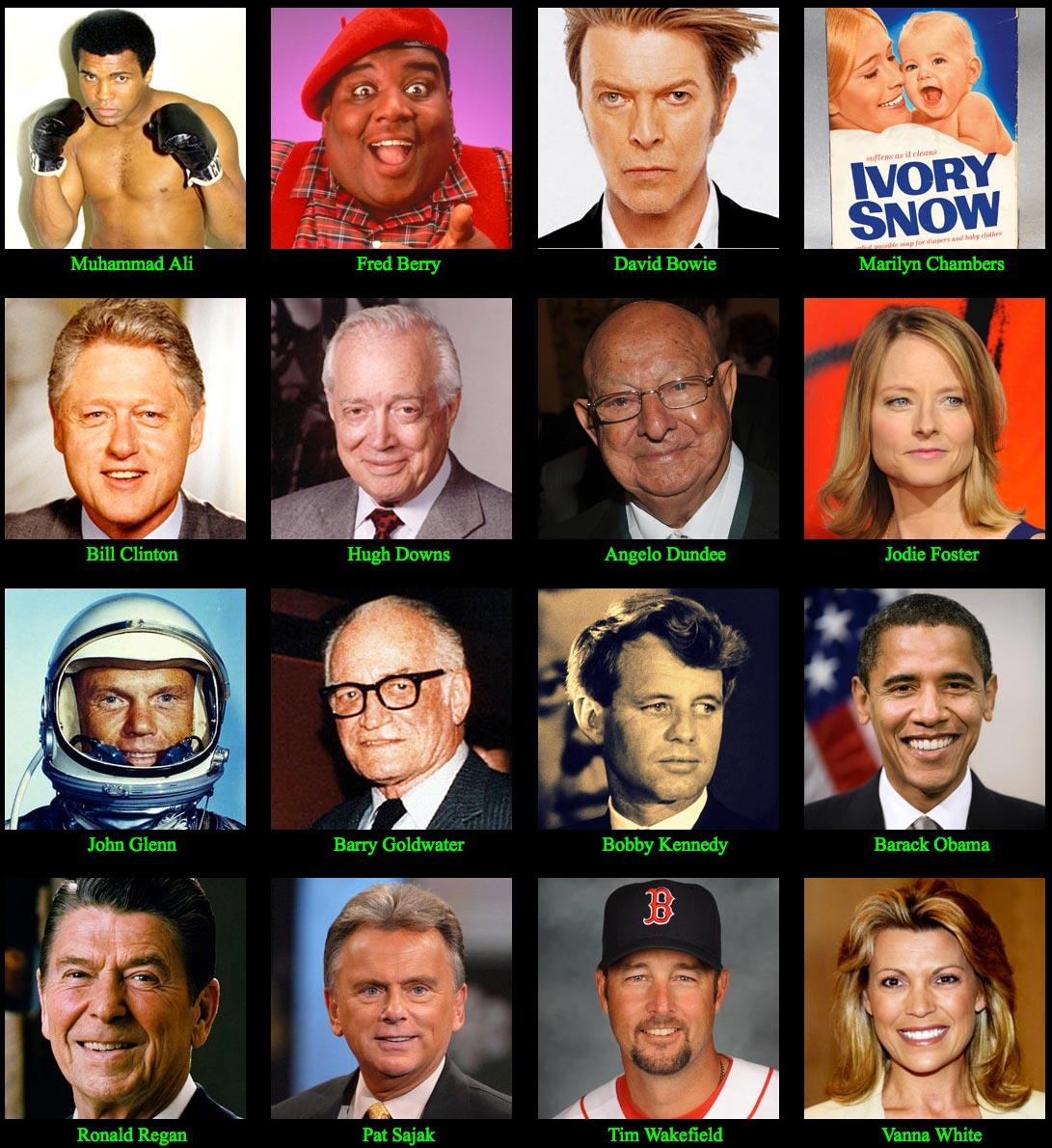 If you missed Ed's 90 minute presentation or would like to hear it again, "click" here. NOTE: It may take 30 - 45 seconds to download this audio.
Ed Pierce is thanked by Steve Loughlin for his entertaining presentation.
Photo by Phil Bonafide
Tonight's meeting was adjourned at 8:31 p.m.
After the meeting, Ed Pierce is seen interviewing a well known Korean War Veteran.
Photo by W. Stephen Loughlin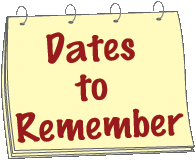 Monday - August 10th - Venue: One Mill Plaza- Community Room
Club Meeting - Speaker: Ryan Lemay
Monday - August 24th - Venue: Southdown Shores, Beach House, Laconia
Club Meeting - Summer Outing including spouses and guests
Monday - September 14th - Venue: One Mill Plaza- Community Room
Club Meeting - Speakers: Brenda Kean and Warren Huse from Laconia Historical & Museum Society - topic: Downtown Laconia Revitalization (This is not the same presentation we saw a year ago, which was on Urban Renewal)

WANT MAIL?
If you are not on the Kiwanis Bulletin e-mail list (and would like to be) please give Steve Loughlin your e-mail address. Also, if you are reading this bulletin and are not presently on the mailing list (and would like to be), "click" here.


"Click" here to get back to the top of the page.
Kiwanis Chronicle is publication of the Kiwanis Club of Laconia, P.O. Box 757, Laconia, NH 03247-0757.
We meet the second and fourth Monday at 6:15 p.m. at the Pheasant Ridge Country Club, Country Club Road, Gilford
Please call your President or Secretary about any member or family member in case of illness. Email: John Walker or Steve Loughlin

CLICK BELOW TO VISIT OUR FINE PATRONS