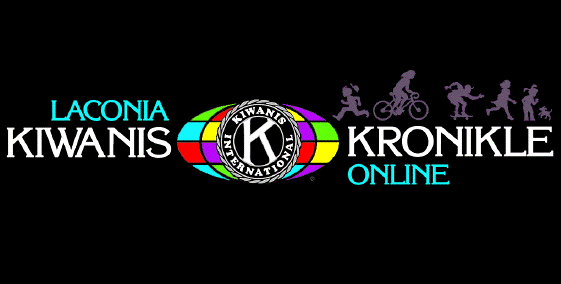 News That Concerns Kiwanians and Their Families
Attendance: 15
12 members, 3 guests

Invocation:
Joe Adrignola
Guests:
Sue Nelson - Honorary Member and wife of Don Nelson
Ryan Lemay - guest speaker and guest of Rob Reid
Chief Chris Adams- guest of Rob Reid
| | | | | |
| --- | --- | --- | --- | --- |
| | | | | |
| Sue Nelson | | Ryan Lemay | | Chief Chris Adams |
From the President:
President John shared the invitation to all Club members to attend the 97th Annual District Convention in Leominster, MA Aug. 20-22. Our Club can have as many as three voting delegates.
John also reviewed our meeting venue plan:
August 24th is our Beach Party at South Down from 6-9 PM
September 14th we are back at Joe's Place
September 28th we are at Pheasant Ridge for our Installation Dinner
Beginning with our first meeting in October, we will be at Woodside in the Taylor Community.
John also stressed the importance of all members selling raffle tickets for a 2-night stay at one of the Inns at Mill Falls to support Roger's Ride.

From the Members:
Muff Walker updated details concerning the August 24th BBQ social from 6-9 PM at the South Down Shores Beach House. BBQ chicken, bring a dish to share, bring a bottle of wine or 6-pack of beer to share. Most importantly, bring your spouse and bring some friends.
Betty Ballantyne briefed the Club on what has been done to date for this year's Roger's Ride fund-raiser, scheduled for Sunday, August 30th. She also demonstrated this year's Roger's Ride T-shirts that are now on sale for $10.00.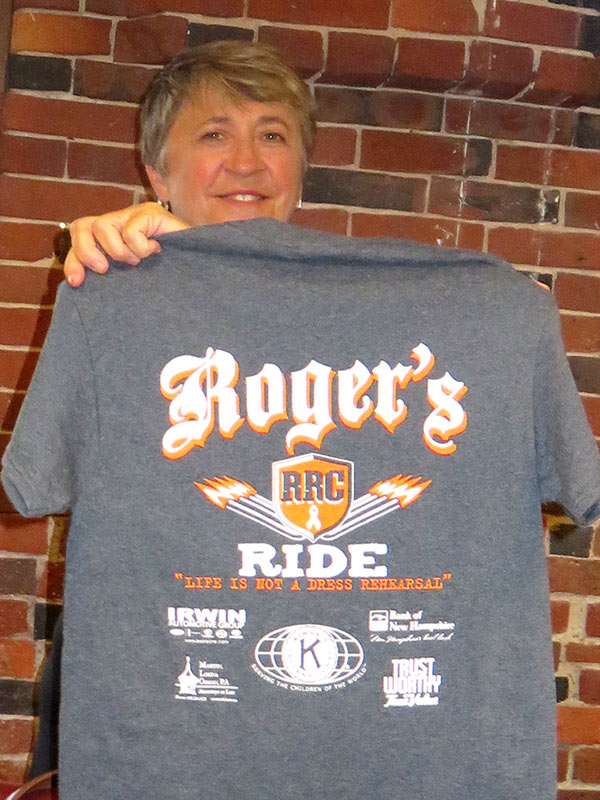 Roger's Ride T-shirts are available for just $10.
Photo by W. Stephen Loughlin
50/50: None this evening

Happy Dollars:



$1 from Bill Gile in honor of a friend from Germany who is in town for the last two weeks of

to assist with all media
$2 from Betty Ballantyne for having a great week of vacation, and having the Roger's Ride T-shirts now available to sell
$2 from Rob Reid in honor of our guests Ryan Le may and Chief Adams
$5 from John Walker: $3 in honor of our three guests attending tonight, $1 for the successful 8 weeks of

Laconia where nearly 23,000 lunches have been delivered so far this summer, and $1 for the return of the Nelsons from the Cape.
$1 from Muff Walker celebrating the successful Rockin' 50's event to support the Multicultural Festival
$1 from Steve Loughlin for having four Kiwanians at the Rockin' 50's event
Oldies But Goodies at Pitman's Freight Room


Fines:
None this week

Guest Speaker:
Rob Reid introduced our guest Ryan Lemay. Rob noted he has known Ryan since high school as a great guitar player. He was originally contacted by Rob to provide the entertainment to the crowd at the upcoming Roger's Ride. When contacted, Ryan reported on a program that he had started in Franklin teaching guitar to under privileged and at risk children. The program, called Sonic Wallpaper, includes both guitar lessons and yoga lessons.
During his presentation, Ryan suggested that perhaps the Laconia Kiwanis Club could be the Fiscal Agent for his program. Ryan's program will run from 6-8 PM on Wednesday nights in the Community Center on Union Ave. Ryan conducted his program successfully in Franklin before moving it to Laconia effective September 2nd. His program has succeeded as a totally donation-based program, and hopes we can help get the word out regarding his need for donations as he starts up in Laconia. Ryan has agreed to provide background music during lunch following Roger's Ride.
For details on Sonic Wallpaper, "click" here.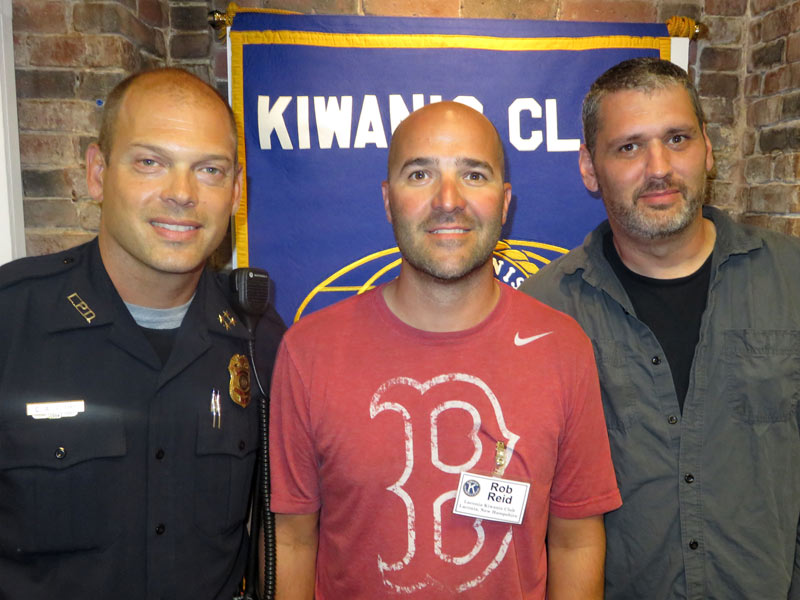 L to R: Chief Chris Adam, Rob Reid and Ryan Lemay
Photo by W. Stephen Loughlin
Tonight's meeting was adjourned at 7:32 p.m.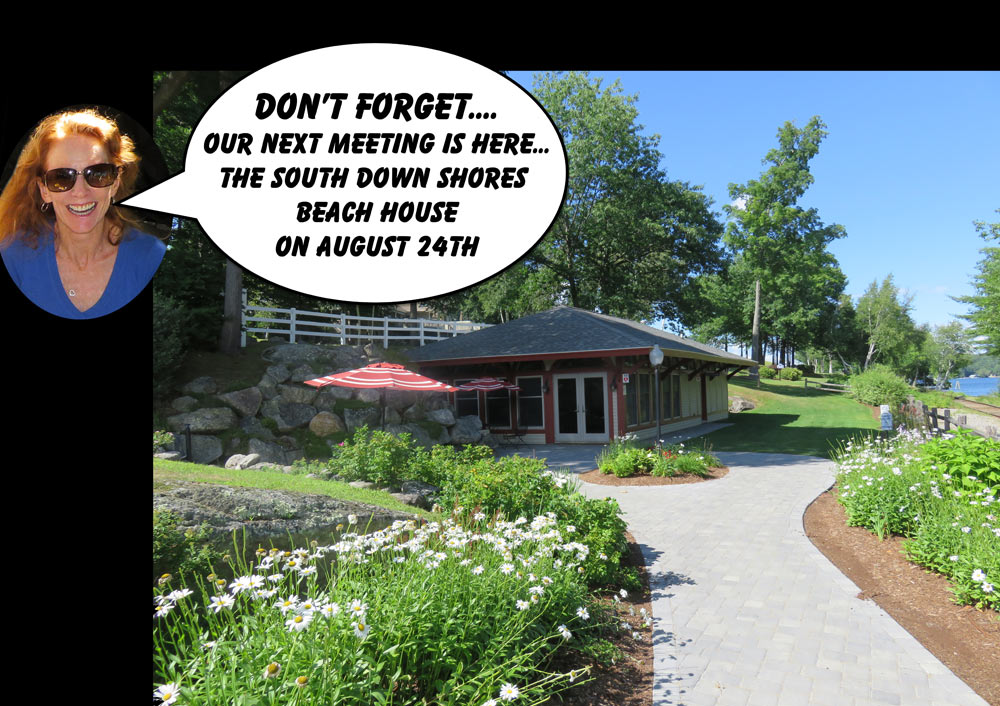 RttttttllllltllllllllllllllllllllllllllThis is the place to be on Monday August 24th.
xxxxmlllllllllllllllllllllllllllllllllllllllllllllllllllllllllllllllllllllPhoto by W. Stephen Loughlin
For directions to South Down Shores Beach House suitable for printing,"click" on the map below.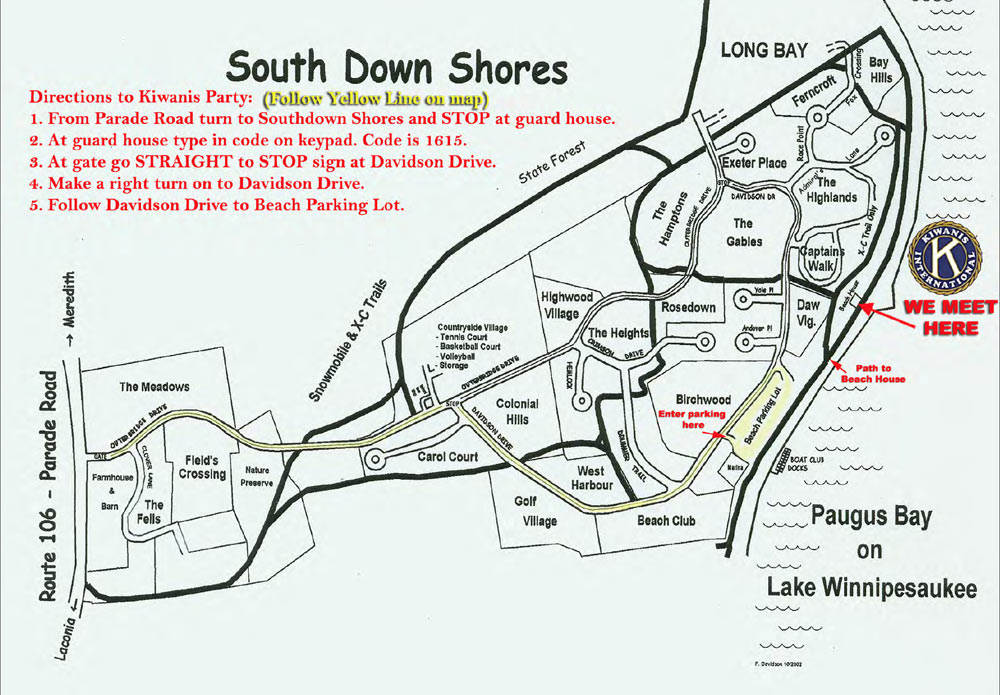 Using the map above, drive the to South Down Shores Beach Parking Lot as shown below:

Entrance to the South Down Shores Beach Parking Lot
Photo by W. Stephen Loughlin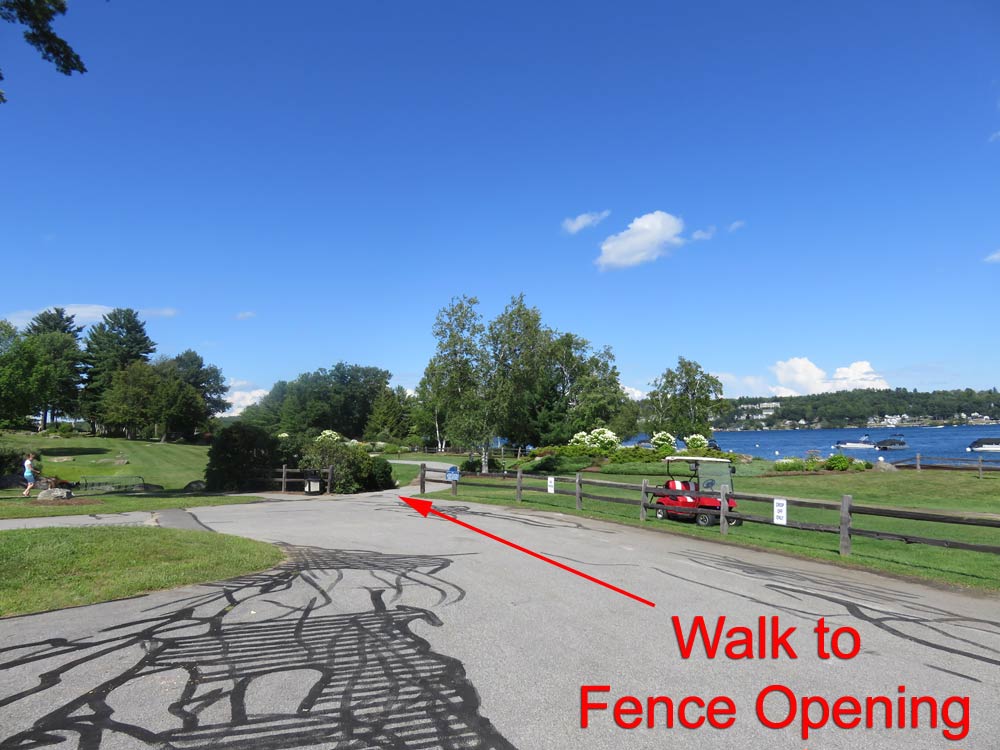 After parking your car, walk to the opening in the fence.
Photo by W. Stephen Loughlin

At the opening in the fence,walk along the sidewalk for about two minutes until you reach the South Down Shores Clubhouse.
Photo by W. Stephen Loughlin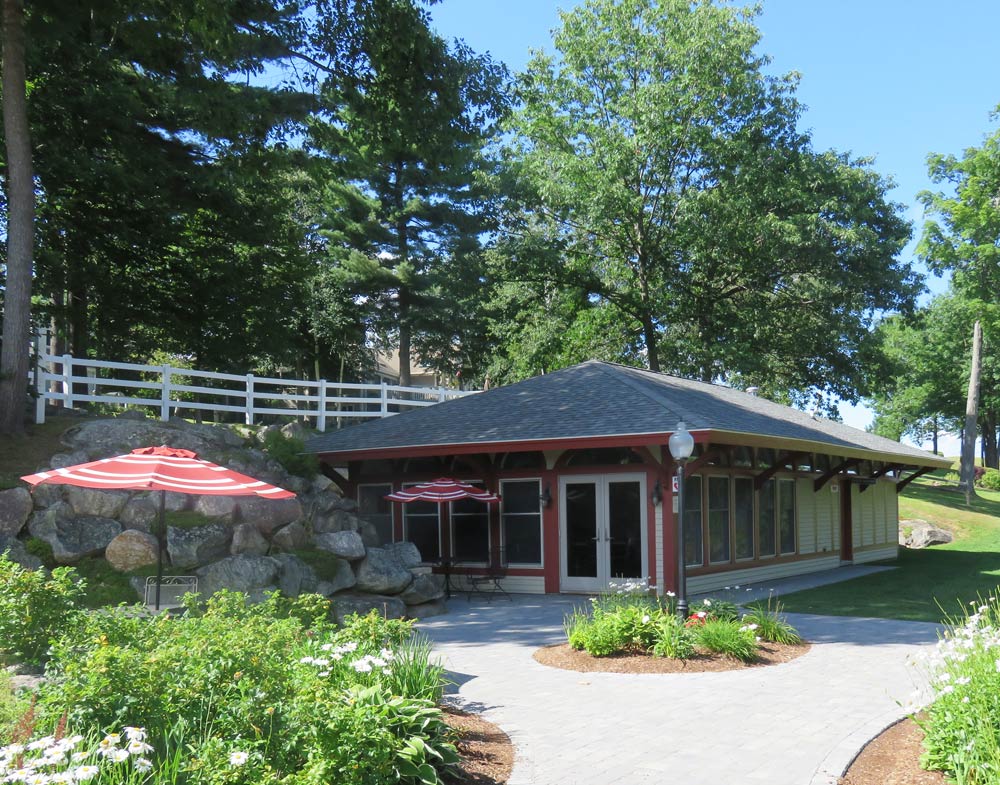 Party Time...Monday...August 24th...6pm-9pm
Photo by W. Stephen Loughlin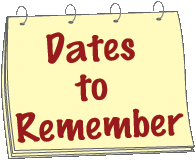 Monday - August 24th - Venue: Southdown Shores, Beach House, Laconia
Club Meeting - Summer Outing including spouses and guests
Monday - September 14th - Venue: One Mill Plaza- Community Room
Club Meeting - Speakers: Brenda Kean and Warren Huse from Laconia Historical & Museum Society - topic: Downtown Laconia Revitalization (This is not the same presentation we saw a year ago, which was on Urban Renewal)
Monday - September 28th - Venue: Pheasant Ridge
Club Meeting - Installation night

WANT MAIL?
If you are not on the Kiwanis Bulletin e-mail list (and would like to be) please give Steve Loughlin your e-mail address. Also, if you are reading this bulletin and are not presently on the mailing list (and would like to be), "click" here.


"Click" here to get back to the top of the page.
Kiwanis Chronicle is publication of the Kiwanis Club of Laconia, P.O. Box 757, Laconia, NH 03247-0757.
We meet the second and fourth Monday at 6:15 p.m. at the Pheasant Ridge Country Club, Country Club Road, Gilford
Please call your President or Secretary about any member or family member in case of illness. Email: John Walker or Steve Loughlin

CLICK BELOW TO VISIT OUR FINE PATRONS