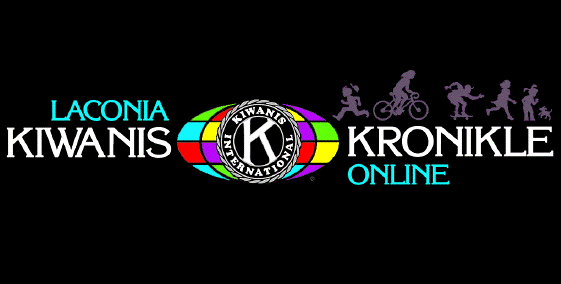 News That Concerns Kiwanians and Their Families
Attendance:
20

Invocation:
Dennis Denoncourt

Guest:
Jeff Beane - future member


....................Jeff Beane
Photo by W. Stephen Loughlin
NEWS FROM THE PREZ:
• Roger mentioned the sign up sheet for the September 24th Stonegate Winery tasting and meeting. To date 29 people are signed up.

• Roger reviewed the September schedule of Kiwanis events which includes: September 4th Board meeting, September 10th regular meeting at Pheasant Ridge, and September 24th meeting at Stonegate Winery, Gilford.

• Roger also shared there was a late cancellation of tonight's guest speaker due to a security issue at the Motorcycle Museum in Meredith.

NEWS FROM OUR MEMBERS:
• Steve Loughlin shared that Dick Breton recently talked to our 1979-1980 President Leo Sasserville, now a resident of Sun City, AZ. Leo attends meetings there regularly and says hello to any of our members whom he may know.

• Steve Loughlin read a thank you letter from Beth Teichert for the Kiwanis scholarship money she received. Beth will be attending NH Tech Institute in the fall majoring in Radiologic Technology.
• Brian Winslow reminded members of the September 15th home run derby at the major league ball field at Opechee Park (next to the Laconia Middle School). Brian mentioned the club would be looking for about 10 volunteers to show up at noon that day. A sign-up sheet will be passed around at the next meeting. He stated if there was a specific job you wanted to volunteer for, let him know and he will hold it for you.

• Brian also briefed us that he had met with the Casino folks recently and they are facing several legislative challenges in the coming year. If you want to be contacted by them so as to be available to support them in some fashion, let Brian know.
• John Walker took the opportunity of the guest speaker cancellation to brief the club on the just-completed
Laconia program for 2012. Highlights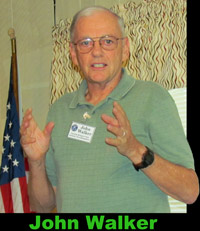 include: 22,331 lunches this summer; 35,732 over the two summers of the program; 208 volunteers this year, only 72 last year; the Laconia Kiwanis club was huge in it's support.
The Laconia Kiwanis club sponsored the St. Patrick's Day dinner as a fund-raiser, and many club members volunteered as delivery folks. John mentioned those who delivered and singled out Jim Fortier who delivered all 10 weeks of the summer. John also mentioned that 59% of surveys were returned by the families, and he is absolutely convinced that the kids are getting the food and benefitting from it. He mentioned the great support of the Laconia Daily Sun, and thanked the club for its part in the program's success.
For more information on the
Laconia program "click" here.
50 50:
$28 to future Kiwanian, Jeff Beane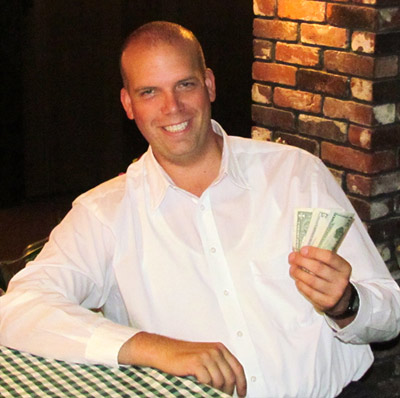 Jeff Beane is a winner!
Photo by W. Stephen Loughlin
Happy Dollars:


$$1 from Dennis Denoncourt for just completing a cruise to celebrate his 40th wedding anniversary.
$1 from Kathy Calvin for getting her car back now that her daughter was back at UNH
$1 from Larry Murphy for his sister-in-law just about to complete her visit;
$2 from John Walker, $1 for
completing for the year, and $1 for Kiwanis support of the program
$1 from Jeff Beane due to the fact his sister had her third child recently and finally has a son.

Fines:
None this week
Guest Speaker:
Doug Frederick from the American Police Motorcycle Museum was scheduled to speak. However, due to a last minute emergency he had to postpone his presentation to a future date.
Tonight's meeting was adjourned at 7:05 p.m.
A KIWANIS RIDDLE:
What do you get when you merge Brian WINSLOW with John WALKER?
For the answer "click" here.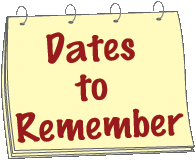 Tuesday - September 4th
Board of Directors Meeting 5:30 p.m. at One Mill Plaza - all members are invited!
This is not a regular meeting. There will be no dinner served.
Monday - September 10th
Club Meeting - Guest Speaker - Michelle Cardinal, Laconia police officer - Identity Theft & Fraud
Saturday - September 15th
Home Run Derby - Opechee Park major league ball field - joint fund raiser with RVYSEF
Monday - September 24th
Club Meeting - We meet at the Stone Gate Vineyard and Winery in Gilford

Monday - October 1st
Board of Directors Meeting 5:30 p.m. at One Mill Plaza - all members are invited!
This is not a regular meeting. There will be no dinner served.
Monday - October 8th - NO MEETING (Columbus Day)


Tuesday - October 9th

Club Meeting - Guest Speaker - Brenda Polodero from the Laconia Historical Society - Historical Pleasant Street Homes
Monday - October 22nd
Club Meeting - Annual Installation of new officers and directors - Pheasant Ridge Country Club


WANT MAIL?
If you are not on the Kiwanis Bulletin e-mail list (and would like to be) please give Steve Loughlin your e-mail address. Also, if you are reading this bulletin and are not presently on the mailing list (and would like to be), "click" here.


"Click" here to get back to the top of the page.
Kiwanis Kronikle is publication of the Kiwanis Club of Laconia, P.O. Box 757, Laconia, NH 03247-0757.
We meet the second and fourth Monday at 6:15 p.m. at the Pheasant Ridge Country Club, Country Club Road, Gilford
Please call your President or Secretary about any member or family member in case of illness. Email: Roger Landry or Steve Loughlin

CLICK BELOW TO VISIT OUR FINE PATRONS