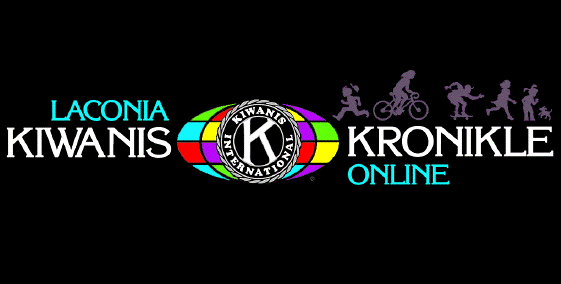 News That Concerns Kiwanians and Their Families
Attendance: 16

Invocation: Scott Laurent

Guests:
Lily Chanthasak and Madison Guyotte – Key Club Members
Bonnie Ashworth – Key Club Advisor

| | | | | |
| --- | --- | --- | --- | --- |
| | | | | |
| | | | | |
| | | | | |
News From The President:
President Scott recognized the two Key Clubbers in attendance. Scott announced two dates the Key Club now has to work the concession stand, and they need Kiwanis help. This Saturday, September 28th from 8 AM to 5 PM is homecoming with several sports being played. The plan is to have pancakes etc. in the morning, a 1½ hour period of pizza near noon, and then hamburgers and hot dogs all afternoon. Kiwanians are asked to come and work a two-hour shift, and an e-mail blast will come out soliciting support. The 2nd date is new: an October Laconia Youth Soccer League Tournament has an 8-4 period of multiple games all day. Key Club has the concession stand and they will, again, need our help.

News From The Members and Guest:
Key Club Advisor, Bonnie Ashworth, stated how sincerely she and Chris appreciated the support the Club is giving the Key Club but she asked each of us to keep the kids totally out of it. Bonnie also asked each of us to try to come up with a way the Key Club can give back to the community. They need a community service project and need our help.
Dick Breton, Treasurer of Santa's Village, mentioned that on November 15 & 16 there will be a huge moving day of Christmas Village items from Irwin Motors to the Park & Recreation building. More details will follow.
Betty Ballantyne reminded members that this Thursday, September 26th, there is an open house at Laconia High School, which includes a "Drive for your School" presented by Irwin Motors. She reported for every test drive done, Irwin's will donate $20 to the school. Betty also mentioned we have a real shortage of programming as only one is currently set for the remainder of the year. Please help her by making suggestions for future programs.
Jack Batchelder briefed the Club on the upcoming installation, which is scheduled for October 7th at 6 PM, in the large dining room at Pheasant Ridge. There will be a raffle, some auctions, and the meal will be at the same price charged for our regular meetings. Jack asked that members, who desire to be active in the Club, tell him what committees they wish to be on, as he plans no random assignments. Jack also said to expect a little bit of business each regular meeting to ensure Board business is shared with membership.
50 50:
$15 Betty Ballantyne. A First!

Betty Ballantyne wins the 50 50
Photo by W. Stephen Loughlin
Happy Dollars and Unhappy Dollars:

This week there was a mix of happy and unhappy dollars due to several deaths and illnesses.
$4 from Joe Adrignola for the four decades he has been friends with Jim Fortier and Jim learning today that he is cancer free, and $1 for Ed Merski being in good shape after having a stroke last week. Joe reported visiting Ed at Health South (in Concord) where he is presently in rehab. Joe reported that Ed wanted him to give a happy dollar "because he didn't get to meet Russ Beane."

$3 from John Walker: $1 for the Key Club attendees, $1 for one of the Key Club members, Lily, being a table captain at
Laconia this summer, and $1 very important dollar for Joe not winning the 50-50

$5 from Bonnie Ashworth because her family successfully regained contact with her nephew in Afghanistan after a three week period of no contact

$3 from Roger Webster: 1 unhappy dollar as he reported seeing Ed Merski in the hospital last Tuesday and, at that time, he could not speak. Joe interjected "I saw him yesterday and he is speaking very clearly." $1 for the visit of his sister-in-law and husband. Another unhappy dollar was given due to the loss of a friend in Gilmanton. Roger also gave an unhappy dollar when reporting that a fellow Kiwanis club member (Howard Bacon) was a passenger in a car involved in an accident last week. The accident resulted in that Kiwanian having had a dislocated shoulder and cuts to both arms. Roger concluded by saying that Kiwanian is feeling "a lot better and is on his medication."

A Kiwanian and his medication
Photo by W. Stephen Loughlin

$1 from Phil Bonafide expressing relief that no one else has dropped recently.

$3 from Larry Murphy, who lost two aunts two days in a row, and, despite bad things happening in threes, he is still here.

$2 from Jim Fortier for being cancer free

$5 from Betty Ballantyne for winning and for hearing Jim's good news. Betty was also happy to remind the Club that Drive For Your Schools is this coming Thursday, September 26th at Laconia High School between 3 and 7 p.m.

$2 from Scott Laurent for this being his last regular meeting AS PRESIDENT and for the fact that Jack is taking over at the next meeting.

Guest Speakers:
None this week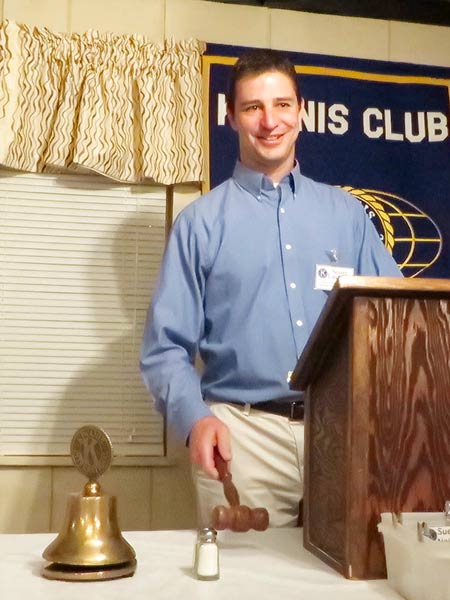 President Scott closes the meeting for the last time.
Photo by W. Stephen Loughlin
Tonight's meeting was adjourned at 7:21 p.m.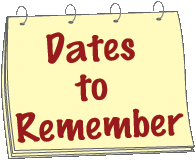 Monday - October 7th
Club Meeting - Annual Installation of new officers and directors - Pheasant Ridge Country Club
Monday - October 21st
Board of Directors Meeting 5:30 p.m. at One Mill Plaza - all members are invited
This is not a regular meeting. There will be no dinner served
Monday - October 28th
Club Meeting - OPEN


WANT MAIL?
If you are not on the Kiwanis Bulletin e-mail list (and would like to be) please give Steve Loughlin your e-mail address. Also, if you are reading this bulletin and are not presently on the mailing list (and would like to be), "click" here.


"Click" here to get back to the top of the page.
Kiwanis Kronikle is publication of the Kiwanis Club of Laconia, P.O. Box 757, Laconia, NH 03247-0757.
We meet the second and fourth Monday at 6:15 p.m. at the Pheasant Ridge Country Club, Country Club Road, Gilford
Please call your President or Secretary about any member or family member in case of illness. Email: Roger Landry or Steve Loughlin

CLICK BELOW TO VISIT OUR FINE PATRONS