WS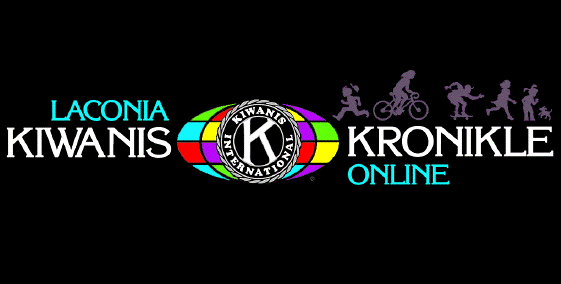 News That Concerns Kiwanians and Their Families
SEPTEMBER AND OCTOBER NEWS
Despite the pandemic, the Laconia Kiwanis Club continues to be active in service to the community.
On September 1st and October 6th members of the Board met via Zoom to discuss contributions and other business.
Members in attendance at our October Board meeting were Betty Ballantyne, Phil Bonafide, Bill Gile, Steve Loughlin, President Meredith Michaud, and Kara Stanley. Not in attendance were Scott Laurent and John Walker.
Pictures by W. Stephen Loughlin

TREASURES' REPORT:
At the October Board meeting, Kara reviewed financial information on the Club including the current balances in both the operating account and charity account.
DONATIONS:
The Board recently approved the following donations:
• $1,000 to Got Lunch! Laconia
• $250 to the Lakes Region Scholarship Foundation in lieu of our contribution to the LRSF annual Spelling Bee (which was cancelled this year because of the Corona virus). To read the thank you the Club received for our contribution, "click" here.
• $250 to the Belknap Mill to fund the first prize in their fourth annual Riverside Duck Derby held Saturday October 17, 2020
FUNDRAISING:
Thanks to the efforts of Phil Bonafide, our Casino Fund-raiser should net the club at least $7,000. Thanks Phil for your efforts!
Kara Stanley has been instrumental with a new Club fund-raiser: A Fuel Raffle whereby the winner receives $1,000 to cover any heating fuel company of their choice and at any location. Tickets are limited to 250 and cost $10 apiece.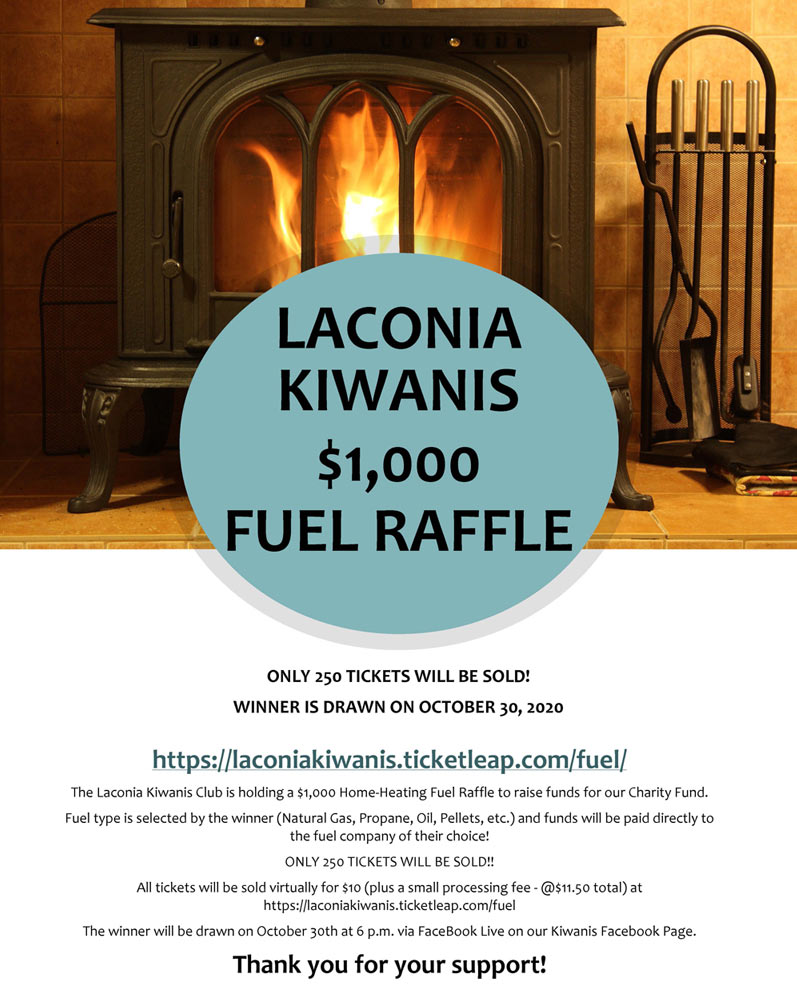 The drawing will be held on October 30th at 6 pm LIVE on the Kiwanis Facebook Page.
Kiwanis KARES:


Betty Ballantyne reported, in July, we received book orders from the Media Specialists of Elm Street School, Pleasant Street School, and Woodland Heights. With help from Kathy Calvin, the orders were placed and subsequently received by the three elementary schools.
Betty noted that, with respect to reading to the students, we have been instructed that, due to the Corona virus, non-employees will not be allowed to visit the schools until further notice. However, Toni at Elm Street School and Robbie at Woodland Heights will continue the readings without us and advise the students of the Laconia Kiwanis Club and explain the mission our K.A.R.E.S. program. In related news, Pleasant Street School has a new Media Specialist starting this month. Once she is settled in her new job, David Levesque, Principal of PSS, will reach out to us along with the third-grade teachers. So, in the meantime, with the help our educators, Kiwanis K.A.R.E.S. continues.
NEWS FROM THE KEY CLUB:
(as reported by Lydia Tucker)

(Note: In addition to being a member of the Laconia High School Key Club, Lydia is the District Governor of the New England and Bermuda District of Key Club International)
The Laconia High School Key Club has been holding meetings outside under the tent in front of the school. Plans are underway to hopefully do some raking for the elderly.
Key Club members Cameron Whitty (club treasurer) and Lydia Tucker volunteered at the Belknap Mill Riverside Duck Derby which was held on Saturday, October 17, 2020. Now in its forth year, The Riverside Duck Derby had 938 ducks that took the plunge.
Key Club members Cameron Whitty and Lydia Tucker volunteered their services at the fourth annual Riverside Duck Derby.
Picture by Tara Shore
On the District/International level, the Key Club is working to charter an e-Key Club for members that are not able to participate in service with their individual Key Clubs. This will be an opportunity for them to engage in virtual service (obtaining the recommended 50 hours/year), and interact with members across the District. They will also be eligible for scholarships and awards because they will be "dues official" members. The regular dues deadline has been extended to February 1, 2021. The Early Bird dues deadline is December 1, 2020. If Key Clubs pay their dues by December 1, they are eligible for a complimentary hotel room at Key Club International Convention in Orlando, Florida, along with $100 from Key Club International to be used for their service projects. The Laconia High School Key Club is looking to take advantage of that. During the weekend of November 4-6, Lydia planned to attend the Kiwanis Fall Training Conference in Nashua, NH at the Radisson Hotel. However, because of the high number of cases of COVID-19 in Nashua, Lydia plans to attend in a virtual environment. She will be accompanied by the Circle K Governor, Alison Lunny. Together, they will be giving presentations to Kiwanians about how Key Club and SLP's (Service Leadership Programs) have been adapting to COVID-19.
Pictured: Lydia Tucker (top right) with a few District Board members after she attended a
recent Regional Training Conference via Zoom.
Picture submitted by Lydia Tucker
For the time being, future conferences will continue to be held virtually via Zoom.
To read Lydia's monthly Governor's newsletter "click" here.
FORMER HIGH SCHOOL BASKETBALL STAR SHIFTS GEARS AND NOW EXCELS AT BIKING:
We are happy to recognize Kiwanian Betty Ballantyne on her recent performance in the Great Cycle Challenge.
The Great Cycle Challenge, which was started in 2015, has grown to become one of the biggest cycling events in the United States. People of all ages, abilities and from every state across the country set themselves a personal riding goal and challenge themselves to pedal to fight kids' cancer. This year the challenge took take place throughout the month of September.
After reading about the Great Cycle Challenge on Facebook, Betty decided to participate in the event because:
• She wanted to honor her family member, Jacob Thompson, who passed away after a nearly three-year battle fighting neuroblastoma.
• She wanted to raise monies for Children's Cancer Research Fund.
• She enjoys biking and wanted to "raise my level of biking."
In view of safety concerns with COVID19, Betty chose to compete on an individual basis and made an initial personal financial commitment based upon the number of miles she hoped to pedal. However, as friends made commitments based upon the miles she could complete, Betty increased her objective to raising $3,000 and pedaling 302 miles. The final results of Betty's performance exceeded her expectations as she road 306 miles and raised $3,538. She placed in position #2 in the state of New Hampshire and in position #286 in the country in a field of over 2,400 participants.

Congratulations, Betty!

Meet Betty Ballantyne: The Laconia Kiwanis Club's Super Athlete
Picture by Colleen Bownes

The winner of this year's Riverside Duck Derby and the Laconia Kiwanis Club have something in common!

A view of the Riverside Duck Derby
Picture by Lesley Marden

From the Belknap Mill Facebook Page
Picture by Tara Shore
As you can see from the post on the Belknap Mill Facebook page, the winner of this year's Riverside Duck Derby was Nicole Karagianis. Nicole's grandfather was long time Kiwanian, Peter Karagianis. Peter joined the Laconia Kiwanis Club in 1949 and was a member of the Club for 63 years. During that term, he served many times as a Board member as well as an advisor to the Laconia High School Key Club. Sadly, Peter passed away at the age of 99 in 2016.

From 2004: Peter Karagianis and his classic smile
Picture by W. Stephen Loughlin
THANK YOU
Many thanks to the following individuals for their contributions in making this bulletin possible: Betty Ballantyne, Peter Karagianis, Jr., Tara Shore, Kara Stanley, and Lydia Tucker.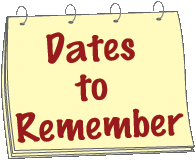 DATE TO BE ANNOUNCED:
6:00 pm - Board of Directors Meeting - MEETING TO BE HELD REMOTELY VIA ZOOM VIDEO - all members invited to attend
NOTE: In order to get access to a ZOOM meeting, you will need the Zoom Application.
To get access to the Zoom App, "click" here.
For assistance with the ZOOM meeting, feel free to contact Kara Stanley at 603-520-3233.
Meeting ID# 603-520-3233 Password: 03246

WANT MAIL?
If you are not on the Kiwanis Bulletin e-mail list (and would like to be) please give Steve Loughlin your e-mail address. Also, if you are reading this bulletin and are not presently on the mailing list (and would like to be), "click" here.


"Click" here to get back to the top of the page.
CLICK BELOW TO VISIT OUR FINE PATRONS