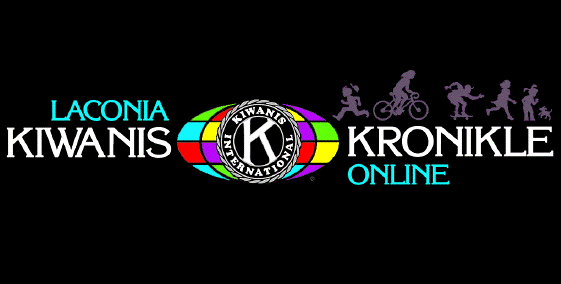 News That Concerns Kiwanians and Their Families
Attendance:
24

Invocation:
Warren Mitchell

Guests:
Brenda Polidoro - Guest Speaker
Gwen Huot - Key Club President
John Hammond - Key Club Vice President
Bonnie Ashworth - Key Club Co-Advisor
Chris Ulrich - Key Club Co-Advisor
Jeff Beane - incoming member
Joe Collie - former Kiwanian
Paulette Loughlin - guest of Steve Loughin
Sue Nelson - guest of Don Nelson

| | | | | |
| --- | --- | --- | --- | --- |
| | | | | |
| | | | | |
| | | | | |
| | | | | |
| | | | | |
| | | | | |
| | | | | |
| | | | | |
NEWS FROM THE PREZ:
President Roger reported he is in receipt of a $200 donation to Kiwanis in memory of the father of Jim Candy, who hosted the Laconia National Car Show which the Club participated in as a fund raiser.

Roger noted that this is Jim Fortier's last meeting until the spring as he will soon leave for his winter residence in Florida. On behalf of the club, Roger wished him safe travel and looks forward to welcoming him back in the new year.


Jim Fortier bids farewell as he will soon transform into a Snow Bird.
Photo by W. Stephen Loughlin
FROM THE PREZ-ELECT:
Scott Laurent passed around a sign-up sheet for the Installation Dinner to be held at 6 PM October 22, at Pheasant Ridge Country Club. He then read the extensive menu.
FROM THE IMMEDIATE PAST-PREZ:
Mike Marsh, with President Roger's support, conducted the induction ceremony for Jeff Beane. The ceremony that has been postponed for a variety of reasons for many weeks now. Jeff's brief remarks included that after his first meeting he knew he wanted to become a member.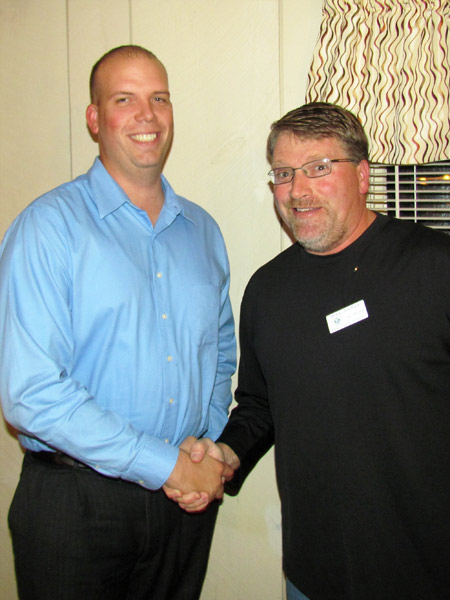 Jeff Beane (left) is welcomed to the club by Immediate Past Pres. Mike.
Photo by W. Stephen Loughlin
50 50:
$25.00 was won by outgoing Pres. Roger. The fix is in.

Great way to leave office.
Photo by W. Stephen Loughlin

Happy Dollars:


$3 from Roger Landry: $1 for this being his last meeting as President, $1 for tonight's great attendance, and $1 for buying a new car from Joe Collie.
$2 from John Walker saluting the two Key Club members attending tonight, who both were a big help with the

Laconia program this past summer.
$1 from Bonnie Ashworth welcoming a new co-advisor of the Key Club, Chris Ulrich, and
$1 from Roger Webster for starting his first day as a LRGH volunteer
Fines:
None this week
Guest Speaker: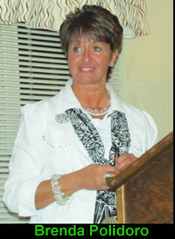 Steve Loughlin introduced Brenda Polidoro, Executive Director of the Laconia Historical and Museum Society.
Brenda has been Executive Director for the past year after many years as a volunteer. She reported that the Laconia Historical Society started in 1951. In 1994, the Laconia Museum Society was established, and owned its own property. The two agencies joined to become the LHMS in 1998. The not-for-profit organization is currently housed on the second floor of the Laconia Public Library. Brenda stated that there are 10 historical programs presented annually and a new display quarterly. The Society attracts 600-700 visitors annually. Additionally, the Society has sponsored and recorded over 300 lectures/presentations which are available for viewing on LRPA TV.

Brenda's presentation was of the 48 historical properties on Pleasant Street. Less than half were covered due to the time constraints but three worth mentioning include:
• The large pink home built in 1885, known as the George R. Leavitt home
• The Frank B. Holt home built in 1887 now known as the Wilkinson-Beane Funeral Home and
• Brenda's own home on the corner of Gale Avenue and Pleasant, built in 1890, the Gale-Hubbard home.

The Society sponsored a walking tour two weeks ago with approximately 90 people participating. During the tour, the participants were able to see in the inside of many of the 48 historic homes. Brenda deemed the event a huge success. She also noted that the presentation, which took six months to research, included pictures of the exquisite wood interiors of many of the homes.

At the conclusion of tonight's presentation, Steve suggested all to check out the annual reports of the City of Laconia on the Society's website. He noted the reports, which date back to the late 1800's, reference many city persons and historical events. He then presented Brenda Polidoro with his personal check for $25 to renew his membership in the Society and encouraged other Kiwanians to join as well.
For more information on the the Laconia Historical and Museum Society check out their website by "clicking" here.
Through the courtesy of Brenda Polidoro and the Laconia Historical and Museum Society, you can view the complete slide show by "clicking" here. Please be patient as it may take a minute or more to dowload.
Check out Brenda on the Laconia Historical and Museum Society facebook by "clicking" here.
Steve Loughlin congratulates Brenda Polidoro for her excellent presentation.
Photo by Paulette Loughlin

Tonight's meeting was adjourned at 7:34 p.m.
IN THE NEWS:
The Fortiers Celebrate Their Golden Anniversary

Arlene and Jim Fortier
Courtesy photo submitted to the Laconia Citizen
Jim and Arlene Fortier recently celebrated their 50th wedding anniversary. Their celebration was highlighted in the October 13-14, 2012 weekend edition of the Laconia Citizen. To read that article, "click" here.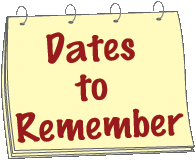 Monday - October 22nd
Club Meeting - Annual Installation of new officers and directors - Pheasant Ridge Country Club
Monday - November 5th
Board of Directors Meeting 5:30 p.m. at One Mill Plaza - all members are invited!
This is not a regular meeting. There will be no dinner served.
Monday - November 12th
Club Meeting - Guest Speaker - Kathy Kearns - Executive Director of the Circle Program
Monday - November 26th
Club Meeting - Guest Speaker- Dave Lynch -Executive Director of the Appalachian Mountain Teen Project


WANT MAIL?
If you are not on the Kiwanis Bulletin e-mail list (and would like to be) please give Steve Loughlin your e-mail address. Also, if you are reading this bulletin and are not presently on the mailing list (and would like to be), "click" here.


"Click" here to get back to the top of the page.
Kiwanis Kronikle is publication of the Kiwanis Club of Laconia, P.O. Box 757, Laconia, NH 03247-0757.
We meet the second and fourth Monday at 6:15 p.m. at the Pheasant Ridge Country Club, Country Club Road, Gilford
Please call your President or Secretary about any member or family member in case of illness. Email: Roger Landry or Steve Loughlin

CLICK BELOW TO VISIT OUR FINE PATRONS