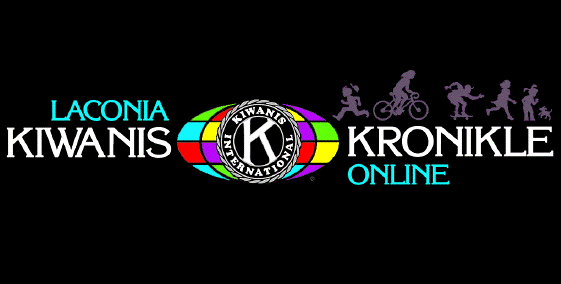 News That Concerns Kiwanians and Their Families
INSTALLATION MEETING
AND OTHER KIWANIS NEWS

Date of Meeting: October 17, 2023
Venue: Fratello's Italian Grille - Laconia
| | | |
| --- | --- | --- |
| | | |
| | | |
| | | Mallory - Our Server |
Attendance: 29 in attendance: 11 members and 18 guests

MEMBERS AND GUESTS:
Kiwanis Members:
Betty Ballantyne
Phil Bonafide
Ray Chambers
Zach Dea
Bill Gile
Steve Loughlin
Don Nelson
Tara Shore
Kara Stanley
Keith Styles
Bob Willey


Guests:
Russ Beane – former Kiwanian
Linda Fairbanks – friend of Russ Beane
Kathy Calvin – Honorary Member and former Kiwanian

Pam Landry – wife of Roger Landry
Roger Landry – former Kiwanian
Sue Nelson – Honorary Member and wife of Don Nelson

Jackie Bonafide – wife of Phil Bonafide
Abby Teichert – former LHS Key Club Vice President - arrived as a guest and left as a new member
Judee Teichert – mother of Abby Teichert

Aiden Coulette – son of Kara Stanley
Caitlin Stanley – daughter of Kara Stanley
Casey Lounsbrough - granddaughter of Kara Stanley
Rosemary Murphy - Honorary Member
Lauren Murphy – daughter of Honorary Member Rosemary Murphy
Jilli Paul – LHS Key Club Advisor

Paulette Loughlin – wife of Steve Loughlin
Muff Kruse – former Kiwanian and wife of John Walker
John Walker – Honorary Member, former Kiwanian and husband of Muff Kruse
Above p

ho

tos by W. Stephen Loughlin

S M I L E
Photo by W. Stephen Loughlin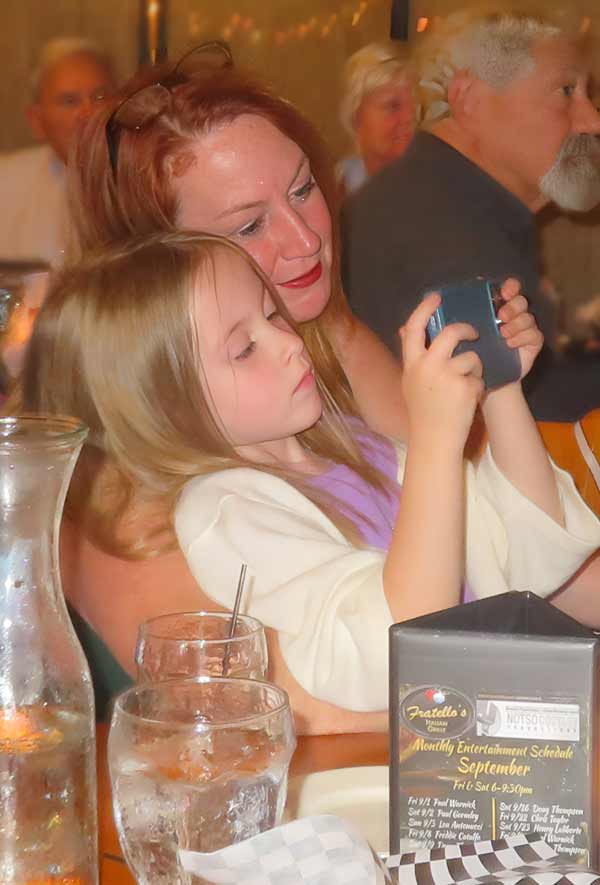 Kara Stanley enjoys a moment with her granddaughter, Casey
Photo by W. Stephen Loughlin
President Bill Gile opened the meeting by thanking all in attendance and introducing our guests. This was followed by:
• Invocation: by Tara Shore
• The Pledge of Allegiance - participated by all
• My Country Tis of Thee and God Bless America led by Don Nelson


NEW MEMBER INTALLED:
Betty Ballantyne was pleased to sponsor and introduce Abby Teichert as our newest member.
Abby Teichert is a graduate of Laconia High School - Class 2012. She is no stranger to the Laconia Kiwanis Club. That's because, for many years, Abby assisted the Laconia Kiwanis Club on various projects as a member of the Laconia High School Key Club. During her senior year at Laconia High School, Abby served as the Vice President of the Key Club.
After graduating from Laconia High School, Abby attended Bryant University where she earned a Bachelor of Science in Applied Math and Statistics and double minors in Business Administration and Finance. Upon graduation from college, Abby worked in the insurance industry in the Boston area. After Covid, she decided to leave the insurance industry to hike the entire Appalachian Trail. Afterward, she decided to come back to New Hampshire to settle down.
Abby is currently working for the University System of New Hampshire as a Senior Business Intelligence Analyst in the Center for DATA. She is also presently working towards her master's degree at UNH. In her free time, Abby hikes, bikes and she is an outdoors person.
Abby Teichert, WELCOME TO THE CLUB!

Abby Teichert with her sponsor, Betty Ballantyne
Photo by W. Stephen Loughlin
INDUCTION OF NEW OFFICERS: Bob Willey, former District 5 Lt. Governor and current member of the Laconia & Hooksett Kiwanis Club, handled the induction.
Bob began by noting that Kiwanis is an outstanding, long withstanding International Organization which is in over 80 countries and has over 550,000 members. On a global level, the organization has teamed with UNICEF for The Eliminate Project - developed to eradicate Maternal and Neonatal disease. While here in the States the disease is virtually non-existent it is very prominent in third world countries. So The Eliminate Project protects the lives of babies and mothers all over the globe and aims to help put an end to this cruel, centuries-old disease. Kiwanis has supported the effort with over $10 million. Also, internationally, our Key Clubbers are involved with the Thirst Project providing safe drinking water to many third world countries.
We should also be proud to be part of the New England Bermuda District with their support of Kiwanis Pediatric Trauma Institute at Tufts Hospital. It was founded by and has been funded by our Kiwanis District in 1981. It provides outstanding care and helps to rehabilitate the many children who suffer trauma.
On a more local level, Bob complimented the Laconia Kiwanis Club for its community efforts including supporting the Lakes Region Scholarship Foundation as well as our successful KARES Program, Bike and Skate Safety Day and recently started two new programs this year with the Free Throw Contest and the Kids Kraft at the Multi-Cultural Festival. He was also happy to note that the club has brought on three new members in the last two years.
Bob also discussed the Objects of Kiwanis:
1. To give primacy to human and spiritual rather than to material values of life.
2. To encourage the daily living of the Golden Rule in all Human Relationships.
3. To promote the adoption & application of higher social, business & professional standards
4. To develop by example a more intelligent aggressive & serviceable citizenship.
5. Through Kiwanis Clubs a practical means to form enduring friendships to render altruistic service & build better communities.
6. To cooperate in creating & maintaining sound public opinion & high idealism which makes possible increase of righteousness and justice.


Bob Willey addresses the group
Photo by W. Stephen Loughlin
Bob then recognized outgoing Board members Brian Winslow and Phil Bonafide and thanked them both for their service.

Phil Bonafide waves to the group after being acknowledged for his many years of service as a Board member.
Photo by W. Stephen Loughlin
Bob Willey inducted Zach Dea as Treasurer, and Keith Styles as a new Board member. Bob also recognized Bill Gile as outgoing President.
He then inducted Betty Ballantyne as the new Club President.

Bob Willey congratulates Betty Ballantyne as the new President of the Laconia Kiwanis Club.
Photo by W. Stephen Loughlin
BETTY BALLANTYNE GIVES A YEAR-IN-REVIEW ADDRESS:
Betty acknowledges the accomplishments of the Kiwanis Club during Bill Gile's term as president.
She thanked Bill for his leadership, coaching and growth of our group. During her address, Betty noted, under Bill's leadership:
The club had increased its community commitments to KIWANIS KARES – The Children's Auction, an evening for literacy for children with reading guests, local authors along with donating several books to the youth. The event was co-chaired by Tara Shore and Zach Dea.
The Club held its first annual Free Throw Competition - engaging 52 kids to compete along with the help of many fellow Kiwanians, Friends of Kiwanis along with Lou Athanas Youth Basketball League members .The event was Co-chaired by Keith Styles and Betty Ballantyne.
The Club held a Meet & Greet for Friends of Kiwanis this past July with a fabulous attendance at the Belknap Mill. The event was co-chaired by Tara Shore and Betty Ballantyne.
The Club reincarnated the Bike Safety Rodeo to Bike n' Board Safety Day and noted that it was a huge success. The event was co-chaired by Zach Dea & Tara Shore.
The Club erected the defunct Ga Ga Court back to Opechee Park with the help of the City's Park & Recreation Department.
The Club had two new fund-raising events: NH Lottery Scratch Ticket Raffle raising nearly $1,500 and our Newsletter Sponsor program. This formal program raised a good amount of money for our club account.
Betty noted that every event Bill Gile had given 100% support which attributed to its success. She thanked him for his many years of dedication to the Laconia Kiwanis Club and noted that she looks forward to his continued support and guidance during her term in office.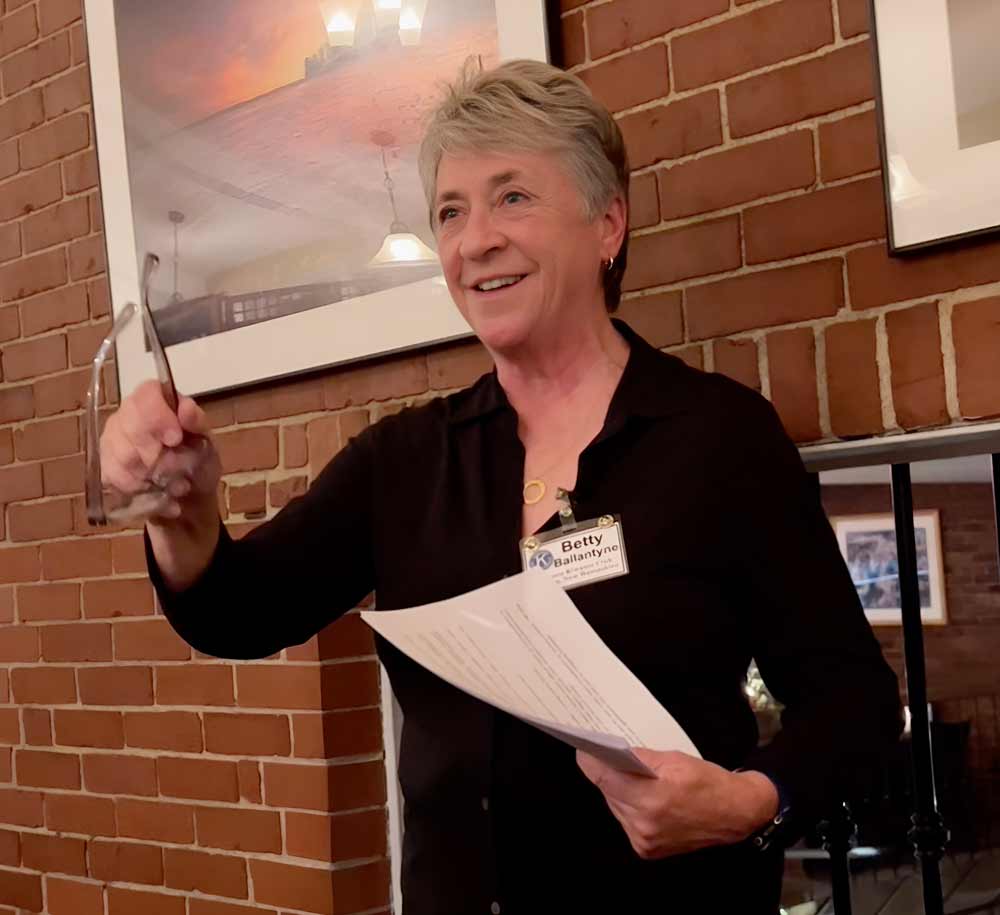 Betty Ballantyne acknowledges the accomplishments of the Laconia Kiwanis Club during Bill Gile's term as president.
KIWANIAN OF THE YEAR:
Before naming the 2023 Kiwanian of the Year, outgoing President, Bill Gile, gave a brief history of the award.
In 1970, the Education and Attendance committee of the Laconia Kiwanis Club recommended that a Kiwanian of the Year be selected on an annual basis.
Richard Cilley, chairman of the committee, and his committee, formulated the guidelines for the annual recognition award. The selection committee would include the president, past president, first vice president, second vice president, and club secretary. Guidelines for selecting the Kiwanian of the Year include attendance, participation, helping with projects, meetings, interclubs, and committee assignments. The committee attempts to select the Kiwanian who best exhibits a commitment to all of these areas. The original trophy was dedicated in the name of Ned Roberts. Ned was a charter member of the club and past president in 1935. He managed to achieve 35 years of perfect attendance in the club.
Prior to tonight's recipient, the Kiwanian of the Year has been awarded 50 times. To view a list of those 50 recipients, "click" here. The last recipient was Phil Bonafide in 2019. Due to COVID, when the Club had limited activity, no one received the award since 2019.
Bill was pleased to announce the 2023 winner of the Kiwanian of the Year award. Prior to joining the Club on 6/8/21, this year's winner became involved with the Club as a Friend of Kiwanis. Subsequent to joining the club, he co-chaired an extension of our KARES Program Literacy through the WLNH Children's Auction. He also co-chaired the Bike n' Board Safety Day. This year's recipient served with the first annual Free Throw Competition, worked at the Hydration Station (during Bike Week), worked at the Kids Kraft Corner (at the Multicultural Festival). He also actively participated in our new fund-raiser with the NH Lottery Scratch Ticket Raffle and worked at many of the LHS Key Club events (including working their concession stand grilling burgers and hot dogs.) He also participated in the Belknap House Yard Fall Clean Up and the Trade-off Park Spring Clean-up.
The winner of the Kiwanian of the Year for 2023 is: ZACH DEA!

Bill Gile was pleased to award the 2023 Kiwanian of the Year trophy to Zach Dea.
Photo by W. Stephen Loughlin
PRIOR PRESIDENT AND NEW PRESIDENT: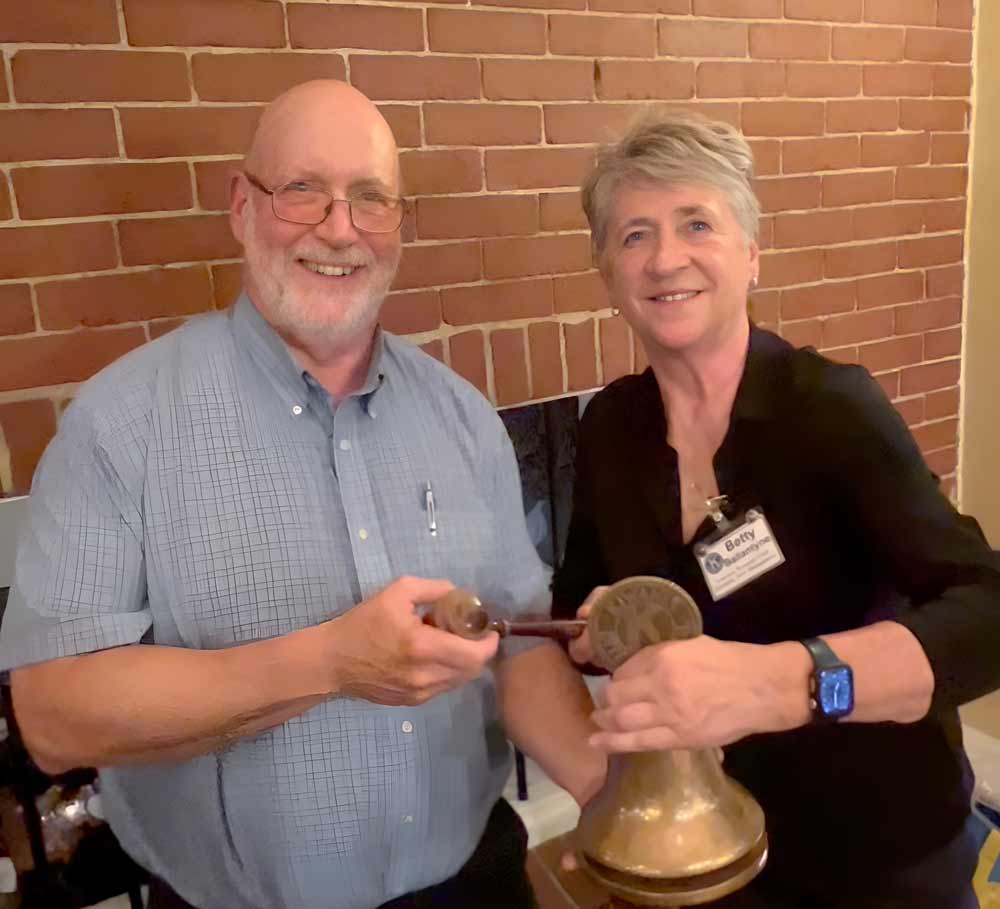 Bill Gile hands the gavel and bell over to President Betty Ballantyne.
Photo by W. Stephen Loughlin


With no further business to come before us, the meeting was adjourned at 8:30 pm.

Bob Willey says Goodnight.
Photo by W. Stephen Loughlin

KIWANIS K.A.R.E.S. (Kids And Reading Equals Success): On Tuesday, October 19th, our Kiwanis K.A.R.E.S. team met with the third graders at Elm Street School at 9:00 am. The volunteers were Keith Styles, Kathy Calvin, Luann Mussari (wife of Brad Geltz) and Betty Ballantyne. We had two classes of enthusiastic and appreciative third grader students.
Our next KARES Program will be held at Pleasant Street School on Tuesday, November 14th at 9:45 am and at Elm Street School on Tuesday, December 5th, at 9:00 am.
LACONIA KIWANIS CLUB $1,000 HOME HEATING FUEL RAFFLE: As of October 31st, tickets sales were sold out at 250. Details of the drawing, which was held on November 1st, will be published in the November Kiwanis Bulletin. In the interim, check out the Laconia Kiwanis Club Facebook Page for results.
NEXT KIWANIS CLUB MEETING: Our next regular monthly meeting will be held on Tuesday, November 21st at the Laconia Police Station Community Room. The Laconia Police Station is located 126 New Salem Street. The meeting will begin at 6 p.m.
The Laconia Police Department Community Room, located at 126 New Salem

Street, is the place to be for our next meeting.

Once inside the Laconia Police Station, go RIGHT.

A view of the Laconia Police Department Community Room.

Above p

ho

tos by W. Stephen Loughlin
THANK YOU
Many thanks to Joe Adrignola, Betty Ballantyne, Phil Bonafide, Bill Gile, and Bob Willey for their assistance with this bulletin.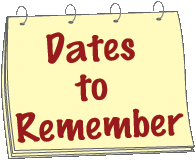 Tuesday - November 7th - Venue: ZOOM MEETING
6:00 pm - Board of Directors Meeting
Tuesday - November 21st : Venue: Laconia Police Department - Community Room
6:00 pm - Program: Kiwanian Abby Teichert will be presenting on her Appalachian Trail Hiking Experience

WANT MAIL?
If you are reading this bulletin and are not presently on the mailing list (and would like to be), please give Steve Loughlin your e-mail address by "clicking " here.


"Click" here to get back to the top of the page.
"CLICK" ON ANY GRAPHIC BELOW TO VISIT THE HOME PAGE OUR FINE PATRONS.