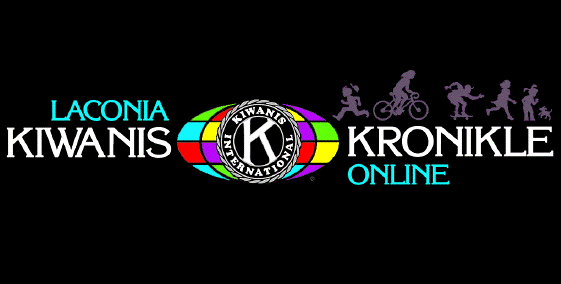 News That Concerns Kiwanians and Their Families
Attendance:
29

Invocation:
Dick Breton
Guests:

Bonnie Ashworth - Key Club Advisor
Abby Teichert - Key Club Vice President
Rebecca Mitchell - Key Club member
Mike Morancy - guest of Scott Laurent
Cyndy Velasquez - guest speaker and guest of Jack Batchelder
Greg Bird - guest speaker and guest of Jack Batchelder

| | | | | |
| --- | --- | --- | --- | --- |
| | | | | |
| | | | | |
| | | | | |
| | | | | |
| | | | | |
Next Meeting:
There has been a change to what was reported at tonight's meeting.
Please note: The location of our next meeting (November 28th) will be Pheasant Ridge Country Club and NOT at Joe's Place.
Also, at our next meeting, we will be voting to ratify the election of Scott Laurent as First Vice President and Brian Winslow as a Board member.
News from the Prez.:
President Roger delivered committee assignments and announced that committee structure and descriptions will be emailed to the Committee Chairs. 

The December 12th meeting will be at the Beane Conference Center and will be the Club's Christmas party.
News from our Secretary:
Kathy Calvin announced that the next Kiwanis KARES event would be at Woodland Heights on Friday, November 18th starting at 9:00 am.  She is still looking for another volunteer so if you are interested please let her know. 
Kathy also announced that the Band Boosters are selling a calendar raffle for $5 each.


Kathy Calvin
Photo by W. Stephen Loughlin
Kathy Calvin reminded the club that the Christmas Parade is coming up so all those who are interested should speak up…Jack Batchelder agreed to help with the effort.  Salvation Army bell ringing will be scheduled in December.
News from the Key Club VP:
Key Club Vice President Abbie Teichert T. reported to the club about recent activities that included a Homeless Awareness Event, volunteering at the WLNH Children's Auction and Saturday's Turkey Plunge. Kathy Calvin will, again, be participating. For more details, "click" here.
News from our Lifetime Member:
Dick Breton reported that the Christmas Village could use volunteers throughout the week…if interested please contact Dick.


50 50:    
Joe Adrignola won $33. It was his first win since May.


Joe says, "don't tell Jim Fortier."
Photo by W. Stephen Loughlin
Happy Dollars:


• $1 from Ed Merski because he is now gratefully unemployed
• $3 from Joe Adrignola…really happy he won…and he doesn't have to share it with Jim Fortier
• $1 from Paul Cotton…Warren Mitchell is having a good time in warmer climates
• $1 from Larry Murphy because Jim Fortier has happily arrived in Florida
• $1 from Carroll Stafford because 25 years ago (Nov. 17th) he hired Steve Loughlin
• $1 from Steve Loughlin because Carroll Stafford's birthday is coming up (Nov. 17th) and he will be 90
• $1 from Betty Ballantyne for President Roger's first meeting
• $1 from Roger Webster because he hopes to make it to his 83rd birthday

Free Meal:    
Won by Ed Merski
Food Pantry:
$52 was collected tonight.
Fines:    
$2.25 was collected:   Phil Bonafide Kathy Calvin and Betty Ballantyne were late and Jack Batchelder didn't have a nametag.
Guest Speakers:
Second VP Jack Batchelder along with his guests Cyndy Velasquez and Greg Bird
were our guest speakers.
Jack Batchelder gave a brief history of his involvement in the Rich Velasquez Youth Sports Equipment Foundation (RVYSEF) whose mission is: to assist in providing sports equipment to the children and youth of needy families in the Greater Lakes region community, in an effort to ensure that every child has the opportunity to participate in community sports regardless of financial circumstances.
Jack then introduced Cyndy Velasquez and Greg Bird. 
Cyndy spoke about her husband Rich Velasquez who passed away in December of 2008.  Cyndy wanted to see her husband's good work continue so she started the Foundation.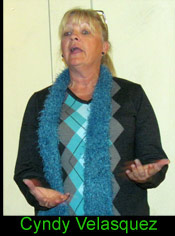 After about a year she recruited Jack Batchelder to help in her efforts. 
Greg Bird talked about the real affect that the RVYSEF has on our community and our youth.   Removing barriers to allow all children to get involved in sports helps in so many ways because sports teaches kids confidence, accountability, character, etc..).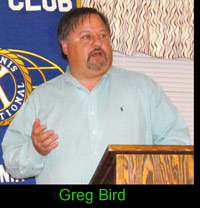 Jack finished the presentation by letting the club know that they very typically have up to 22 requests a year to fill and on overage this costs about $1,300.  Those in need should fill out a request form (found online or available through Jack) and the Foundation will do its best to help.  Jack also thanked supporters like Piches and Patrick's Pub for helping with their mission.  Annual fund raisers include a Golf Tournament, Baseball Card Shows (November 20th at Leavitt Park House), a Home Run Derby and a Pancake Breakfast (December 10th at Laconia Congregational Church).
For more information on the Rich Velasquez Youth Sports Equipment Foundation check out homepage by "clicking" here.
L to R: Jack Batchelder, Cyndy Velasquez and Greg Bird
Photo by W. Stephen Loughlin

Tonight's meeting was adjourned at 7:34 pm.

IN THE NEWS:
The Laconia Daily Sun, dated 11/17/11, ran a story on Kiwanian of the Year, Joe Adrignola.
"Click" here to read the story. Once opening the article, "click" on it to make it larger.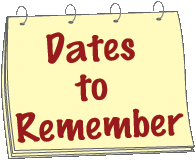 Saturday November 19th
Support Kathy Calvin and the Laconia Key Club at the annual Salvation Army Turkey Plunge. This year, it's at Opechee Park on North Main Street, Laconia.
Monday November 28th
Club Meeting - We meet at Pheasant Ridge Country Club - Laconia Police Chief Christopher Adams will speak about the Laconia Citizen's Police Academy
Monday December 12th
Club Meeting - Adult Christmas Party - We will meet at the Beane Conference Center.
DURING THE MONTHS OF JANUARY AND FEBRUARY WE MEET AT THE BEANE CONFERENCE CENTER. FOR DIRECTIONS "CLICK" HERE.
Monday January 9th
Club Meeting - Guest Speaker to be announced
Monday January 23rd
Club Meeting - Guest Speaker to discuss the PSNH Northern Pass Transmission Project

WANT MAIL?
If you are not on the Kiwanis Bulletin e-mail list (and would like to be) please give Steve Loughlin your e-mail address. (Also, if you are reading this bulletin and are not presently on the mailing list (and would like to be), "click" here.


"Click" here to get back to the top of the page.
Kiwanis Kronikle is publication of the Kiwanis Club of Laconia, P.O. Box 757, Laconia, NH 03247-0757.
We meet the second and fourth Monday at 6:15 p.m. at the Pheasant Ridge Country Club, Country Club Road, Gilford
Please call your President or Secretary about any member or family member in case of illness. Email: Roger Landry or Steve Loughlin

CLICK BELOW TO VISIT OUR FINE PATRONS