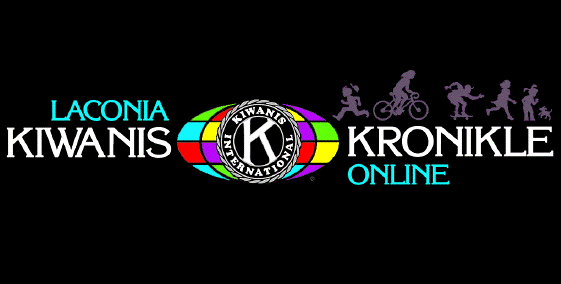 News That Concerns Kiwanians and Their Families
Venue: 405 Pub & Grill
Invocation: Jeff Beane
Attendance: 11 members and 6 guests

Guests:
Sue Nelson – spouse of Don and Honorary Member
Sean Wallin – guest of Scott Laurent

| | | | |
| --- | --- | --- | --- |
| | | | |
| | | | |
Key Club Guests:
Alexyah Dethvongsa, President
Ashley Bortus
Noah Shasteny
Maggie Sullivan
L to R: Noah Shasteny, Alexyah Dethvongsa, Ashley Bortus, and Maggie Sullivan
P
ho
to by W. Stephen Loughlin
The following was discussed:
The Laconia Holiday Parade, which is Saturday November 26th, begins at 4 pm. Participants need to be at Wyatt Park at 3 pm. A Christmas theme is required to participate. Volunteers are needed to decorate the float and walk in the parade. The following members have committed to volunteering: Meredith Michaud, Bill Gile, Scott Laurent, Betty Ballantyne and Jeff Beane. The Key Club has been asked to participate as well. We need four to six walkers to hand out candy canes.
Pumpkin Fest Recap – Members Bill Gile, Scott Laurent & Meredith Michaud updated the club as to how the event went. Thanks to Phil Bonafide & Don Nelson's efforts (despite the rain), we raised $200 from parking. Although it was a wet, rainy day, the event had a fantastic turnout and the club's presence was well received by attendees. Member Kathy Calvin should receive an honorable mention as well as she was very active throughout the day helping facilitate the children's games with the Key Club. PHOTOS OF KIWANIS PARTICIPATION IN THE PUMPKIN FEST ARE INCLUDED AT THE BOTTOM OF THIS PAGE.
KIWANIS K.A.R.E.S. Recap – Don & Sue Nelson gave an update as to how the last two KARES events went – they were recently at Woodland Heights and Pleasant Street Schools. The program is very well received by the school & children.
Key Club Updates – The Key Club is selling raffle calendars and has had a very busy fall season. They had a successful week running concessions at soccer finals. They, along with President Meredith, will be heading down to Tufts Medical Center on December 3rd to visit the Kiwanis Pediatric Trauma Institute.
Meeting Schedule – Future Club meetings will remain on the second Monday of the month at the 405 Pub & Grill. The next meeting will be on Monday, December 12th. This will be our annual Christmas Party which will include a Yankee Swap. For those who would like to participate in the Yankee Swap, please bring a wrapped gift. Spending Limit suggestion is $15.
Salvation Army Bell Ringing – Volunteers will be needed. Date & shifts will be announced next month.

President Meredith had the honor of sponsoring and inducting Kara Stanley into the Laconia Kiwanis Club.
Kara is a financial planner and the owner of Kara Financial, LLC, located in Pembroke. Kara has over 20 years of experience and expertise in the field of Insurance, Annuities, and Planning.
Kara is a resident of Laconia and a mother of two children: Caleb (24) and Aiden (10). Aiden attends Elm Street School. As an Elm Street School volunteer, Kara was a guest speaker at the Laconia Kiwanis Club in September of 2014.
In addition to Elm Street School, Kara spends time volunteering in other aspects of the community both professionally and personally. Kara is a Past President of the NH Chapter of the National Association of Insurance and Financial Advisors and currently serves on Family Support Council for Lakes Region Community Services. Kara is also a coach of her local Special Olympics team, the Winnipesaukee Warriors.
In her spare time, Kara loves to run and to hike in the mountains.
We extend our sincerest WELCOME to Kara Stanley, our newest member.

Kara Stanley is welcomed into the Laconia Kiwanis Club by President Meredith Michaud.
Photo by W. Stephen Loughlin


Dennis Denoncourt received a Legion of Honor plaque recognizing him for his 35 years of membership in the Laconia Kiwanis Club.
Dennis, who joined the Club in 1981, was President during the 1985-86 fiscal year.
Congratulations, Dennis and thank you for your many years of support!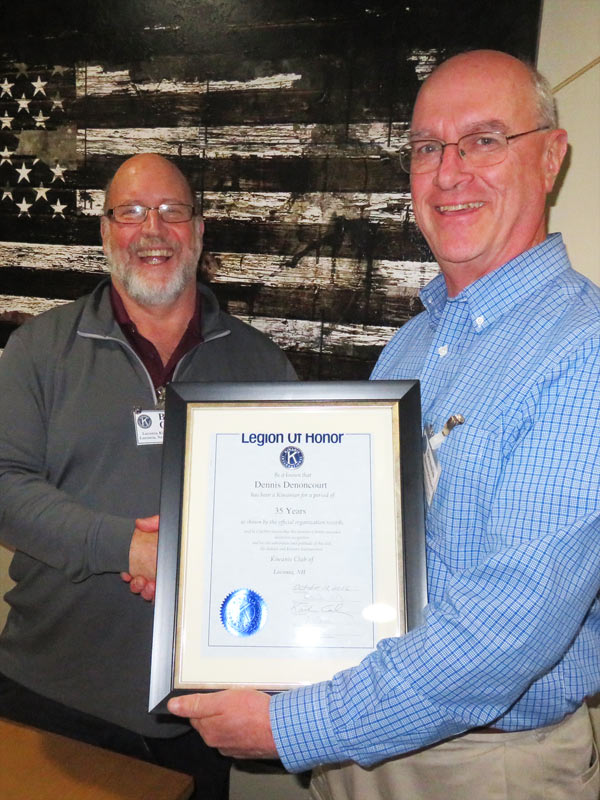 Vice President Bill Gile congratulates Dennis Denoncourt.
Photo by W. Stephen Loughlin
Happy Dollars: $11 was collected
Food Pantry: $31 was collected
Meeting adjourned at 7:15 p.m.

Hair Today Gone Tomorrow:
Steve Loughlin and Scott Laurent came to tonight's meeting looking a little different than usual. Steve's further lack of hair is the result of him losing a bet. He predicted wrong on the outcome of the presidential election which required him to get a crew cut. Scott's facial hair growth is a result of his participant in No-Shave November, a month-long journey, during which participants forgo shaving and grooming in order to evoke conversation and raise cancer awareness.


Two Goof Balls: Steve Loughlin and Scott Laurent
Photo by Betty Ballantyne
KATHY CALVIN TAKES THE PLUNGE AGAIN:
On Saturday, October 29th, Laconia Kiwanis Club member, Kathy Calvin, participated in the 12th Annual Salvation Army Turkey Plunge held at Opechee Park on North Main Street in Laconia. In previous years, Kathy participated with the Laconia Key Club team. However, this year the Key Club did not field a team for the annual event. So, this year, Kathy participated with her sister-in-law, Carole Davis, and six others from the Bank of New Hampshire on the team known as the Penguin Popsicles.
At the time of the plunge, the air temperature was 43 degrees.
Kathy Calvin poses with the Penguin Popsicles prior to plunging into Lake Opechee.

Kathy Calvin resurfaces seconds after her dive into the lake.

Kathy Calvin smiles as her husband, John, looks on.

Kathy Calvin poses with her sister-in-law, Carole Davis, a few moments after completing her plunge.

Turkey Plunge P

ho

tos by W. Stephen Loughlin
LACONIA KIWANIS CLUB PARTICIPATES IN PUMPKIN FEST:
On Saturday, October 22nd, the Laconia Kiwanis Club participated in the Laconia Pumpkinfest. Despite the rainy weather, visitors flocked to the children activities at Punkin CROSSING, located on the sidewalk in front of the downtown Soda Shoppe. Several members of the Kiwanis Club along with family and members of the Laconia Key Club assisted participants from Goody Goody Donuts and Stand Up Laconia. Below are a few pictures of the event.
P

ho

to by W. Stephen Loughlin

The crowd flocks to Punkin CROSSing.

P

ho

to by W. Stephen Loughlin

Scott Laurent oversees the donut challenge

P

ho

to by W. Stephen Loughlin

Scott Laurent watches with envy.

P

ho

to by W. Stephen Loughlin

Meredith Michaud with her daughters, Emma and Abbie, host the Kiwanis tent.

P

ho

to by W. Stephen Loughlin

Kathy Calvin and Paulette

Loughlin

P

ho

to by W. Stephen Loughlin

P

ho

to by Meredith Michaud

P

ho

to by Meredith Michaud

Steve Loughlin points to the tower of pumpkins.

P

ho

to by Paula Glaude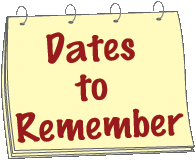 Saturday - November 26th - 3:15 pm arrive for 4:00 parade- Venue: Wyatt Park, South Main Street, Laconia
Laconia Holiday Parade - Kiwanis and Key Club will march together.
Monday - December 12th - 6:15 pm -Venue: 405 Pub & Grill - 405 Union Ave., Laconia
Club Meeting - Annual Christmas Party - Yankee Swap

WANT MAIL?
If you are not on the Kiwanis Bulletin e-mail list (and would like to be) please give Steve Loughlin your e-mail address. Also, if you are reading this bulletin and are not presently on the mailing list (and would like to be), "click" here.


"Click" here to get back to the top of the page.
CLICK BELOW TO VISIT OUR FINE PATRONS