BWS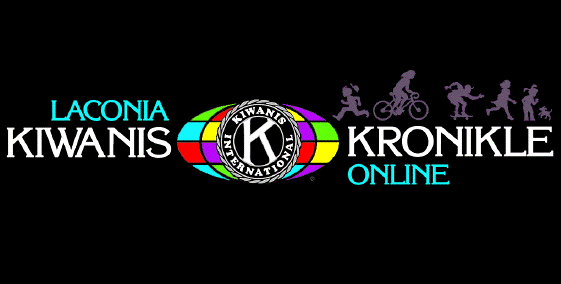 News That Concerns Kiwanians and Their Families
Date of Meeting: November 15, 2022
Venue: The Belknap Mill
Attendance: 11 in attendance: 8 members and 3 guests

MEMBERS AND GUESTS:
Laconia Kiwanis Club Members:
Phil Bonafide
Ray Chambers
Zach Dea
Bill Gile
Steve Loughlin
Don Nelson
Tara Shore
Brian Winslow


Guests:
Sue Nelson – Honorary Member and wife of Don
Jude Hamel – guest speaker
Phoebe VanScoy-Giessler- guest speaker
Sue Nelson

Jude Hamel

Phoebe VanScoy-Giessler

P

ho

tos by W. Stephen Loughlin
Invocation & Pledge:
Invocation: Read by Brian Winslow
Pledge of allegiance: Led by Bill Gile
FROM THE PRESIDENT:
President Bill reviewed the upcoming and recently occurred events:
• 11/15 Kiwanis Kares @ Pleasant Street and Woodland Heights
• 11/16 Laconia School District – Community Strategic Planning Kickoff – Bill is attending
• 12/3 Market Basket Shopping - $622 available for shopping currently – 10:15am
• 12/6 Children's Auction Read-Along
• 12/13 Club Meeting @ Betty Balantyne's – Holiday celebration and yankee swap – 6:00pm


Food Pantry: $34 was collected
Happy Dollars: $22 was collected
GUEST SPEAKERS:
Our guest speakers were Prescott Farm management team members: Jude Hamel – Executive Director and Phoebe VanScoy-Giessler – Development & Communications Director.
Jude Hamel was fortunate to make connections with nature at a young age through her experiences hiking the Long Trail, fishing, camping and cross-country skiing with her family. A graduate of the University of Massachusetts, Amherst and an MS from Southern New Hampshire University in Community Economic Development, Jude has spent most of her career working in the nonprofit sector with a commitment to building community. Still an avid lover of the outdoors and nature, Jude enjoys beekeeping, gardening, raising chickens and goats, hiking and spending time with her family.
Phoebe VanScoy-Giessler joined the Prescott Farm team in December 2018 and is thrilled to be able to tell the inspiring stories of Prescott Farm. She received her BA in journalism and politics at Ithaca College and completed Masters level work in Education at Plymouth State University. Formerly a classroom teacher and school librarian, she has previously worked in social services as well as environmental and educational nonprofits from Los Angeles, CA to Albany, NY. Phoebe lives in Tuftonboro with her husband and three boys. Her favorite way to enjoy the natural world is by running on the trails and roads of the Lakes Region.
Phoebe and Jude shared the variety of programming that Prescott Farm Environment Education Center offers to the Lakes Region community for children and adults. Prescott Farms focus is on learning about nature and doing it in the natural world. Their 170 Community Connection Programs for adults in 2022 included Birding, Smartphone Photography, candle making and a specialty production of "Arborlogues" a play written for a tree which had 425 participants.
The Fledgling Nature-Based Preschool program has a capacity for 18 kids per day and currently runs through the normal school year calendar, but they will be expanding to a full year program in 2023. For the 2021-2022 school year, 19% of preschoolers received tuition support and 8% of tuition was met through scholarship funds. Phoebe and Jude shared that if they had more space to accommodate more children, they would be full. There is a great need for quality preschool programs in our area.
This fall Prescott Farm started a new program, "Tadpoles," to help with overflow from the Fledgling program. There is a very long waiting list! This is a drop off program, 2 hours, 2 days per week for 6-weeks, held exclusively outside and run by Preschool Director, Shannon Marden.
The Wildquest Day Camp program is an environmentally focused day camp opportunity to explore, learn, and grow in nature for kids ages 4-14. Scholarships are available and volunteer opportunities are being created for kids who have aged out of the program.
The Naturalist in the Classroom program impacted 1,369 students throughout 5 different school systems in the Lakes Region in 2021-2022. The staff works directly with teachers to integrate curriculum requirements into lesson plans that utilize the resources at hand. These lessons create opportunities for hands-on, plant-based learning.
In 2021-2022, 423 students in grades K-12 from several Lakes Region schools enjoyed field trips to Prescott Farm. They provide innovative topics and programs year-round, from winter animal tracking to Maple Sugaring in March to traditional arts and crafts. Currently the property for Prescott Farm is undergoing major construction additions to increase space for all the programs that they provide. A maker's space and kitchen, more accommodating public restrooms, a meeting room space and a more user-friendly parking area will be ready for visitors in spring 2023.

Phoebe and Jude enjoy a lighter moment during the presenation
Photo by W. Stephen Loughlin
The Laconia Kiwanis Club was invited to a one-hour Discovery Tour of Prescott Farm. Discovery Tours offer an overview of all that Prescott Farm has to offer. Guests meet the people who create and participate in the programs, see and hear how their team expands participants' understanding and appreciation of the natural world and hear about ways that Prescott Farm would like to expand its impact in the future.
For more information on Prescott Farm, visit their website by clicking here.


The Tara Shore (center) congratulates Jude Hamel (left) and Phoebe VanScoy-Giessler (right) on their presentation.
Photo by W. Stephen Loughlin
President Bill adjourned the meeting at 7:25 pm.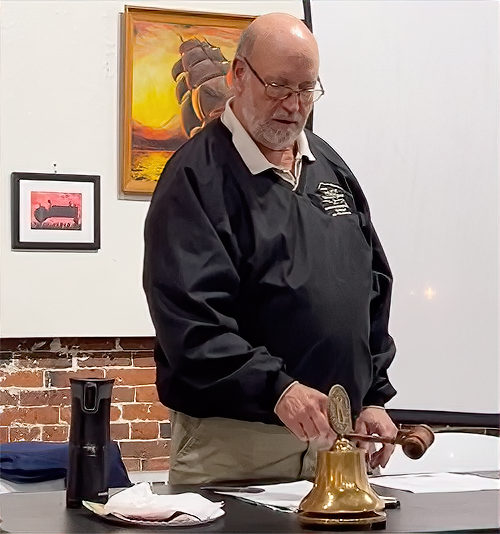 GONG!
Photo by W. Stephen Loughlin
OTHER KIWANIS NEWS:
KIWANIS K.A.R.E.S. (Kids And Readimg Equals Success)

The Kiwanis Club of Laconia invites families
to a special event of the Kiwanis KARES Program.

See details on the poster below: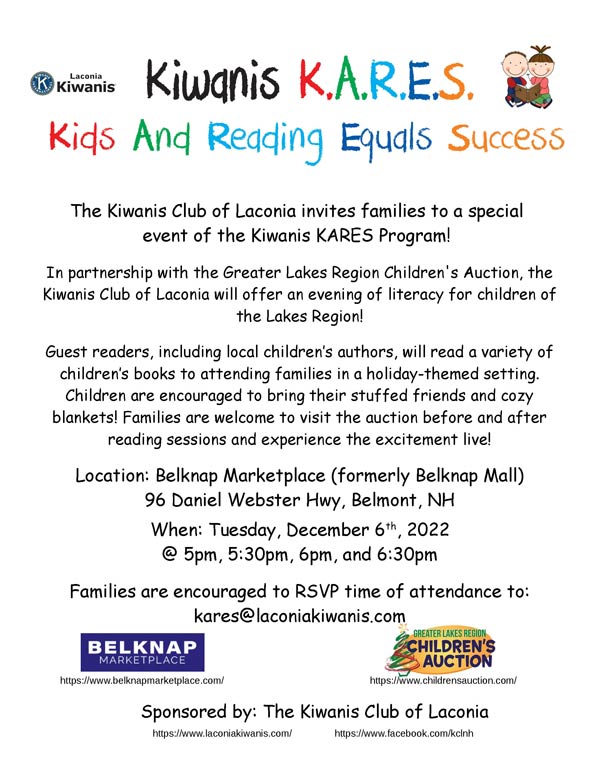 Poster designed by Zach Dea
RING THE BELL FOR THE SALVATION ARMY: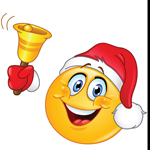 The Laconia Kiwanis Club will ring the bell for the Salvation Army on Friday, December 23rd in downtown Laconia during the hours of 9 am to 5 pm. President Bill has arranged a Sign-Up Genius for Kiwanis members and friends who would like to participate. Please "click" here to sign up if you would like to ring the bell.
CHRISTMAS PARTY:
Our Christmas Party with a Yankee Swap is set for Tuesday, December 13th at 6:00 PM at the home of Betty Ballantyne. If you need directions to Betty's house, please email her by "clicking" here or give her a call at 603-630-5531.
Note: This will be a potluck dinner and BYOB.
Those who plan to participate in the Yankee Swap are requested to bring a gift to swap with a target value of $20. If a guest would like to participate in the Yankee Swap, they should bring a gift as well. Phil Bonafide has agreed to be the emcee for the swap. Anyone planning to attend the Christmas Party should RSVP to Bill Gile by December 10th.
RAFFLE WINNERS:
Congratulations to the Laconia Kiwanis Fuel Raffle winners, Sharon and Tom Salemme! The Salemme's are donating a portion of their winnings to the Belknap House. To read the story about the Kiwanis Fuel Raffle that appeared in the November 28, 2022 edition of The Laconia Daily Sun "click" here.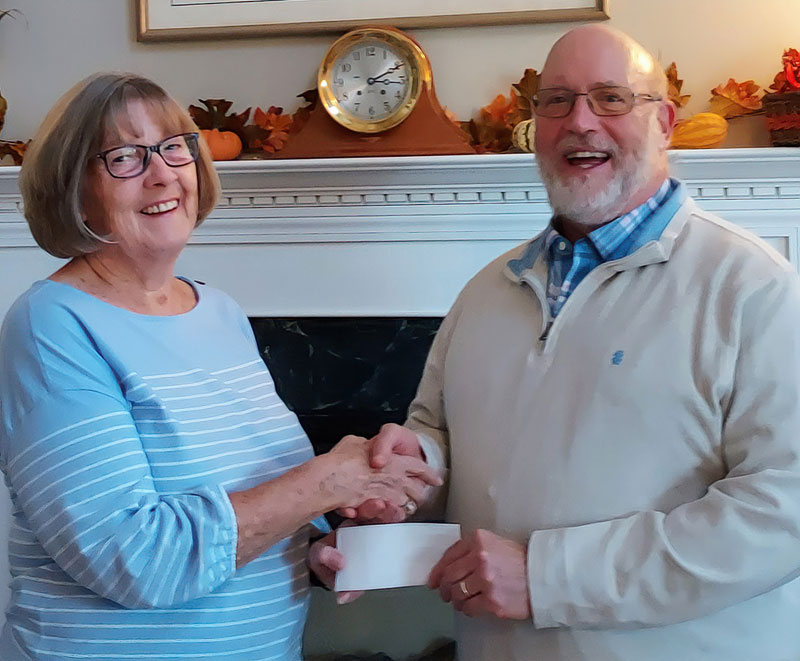 Bill Gile (right) congratulates Sharon Salemme on winning the Kiwanis Fuel Raffle.
Photo by Tom Salemme
KEY CLUB NEWS:
On November 12th, members of the Laconia Kiwanis Club assisted the Laconia High School Key Club at the Concession Stand when Laconia hosted Division 4 High School Football State Finals. Below are a few memories:
Key Club member Kendora Harper-Cartier (at right) makes the sale while Key Club member Morgan Mitchell (at left) looks on.

P

ho

to by Betty Ballantyne

Bun Man

Would You Like Cheese with that?

P

ho

to by Betty Ballantyne

P

ho

to by Betty Ballantyne

Betty Ballantyne at the grill

Above two p

ho

tos by Tara Shore

MEET THE KIWANIS CLUB SUPPORT TEAM

L to R: Betty Ballantyne, Tara Shore, Bill Gile, Phil Bonafide, Sue Nelson and Don Nelson

P

ho

to by

Key Club member, Jennah Valovanie
THANK YOU
Many thanks to Joe Adrignola, Betty Ballantyne, Phil Bonafide, Bill Gile, Jilli Paul, Tara Shore, and Brian Winslow for their assistance with this bulletin.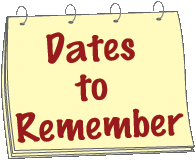 Tuesday - November 29th - Venue: ZOOM MEETING
6:00 pm - Board of Directors Meeting
Tuesday - December 13th : Venue: The Home of Betty Ballantyne
6:00 pm - Annual Christmas Party and Yankee Swap
Friday - December 23nd Venue: Downtown Laconia - Intersection of Main Street and Pleasant Street
9:00 am - 5:00 pm - Ring the Bell for the Salvation Army - To participate use the Sign-Up Genius by "clicking" here.

WANT MAIL?
If you are reading this bulletin and are not presently on the mailing list (and would like to be), please give Steve Loughlin your e-mail address by "clicking " here.


"Click" here to get back to the top of the page.
"CLICK" ON ANY GRAPHIC BELOW TO VISIT THE HOME PAGE OUR FINE PATRONS.