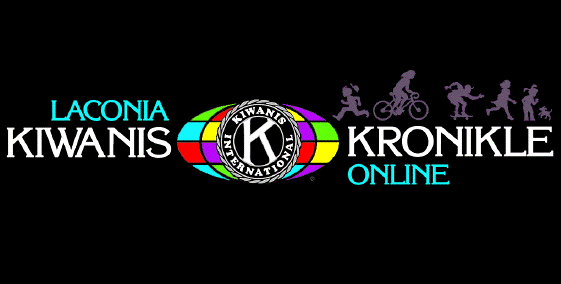 News That Concerns Kiwanians and Their Families
Attendance:
23

Invocation:
Adam Cote
Guest:
Mike Morancy- possible future member- guest of Scott Laurent

News from the Prez:
President Roger reminded the membership that our next meeting, which is on December 12th, will be the Adult Christmas Party. That meeting, as well as all meetings in January and February, will be held at the Beane Conference Center. For directions, "click" here.

From December 12th through the month of February, the Kiwanis Club will meet here at the Beane Conference Center.
Photo by W. Stephen Loughlin

Board of Directors meetings will be held the first Monday of the month at 5:30 at One Mill Plaza. All members are invited to attend.
Roger showed the membership a detailed list of the accounting services that Dana Beane and Company; CPA's has done for the Laconia Kiwanis Club. This work is done without charge to the Club. Roger suggested the next time you see Scott Beane to say "thank you" for his service to the Club.

Pres. Roger shows the list of accounting services provided by Dana Scott Beane.
Photo by W. Stephen Loughlin
Attendance Clarification:
Pres. Roger called on past president Brian Winslow to report on the requirement for meeting attendance. Brian reminded the membership that we had changed our By-Laws to allow for two meetings a month with a minimum requirement of members to attend 12 meetings a year. However, one of the items overlooked when those changes were made was the ramification if a member did not attend a minimum of 12 meetings a year. A number of members have not met the minimum requirement and this has resulted in the Club having to pay for those meals. As such, the following addition was proposed to the Policies and Procedures.
In addition to a member being required to attend a minimum of 12 meetings a year, each member is required to pay for a minimum of 12 meals per year.
This change will be voted on by the general membership at our next meeting on December 12th.
News from our Secretary:
Kathy Calvin reported on the following activities:
Kathy noted she is still selling Laconia High School Band calendars for $5.00 a piece. You get 31 opportunities to win prizes including a gift certificate from NAPA Auto Parts at 580 Union Ave., Laconia.
Kathy also reminded the group that the Laconia Kiwanis Club is scheduled to ring the bell for the Salvation Army in downtown Laconia on Friday, December 23rd.
The following is the work schedule:
009am- 10am: Don Nelson and Charlie St. Clair
610am- 11am: Phil Bonafide and D. Scott Beane
..11am- noon: .Warren Mitchell and Paul Cotton
6 noon- 1pm: . Larry Murphy and Ed Merski
...1 pm- 2pm: .Adam Cote and Roger Landry
...2 pm- 3pm: .Steve Loughlin and Jack Batchelder
...3 pm- 4pm: .Brian Winslow and Kathy Calvin
...4 pm- 5pm: .Scott Laurent and Mikael Morancy
Kathy reported the Annual Christmas Parade was held in downtown Laconia on Saturday, November 26th. Participating were four Kiwanis members, four Key Club members and three family members. These included Joe Adrignola; Jack Batchelder; Scott Laurent and his two children Zack and Grace; Kathy Calvin and her husband, John. Key Club members: Abby and Beth Teigert, Kathy Mitchell and Eloisa Rodriguez.
Kathy also reported she had the opportunity to again participate in the annual Salvation Army Turkey Plunge with the Key Club.
To view pictures of the Kiwanians and Key Club in the parade as well as Kathy with the Turkey Plunge, scroll down the page or simply, "click" here.
News from a two term past president:
Paul Cotton reported the Santa Fund train, which was run on Sunday instead of Saturday after the parade, was "run perfect" with three time schedules, 1:00, 1:30 and 2:00 pm. It gave parents the opportunity to pick the time that worked the best for them. Paul explained, in order for a child to ride the train (for free) with Santa, a child has to bring a toy. The toy is then given to the Santa Fund. The Kiwanis trailer is used to load the toys. After the last train leaves, all the toys are brought to the Santa Fund office where they are then distributed during Christmas week.
Paul also reported on the Yankee Swap, which will be held at the next meeting. Those who wish to participate should bring a gift worth $10.00.
News from our Lifetime Member:
Dick Breton mentioned that the Christmas Village could use volunteers throughout the week (December 1st through December 4th).
Dick then reported he read in recent newspaper articles that past president Brian Winslow was now a member of the Board at the Belknap Mill. After extending his congratulations and a happy dollar to celebrate, Dick noted something was missing from the newspaper articles. None of the articles mentioned that Brian was a past president of the Laconia Kiwanis club.


50 50:    
Joe Adrignola won $28.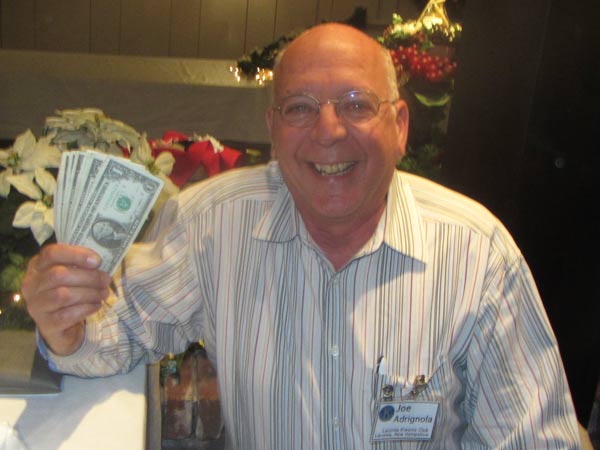 Yea, Joe! Two weeks in a row!
Photo by W. Stephen Loughlin
Happy Dollars:


• $1 from Brian Winslow because he is now a new Board member of the Belknap Mill plus he was happy to pay a $4 dollar fine in honor of Dick Breton.
• $2 from Joe Adrignola one for winning the 50 50 and one because Brian Winslow is now on the Board of the Belknap Mill, his neighbor across from One Mill Plaza
• $1 from Mike Marsh because his wife won $2,000 worth of home heating oil
• $2 from Jack Batchelder: The first because the Rich Velasquez Youth Sports Equipment sports show held the prior Sunday was very successful and raised one thousand dollars and the second happy dollar because he celebrated his 17th wedding anniversary this past weekend
• $1 from Kathy Calvin because she wanted to thank all the Key Club members who recently participated in the Turkey Plunge and the Christmas Parade
• $5 from Roger Landry: the first because Brian Winslow is on the Board with him at the Belknap Mill, one because of the great turnout, one because Betty Ballantyne is doing a great job lining up guest speakers, and two dollars because he's was just happy

Guest Speaker: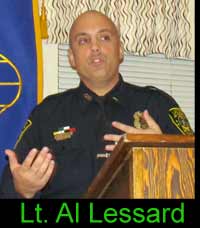 Betty Ballantyne introduced guest speaker Laconia Police Officer, Lt. Al Lessard
Al is married to Denise and has two children: Nathan (nine years old) and Evan (six years old). He graduated from Manchester Memorial HS in 1987 and earned an associates degree in Criminal Justice from Hesser College (1991). Al is presently a Lieutenant and Assistant Support Division Commander with the Laconia Police Department.
Al reported the Laconia Citizen Police Academy is a 10-week course that runs from September until the first week in November. The course includes the following weekly breakdown:

Week #1: Introduction – This includes a tour of the police department, and a review of themission statement and organizational structure.
Week #2: Citizen Complaint Process – This includes internal review of investigation of officers. This is a very lengthy process no matter how minor the complaint.
Week #3: Recruitment – This includes the hiring and training of new officers.
Week #4: Bicycle Control Unit, also a representative from New Beginnings, and the Child Advocacy unit
Week #5: Patrol Procedures: This includes what street officers do every day as well as DWI protection
Week #6: Police Firearms and use of force: This familiarizes the student with the use of weapons.
Week #7-10: Crime Scene processing, tour of the 911 Center, tour of the jail, and use of Wii firearms simulator
Lt. Lessard then showed a 10-minute video of the class that recently graduated from the program. To read about that class and more about the Laconia Citizen Police Academy check out the story that appeared in the Nov. 16, 2011 Laconia Citizen by "clicking" here.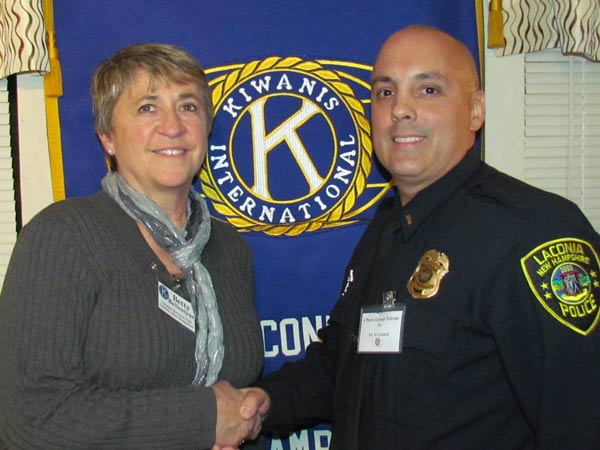 L to R: Betty Ballantyne and Lt. Al Lessard
Photo by W. Stephen Loughlin

Tonight's meeting was adjourned at 7:52 pm.
KIWANIS AND KEY CLUB ACTIVITIES:
The Laconia Kiwanis Club and Laconia High School Key Club recently participated together in the Christmas Parade and Turkey Plunge. Check out the pictures below:

Christmas Parade:
On Saturday November 28th, the Kiwanis Club and Key Club members marched together in the annual downtown Laconia Christmas Parade.
"Click" on the pictures below to view a larger picture.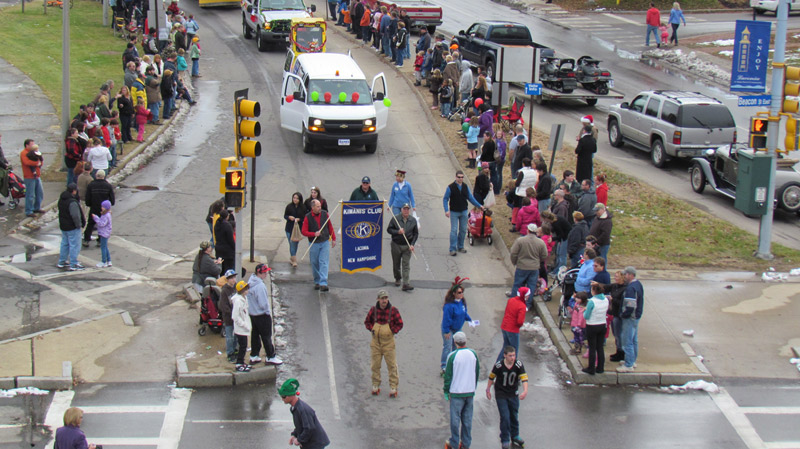 Heading north on Main Street to the entrance of downtown Laconia
Photo by W. Stephen Loughlin
Key Club President, Beth Teichert supports Joe Adrignola
Photo by W. Stephen Loughlin
Turkey Plunge:
On Saturday November 19th, Secretary Kathy Calvin joined the Laconia High School Key Club as they participated in the annual Salvation Army Turkey Plunge which was held this year at Opechee Park on North Main Street in Laconia. Weather conditions were excellent as the sun was shining and the temperature was approximately 45 degrees.

"Click" on the pictures below to view a larger picture.

Can you find the turkey in this picture?


Photo by Janet Brough

L to R: Emily Maddocks, Brandon Wunsch, Panthavy Pradachith, Eloisa Rodriguez, Kathy Calvin, Abby Teichert,
Shannon Bownes, Beth Teichert, Steve Tucker, Key Club Advisor, Carson, Steve's son, Rebecca Mitchell


Photo by W. Stephen Loughlin

Kathy Calvin gracefully leaves the cold water.


Photo by W. Stephen Loughlin

Success!


Photo by W. Stephen Loughlin

To return to the News from our Secretary, "click" here.
IN THE NEWS:
Got John Walker?


Congratulations to Kiwanian John Walker who, together with other Got Lunch? advisory board members, recently received state wide recognition. To read the story that appeared in the November 23, 2011 Laconia Daily Sun, "click" here.
Dick Breton is Mayor of a Village!
Did you know that Dick Breton is the mayor of a special village? For details, read the story that appeared in the December 2, 2011 Laconia Citizen by "clicking" here.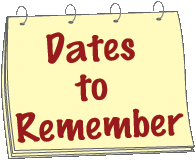 Monday December 5th
Board of Directors Meeting 5:30 pm at One Mill Plaza - all members are invited!
This is not a regular meeting. There will be no dinner served.
Monday December 12th
Club Meeting - Adult Christmas Party - We will meet at the Beane Conference Center.
DURING THE MONTHS OF JANUARY AND FEBRUARY WE MEET AT THE BEANE CONFERENCE CENTER. FOR DIRECTIONS "CLICK" HERE.
Monday January 9th
Club Meeting - Guest Speaker to be announced
Monday January 23rd
Club Meeting - Guest Speaker to discuss the PSNH Northern Pass Transmission Project

WANT MAIL?
If you are not on the Kiwanis Bulletin e-mail list (and would like to be) please give Steve Loughlin your e-mail address. Also, if you are reading this bulletin and are not presently on the mailing list (and would like to be), "click" here.


"Click" here to get back to the top of the page.
Kiwanis Kronikle is publication of the Kiwanis Club of Laconia, P.O. Box 757, Laconia, NH 03247-0757.
We meet the second and fourth Monday at 6:15 p.m. at the Pheasant Ridge Country Club, Country Club Road, Gilford
Please call your President or Secretary about any member or family member in case of illness. Email: Roger Landry or Steve Loughlin

CLICK BELOW TO VISIT OUR FINE PATRONS