S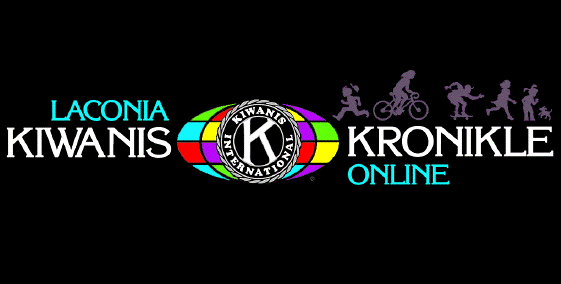 News That Concerns Kiwanians and Their Families
Venue: Shang Hai Chinese Restaurant

Attendance: 13 in attendance: 8 members and 5 guests
Invocation: Rev. Paula Gile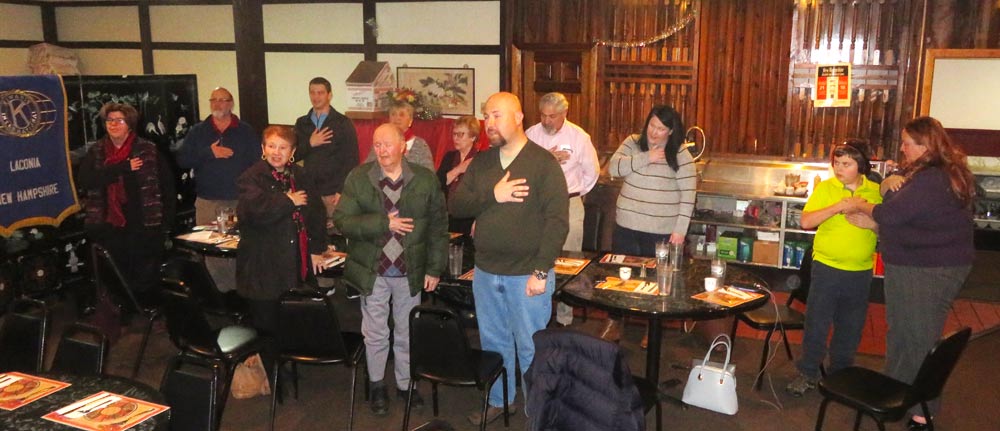 The Pledge
Photo by W. Stephen Loughlin

Guests:
Priscilla Breton - wife of Dick Breton
Aidan Collette - son of Kara Stanley
Joe Collie - past member, past president, and past Lt. Governor
Rev. Paula Gile - wife of President Bill
Rosemary Murphy - wife of Larry

P

ho

tos by W. Stephen Loughlin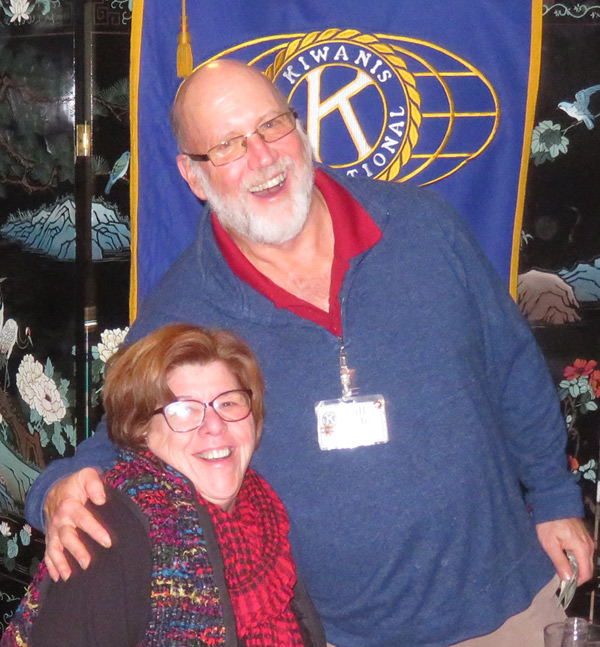 Rev. Paula Gile is welcomed by President Bill
Photo by W. Stephen Loughlin

NEWS FROM THE PRESIDENT:
Bill Gile reported the following:
• All future club meetings will be held on the 4th Tuesday of the month at the Shang Hai Chinese restaurant.

• The annual Market Basket Food Pantry shopping that took place on Saturday, December 8th was a success. We bought $590 in non-perishable goods ($340 Kiwanis, $250 Key Club).

Showing off the gift of goods and the receipts from Market Basket are
L to R: Bonnie Ashworth (Key Club Co-Advisor), Kathy Calvin and Bill Gile.
Photo by Market Basket employee

We received a thank you letter for our recent donation to the Elm Street School VISTESS organization, which you can read by "clicking" here.

KIWANIAN OF THE YEAR:
Joe Collie, past Laconia Kiwanis Club President, and past Lt. Governor, was pleased to present the 2017-18 Kiwanian of the Year award to Betty Ballantyne. Betty also was awarded this prestigious honor in 2016. Congratulations, Betty!

Betty Ballantyne was surprised and honored as she accepted
the Kiwanian of the Year trophy from former Lt. Gov. Joe Collie
Photo by W. Stephen Loughlin
THIS Saturday, December 22nd, is when the Laconia Kiwanis Club is scheduled to ring the bell in downtown Laconia (across from Citizens Bank) for the Salvation Army.
If you would like to add your name (or the name of a guest) to the list below, please indicate the time preference and "click" here to send an e-mail to our bulletin editor. Your preference will then be updated into the schedule listed below.
09am - 10am:sBetty Ballantyne, Warren Mitchell, and Kathy Calvin
10am - 11am:sBill Gile and ____________________
11am - noon: s