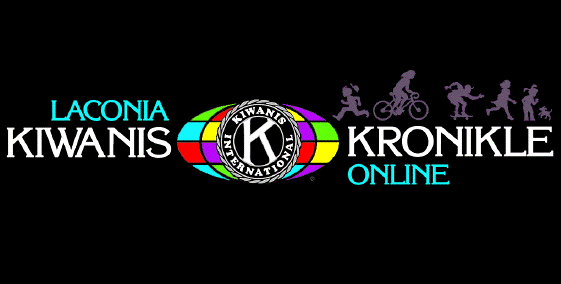 News That Concerns Kiwanians and Their Families
Venue: 405 Pub & Grill
Invocation: Muff Kruse
Seasonal Song: Don Nelson led the Club in singing Jingle Bells
Attendance: 9 members and 3 guests

Guests:
Sue Nelson - wife of Don and Honorary Member
Rosemarie Murphy - wife of Larry
Josh Chandler - Treasurer of LHS Key Club and grandson of Joe and Vi Adrignola

| | | | | |
| --- | --- | --- | --- | --- |
| | | | | |
| | | | | |
P
ho
to by W. Stephen Loughlin
From the President: 
President Meredith was ill with a stomach bug, so First VP Bill Gile conducted the meeting. 

Bill reported that the Kiwanis and Key Clubs did their shopping trip at Market Basket the first Saturday of December, and spent $970 for groceries.  All-Brite cleaning met the shoppers, matched that expenditure, and delivered the food to the Salvation Army Food Pantry.  (SCROLL DOWN THE PAGE TO SEE PICTURES OF THE GROUP AT MARKET BASKET.)
Bill also reported that he had joined the Key Club this past weekend serving as elves on the Polar Express in Conway. 
Finally, Bill reported that the Key Club is very possibly making a Habitat for Humanity trip during April break to Westchester County, NY.
From the Members:
Kathy reported that today's KARES event was cancelled due to weather, the makeup date is this Friday, 16 December at Elm Street School from 12:30-1:30. 
Kathy also reported that we are on for Salvation Army bell-ringing on Friday, December 23rd. See the sign-up sheet below:
We need volunteers to man the bell-ringing for the Salvation Army on Friday, December 23rd.
If you would like to add your name to the list, please indicate the day and time preference and "click" here to send an e-mail to our bulletin editor. Your preference will then be updated into the schedule listed below.
9am - 10am:sXMeredith Michaud and Kara Stanley
10am - 11am:sDon Nelson and Larry Murphy
11am - noon: sBetty Ballantyne and ____________
xnoon - 1pm:. Phil Bonafide and Steve Loughlin
.1 pm - 2pm: .Scott Beane and Chelsey Beane
.2 pm - 3pm: .Bill Gile and Brian Winslow
.3 pm - 4pm: .Kathy Calvin and ____________
.4 pm - 5pm: .Scott Laurent and _____________
Food Pantry: $61 was collected

John Walker draws ticket #1 and opens the first gift

Josh Chandler draws a super flash light but....

...the 16 year-old Key Clubber gets it taken away and ends up with Baileys'.

To keep things legal, Larry Murphy does Josh a favor and trades his present for the Baileys'.

Josh ends up with a dancing Snoopy Santa.

Larry loses the Baileys' to Kathy and ends up with a bottle of Martini & Rossi.

Kathy Calvin dreams of enjoying her Baileys'.

To the delight of John Walker and envy of Don Nelson, Muff Kruse draws a cooler stocked with Bud Light.

.

Larry Murphy has his eye on Betty's gift of a second Baileys'.

Betty Ballantyne OOOOS Phil's gift of Jack Daniels.

Bill Gile trades his gift for Kathy's Baileys.

Kathy is left with a non alcoholic screwdriver.

#1 ticket holder John Walker swaps his comfy blanket....

...and concludes the Yankee Swap for the dancing Snoopy Santa.

P

ho

tos by W. Stephen Loughlin
Meeting adjourned at 7:30 p.m.
FORMER KIWANIANS IN THE SPIRIT:
Former Kiwanians, Roger Webster and Howard Bacon, were recently spotted celebrating the Christmas season at the Taylor Community. Both looked well and give their best regards to fellow club members.
Howard Bacon (and an elf) -

celebrate the season

P

ho

tos by W. Stephen Loughlin
Brian Winslow was all smiles when he appeared on television, December 8th, announcing at the Bid Board for the annual Greater Lakes Region Children's Auction. Thanks to the efforts of many in the Lakes Region, the auction raised $489,435!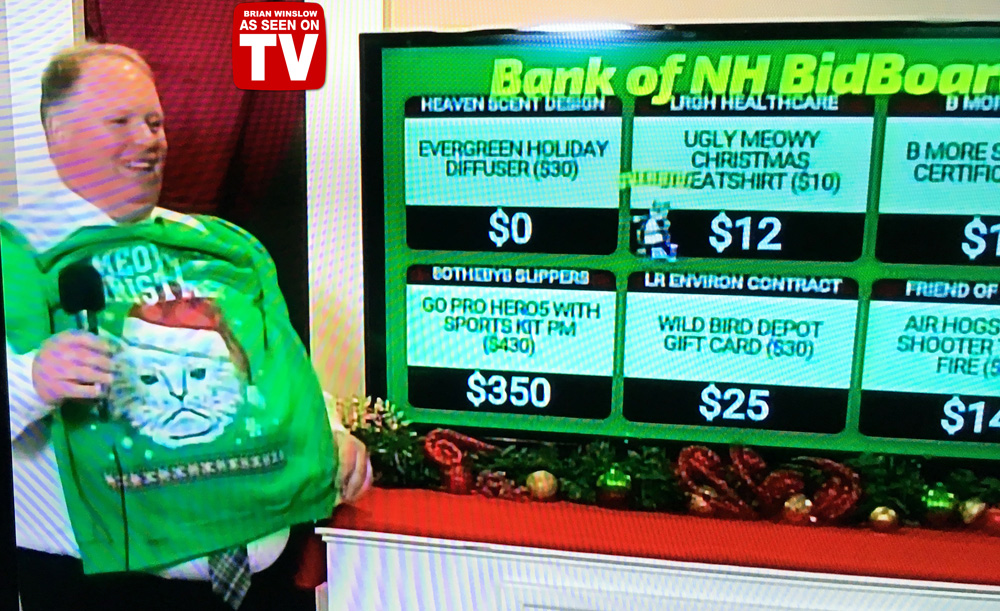 Brian Winslow models an Ugly Meowy Christmas Sweatshirt.
TV P
ho
to by W. Stephen Loughlin
SHOPPING FOR THE SALVATION ARMY FOOD PANTRY
Members of the Laconia Kiwanis Club, and Laconia Key Club purchased $970
worth of groceries for the Salvation Army food pantry.
Checkout smiles at Market Basket

L to R: Kathy Calvin (sporting a new hairdo), John Walker, Emily Perry (from Key Club) Nathan Tucker (friend of Emily) and VP Bill Gile.
Photos by a friend of Kiwanis
LACONIA KIWANIS CLUB ON PARADE:
On Saturday, November 26th, the Laconia Kiwanis Club participated in the annual Laconia Holiday Parade. On hand to represent the Club were President Meredith Michaud, Vice President Bill Gile, Kathy Calvin, Scott Laurent with his kids Zack & Grace and their new dog, Ava Rose.
Front Row sitting: Grace Laurent with Ava Rose

Second Row standing: Zack and Scott Laurent, Kathy Calvin, Pres. Meredith Michaud and VP Bill Gile

Mayor Ed Engler with Kathy Calvin

Grace and Zack Laurent with their early Christmas present, Ava Rose

Kiwanis On Parade with smiles and candy at dusk (4:13 pm)

P

ho

tos by W. Stephen Loughlin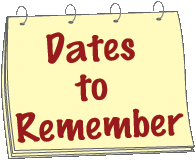 Monday - January 9th -
Part 1 - Meet at 5:30 pm - Venue: Colonial Theatre, Main Street, Laconia
Tour of the Colonial Theatre with Justin Slattery Executive Director Belknap EDC
Part 2 - Meet at 6:00 pm - Venue: 405 Pub & Grill - 405 Union Ave., Laconia
Club Meeting - Speaker - Justin Slattery Executive Director Belknap EDC - Subject Colonial Theatre restoration
Monday - February 13th - 6:15 pm -Venue: 405 Pub & Grill - 405 Union Ave., Laconia
Club Meeting -

WANT MAIL?
If you are not on the Kiwanis Bulletin e-mail list (and would like to be) please give Steve Loughlin your e-mail address. Also, if you are reading this bulletin and are not presently on the mailing list (and would like to be), "click" here.


"Click" here to get back to the top of the page.
CLICK BELOW TO VISIT OUR FINE PATRONS