YANKEE SWAP RECAP FROM THE
ADULT CHRISTMAS PARTY OF MONDAY, DECEMBER 15TH: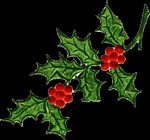 The fun started with Pat Webster, who selected number 1. She got a Sturgis Coffee Mug set…not sure who could have brought that.
Steve Loughlin had number 2 and selected a Kellerhaus jam set.
Dianne Roberts, with number 3 selected a New York Yankees gift set. Joe Collie reminded her the fire was getting low.
Dennis Denoncourt was number 4 and selected a Hickory Farm set.
Russ Beane, at number 5 went up to the tree and selected a slow cooker, which was appropriate for our favorite funeral director.
Howard Bacon took number 6 to the tree. Howard selected a bottle like package and switched it Russ for his slow cooker.
Russ took the bottle like package and switched with Steve Loughlin's Kellerhaus jam set.
Steve switched with Dennis Denoncourt and took his Hickory Farms set.
Dennis opened the bottle…and sure enough…a bottle of wine.
Brian Winslow was number 7 and opened up a picture frame cube.
No number 8...Don Nelson was number 9. He switched the package he took with Dianne Roberts and took her New York Yankees set.
Dianne switched with Steve Loughlin and took his Hickory Farm set. Steve opened the unkown package to find BIG MOUTH BILLY BASS…now in his 9th year!
Tom Knox was next and swapped with Pat Webster and took her Sturgis set.Pat looked around and decided to keep it. It was a Santa cutting board.
On to number 17...Joe Adrignola went and selected from the tree and kept his present. Inside was a big magnifying glass…he said we should leave the jokes alone.
Denise Dow went as number 18. She kept her gift and opened it up…inside was a bottle of night harvest wine.
Number 19 was Roger Landry. He selected a bottle looking device and swapped it with Howard Bacon and took the slow cooker. Howard ended up with a bottle of merlot.
On to number 24...Shirley Bacon. She quickly took the crock pot back from Roger Landry. Roger switched with Dianne Roberts and took her Hickory Farms set. Dianne chose to pass her gift on Tom Knox and took his Sturgis set. Tom then opened Dianne's gift and there was a Johnny Walker black label set with 2 glasses included.
Kathy Calvin came up as number 25 and looked over the other set…and then switched with Dianne Roberts and took her Sturgis set. Dianne then switched again, this time with Roger Landry. She took his Hickory Farm set and left him with a set of five kitchen towels.
Charlie St. Clair was next at number 26. Charlie took the magnifying glass from Joe Adrignola and gave Joe the gift he selected, a bottle of chardonnay.
Number 28 was Larry Murphy. He took his gift and switched with Kathy Calvin and took her Sturgis coffee set. She opened up what he had given her…an Otter Creek 12 pack of Vermont made beer.
Joe Collie was next and took a bottle of Arbor Mist White Zinfandel.
Ed Merski was next and took a bottle looking package and swicthed with Kathy Calvin for her beer. The bottle of Foreplay wine.
Pam Landry took next and swapped her gift with Shirley Bacon and took the slow cooker. Shirley opened up her package and found some gourmet butter and chocolate peppermint sauce.
Ron Penn took next and swapped out with Howard Bacon and took his merlot. He left Howard with a package that looked like Chinese Food and then swapped with Pam Landry and took her crock pot. Pam opened up the gift that Howard swapped and it was an ornament for the tree and a Yankee Candle.
Phil Bonafide was number 33 and Phil opened his package. He had a bottle of Maker's Mark Whiskey.
Robin Penn was next and her package also looked like Chinese Food. She switched with Ed Merski and took the 12 pack of Vermont Beer. Ed switched with Tom Knox and took the Black Label and the cups. Tom opened up what Ed gaave him and there was another Yankee Candle and tree ornament.
Roger Webster selected a bottle like package and swapped it with Larry Murphy and took the Sturgis coffee set. Larry opened up a bottle of apple honey wine. That was it…so number 1, Pat Webster, swapped out with Dianne Roberts and gave her the Santa cutting board and Pat ended up with the Hickory Farms set.
So…in the end, in case you missed it in all the action, Big Mouth Billy Bass went to…

...STEVE LOUGHLIN. He can display the fish right next to his
Kiwanian of the Year trophy.
Have yourself
a very
Merry Christmas!
all pictures by W. Stephen Loughlin except the one of Billy Bass which is courtesy of Phil Bonafide