S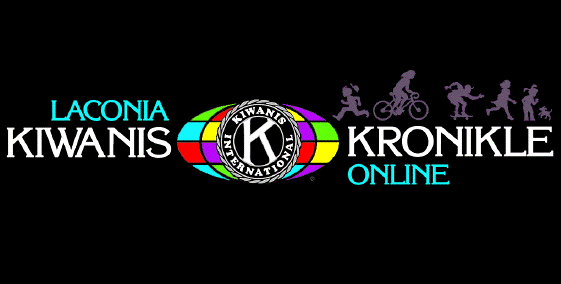 News That Concerns Kiwanians and Their Families
Venue: Shang Hai Chinese Restaurant

Attendance: 16 in attendance: 7 Members, 3 Honorary Members, and 6 Guests
Invocation: John Walker


I Pledge Allegiance...
Photo by W. Stephen Loughlin
Guests:
Kirk Beattie - Chief of the Laconia & Belmont Fire Departments
Ray Chambers - a long time Kiwanian and former Georgia Lt. Governor District 5
Paula Chambers - wife of Ray Chambers
Aidan Collette – son of Kara Stanley
Jim Fortier – Honorary Member
Arlene Fortier - wife of Honorary Member, Jim
Rosemary Murphy - Honorary Member
Sue Nelson - Honorary Member and wife of Don
Arlene Torrisi – sister of Honorary Member, Rosemary


P

ho

tos by W. Stephen Loughlin
NEWS FROM THE PRESIDENT:

President Bill reminded the Club that our next regularly scheduled Club meeting will include the installation of our new Officers, and hopefully some new members as well.  The date is September 24th at 6 PM at the Shang Hai restaurant on South Main Street.  Please plan to attend.
NEWS FROM THE MEMBERS:
Kara Stanley provided an extensive briefing on the planned Sip & Dip Club fund-raiser, to be held at the Belknap Mill on October 10th from 5:30-8:30. The event, which is sponsored by Stafford Oil Company, is a BYOB, and includes hors d'oeuvres. Larry Frates is our guest artist. $35 is the ticket price which includes art equipment and supplies. Club member assistance with registration, raffle sales, and tear down will be needed. Kara also mentioned plans for a Community Fest at the Mill to coincide with Pumpkinfest, October 19. Details will be announced soon.
NEWS FROM THE KEY CLUB:

Although no Key Club members were present at tonight's meeting, we received the August newsletter from Lydia Tucker (Lieutenant Governor, Division 5 New England and Bermuda District Key Club International) which is circulated to all Key Clubs in her district. To read that newsletter, "click" here.
FOOD PANTRY: $83 was collected

HAPPY DOLLARS: $25 was collected
$11 from John Walker: $5 for the successful completion of year #9 of Got Lunch, which our Club supports, $2 for three of our Club members (Bill, Betty & Muff) who participated in Got Lunch, $2 for the several guests joining us tonight, $2 for our three honorary members (Jim, Rosemary & Sue) being here tonight, and $2 for our guest speaker
$1 from Honorary Member Sue Nelson for not seeing any sharks at Cape Cod this summer
$2 from Honorary Member Jim Fortier for his three months in Laconia this summer
$2 from Honorary Member Rosemary Murphy for being here this evening and not cooking
$1 from Arlene Torrisi back at you Larry
$2 from Ray & Paula Chambers for their warm welcome tonight
$2 from Muff Kruse; $1 for our guests joining us and $1 for her upcoming trip to Colorado
$3 from President Bill: $1 for Ray & Paula joining us, $1 for all the other guests, and $1 for Kirk Beattie being our guest speaker
$1 from Kara Stanley for tonight's great attendance
GUEST SPEAKER: Steve Loughlin introduced our guest speaker, Laconia Belmont Fire Chief Kirk Beattie.
Kirk Beattie, a resident of Laconia, grew up in Franklin, where his father and grandfather were firefighters. As a teenager, he joined the Franklin Fire Department and continued there until moving to Laconia when, in 1997, he joined the Laconia Fire Department and became the city's first paramedic-firefighter.
Over the years, Kirk rose through the ranks and, last October, shortly after the retirement of Ken Erickson, was promoted to head up the Laconia and Belmont Fire Departments. Additionally, he presently serves as the Emergency Management Director for the City of Laconia. He is also currently on the Board of Directors for the New Hampshire Association of Fire Chiefs and Lakes Region Community Services.
Kirk delivered a very informative presentation. The following are just a few of the highlights:
• The association of the City of Laconia with the Belmont Fire Department will be ending on October 1, 2019. It was a highly successful endeavor.
• For 20 years, Lake Region General Hospital totally funded ambulance services including paying for four firefighters. That partnership was terminated in 2018.
• For 2019, ambulance services is a purely a LFD operation and looks to break even financially.
• The LFD fielded over 5,000 emergency calls in 2018 – the 6th busiest in NH. 3,500 had EMS (emergency medical service) interaction.
• There has been a 36% decline in overdose incidents, 200 in '17, 130 in '18.
• Currently the LFD has 40 firefighters manning two stations. 12 additional would be optimum for Laconia.
• All 36 of non-management firefighters in Laconia are EMS qualified.
• Mental health is a new focus for the LFD and state-wide. Focus is substance abuse, suicide, and PTSD.
• The LFD needs a new fireboat and expects a fund-raiser to be initiated very soon.
• The LFD will be beginning a new mentorship program for youth to better direct them to the best fire fighter school.

Steve Loughlin congratulates Kirk Beattie on his interesting presentation.
Photo by Elizabeth Ballantyne
Meeting adjourned at 7:38 p.m
THANK YOU, KIWANIS!
Earlier in the month, we received a thank you letter from Rosemary Murphy who was recently made an Honorary Member. To read Rosemary's letter, "click" here.
SAVE THE DATE:
Our next regular meeting is at the Shang Hai Chinese Restaurant on September 24th. This will be our annual Installation of Officers and Directors.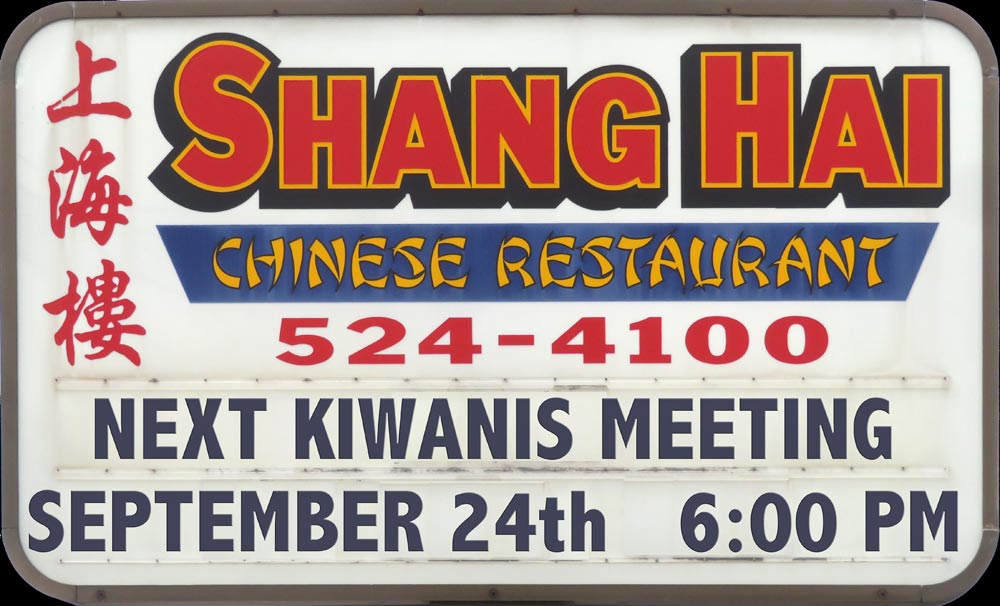 Photo and Graphic by W. Stephen Loughlin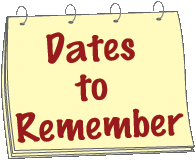 Tuesday - September 3rd- Venue: Laconia Fire Department Community Room - 848 North Main Street, Laconia
6:00 pm - Board of Directors Meeting - all members invited to attend
Tuesday - September 24th : Venue: Shang Hai Chinese Restaurant - private room - 331 South Main Street, Laconia
6:00 pm - Annual Installation of Officers and Directors

WANT MAIL?
If you are not on the Kiwanis Bulletin e-mail list (and would like to be) please give Steve Loughlin your e-mail address. Also, if you are reading this bulletin and are not presently on the mailing list (and would like to be), "click" here.


"Click" here to get back to the top of the page.
CLICK BELOW TO VISIT OUR FINE PATRONS